Holly Garrod, one of the BirdsCaribbean's trainers at this year's bird banding workshop in The Bahamas, describes some highlights of the event. Wildlife professionals and students from 7 Caribbean countries had the opportunity to get together in person for hands-on learning in the science and skill of banding birds.
Our first Caribbean Bird Banding Training Workshop took place in The Retreat Garden in Nassau, The Bahamas, from March 8-12, 2022. The workshop was part of our newly launched Caribbean Landbird Monitoring Project and was organized in collaboration with The Bahamas National Trust. Wildlife professionals from all skill levels arrived from across the region for non-stop learning on the many ways bird banding serves as a valuable tool for monitoring birds. Some participants came to the workshop having already banded thousands of birds, while others had never even held a wild bird before. Our skilled facilitators ensured, however, that everyone left learning something new about birds in the hand. In the perfect green oasis of The Retreat Garden, participants went directly from the field to the classroom to learn all about what it takes to band birds.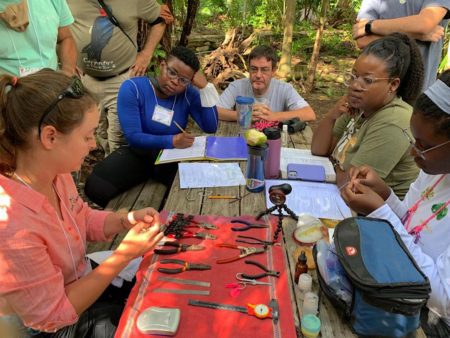 Bird banding is a complex field technique that involves catching birds passively (no lures or bait to attract them) by using thin nets set up throughout vegetation. Bird banders check the nets every half hour (much like fishing), untangle any birds and place them in small bird bags to help them keep calm. The bird bags are then carried to the banding table. 
At the banding table, birds are given unique, numbered bands that identify each individual for the rest of their life. Banders then proceed to take a variety of measurements; they look at bird fat scores and reproductive characteristics, they measure different bird body parts like bill and wing length, and they open up the wing to look at molt patterns, which is used to help determine age. These differences between young and old feathers are called molt limits, and there's still a lot we're learning about molt patterns in Caribbean birds! After this short inconvenience, birds are safely released to go about their business. But how can catching and banding these birds help us to understand bird populations?
A bird in the hand is worth two in the bush
Bird banding gives us the opportunity to learn first-hand how birds are doing. We can use molt patterns and plumage characteristics to age birds, allowing us to better understand demographic patterns. Older birds and younger birds may take different migratory routes or have access to different resources. Banding also gives us insights into the lives of birds.
Recoveries of bands have allowed us to understand just how long some of these birds live – some migratory warblers can live 10-11 years! Most importantly, birds are indicator species—their presence, absence, or abundance reflects environmental conditions. Using bird banding data, we can look at the health of birds using metrics like fat scores and weight, allowing us to better assess habitat quality, especially for breeding residents and migratory birds. 
Within the Caribbean, there are very few active banding operations. Through the Caribbean Bird Banding (CBB) Network, we are aiming to expand and unite banding programs in the region. Workshops like this one provide the opportunity to learn about this valuable monitoring tool and can contribute toward gaining the necessary experience to safely band birds.
A truly international collaboration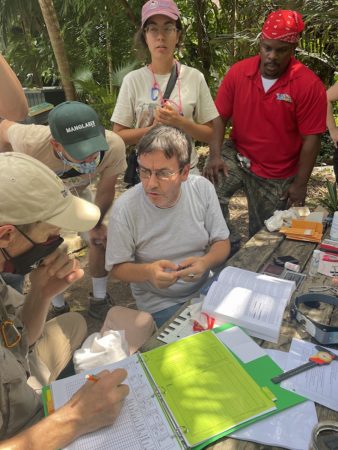 Our first CBB Training Workshop was truly an international affair! Participants came from 7 different countries/islands — Antigua and Barbuda, Cuba, Grenada, Jamaica, Puerto Rico, The Bahamas, and Venezuela. Trainers came from highly reputable organizations in the U.S. with stellar training programs, including Klamath Bird Observatory and the Institute for Bird Populations. 
Following this workshop, we are very proud to announce that the CBB Network has our very own North American Banding Council (NABC) certified banding trainer, Juan Carlos Fernandez! The NABC certification has three levels: assistant (qualified to assist a banding operation), bander (qualified to band independently), and trainer (qualified to train people how to band birds). This certification is a rigorous process where banders are tested on a full suite of bird banding knowledge. The NABC certification helps ensure that everyone banding birds upholds the highest quality bird banding technique—prioritizing people safety, bird safety, and ethical data collection. As part of our goals for the CBB Network, we hope to certify more Caribbean residents so that we can continue to build capacity in the Caribbean! Congratulations JC! 
What are the next steps?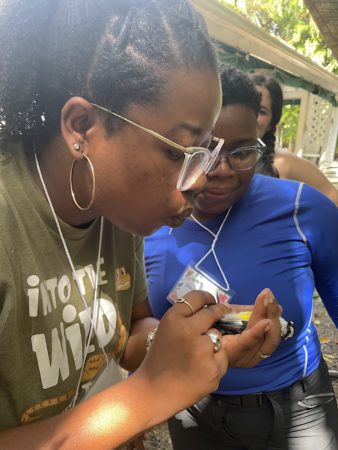 Everyone came away learning something from this workshop, whether it was a new molt pattern of a Caribbean resident bird or banding their very first bird. These workshops provide a great jump-start into the world of banding, but they always leave participants wanting more.
To quench their thirst for molt limits, we are facilitating bird banding internships to select participants that are able to migrate northwards for a bit. Participants will be spending time at long-standing, internationally renowned programs to continue honing their banding skills. They will need to pack their sweaters, as these programs include Long Point Bird Observatory and Prince Edward Point Bird Observatory in Canada, Klamath Bird Observatory in Oregon, Audubon Rockies in Wyoming, and the Willistown Conservation Trust in Pennsylvania. And once the winter really starts to hit, they'll migrate back south to work with NABC certified trainers and practice banding birds on their home islands.  
Then, get ready because we have another upcoming Bird Banding Workshop! We'll be returning to the beautiful ecolodge of Rancho Baiguate in Jarabacoa, Dominican Republic (the same place we held our Landbird Monitoring Training Workshop, if it sounds familiar) in early 2023.
We're also getting ready to share our brand new bird banding database and Caribbean bird bands. Stay tuned!
Acknowledgments: Special thanks to our Workshop Facilitators John Alexander, Claire Stuyck, Holly Garrod, and Steve Albert. Huge thanks also to The Bahamas National Trust for their support in making this workshop a success.
Testimonials
Participants shared their thoughts on the workshop and how the practical knowledge shared will augment their conservation efforts.
Carlos Peña, Center of Investigation and Environmental Services, Holguín, Cuba
This workshop exceeded my expectations and allowed me to incorporate knowledge related to the techniques of the whole process of bird banding: set up of mist nets, safe extraction of birds from the nets, and biometric measurements. 
One of the most valuable experiences was related to the learning of molt cycles and plumage sequences, this experience has encouraged me to get involved in their knowledge, to use it as another tool for the study of bird communities and particular species. The workshop has given me the opportunity to broaden my knowledge, it has encouraged me to improve it and to participate and contribute to bird banding. 
Daniela Ventura del Puerto, Student at Havana University, Cuba
Muchas gracias a BirdsCaribbean and The Bahamas National Trust for organizing and hosting this fantastic workshop! I'm so happy and honored to be part of the Caribbean Banding Network with so many enthusiastic and well-prepared people! Looking forward to more enjoyable days in the field at the beautiful Retreat Garden in Nassau, more molt talks and fabulous discussions among participants. Can't wait to see how this effort will translate into more knowledge and conservation actions of our Caribbean birds.
Scott Johnson, Environmental Officer at BRON Ltd, The Bahamas
Spent the week with BirdsCaribbean, The Bahamas National Trust, and an amazing group of people from across the Caribbean, learning about bird molts and proper bird banding etiquette. BirdsCaribbean continues to shape Caribbean bird conservation through stellar workshops, conferences, and materials to foster a greater appreciation for our bird fauna. Thanks to the BNT for hosting such an amazing event. Now to put what I learned to good use.
Shanna Challenger, Offshore Islands Conservation Program Coordinator, Environmental Awareness Group, Antigua and Barbuda
Just came back from BirdsCaribbean's regional capacity-building workshop on bird banding and was able to use my new skills to rescue this sweet little Lesser Antillean Bullfinch who got stuck in our museum! I couldn't resist checking his plumage for molt limits (my new obsession thanks to Workshop Facilitator Holly Garrod).
Gallery
Enjoy more photos from the Bird banding Workshop below. Click the images to enlarge and see their captions.
RELATED READING: