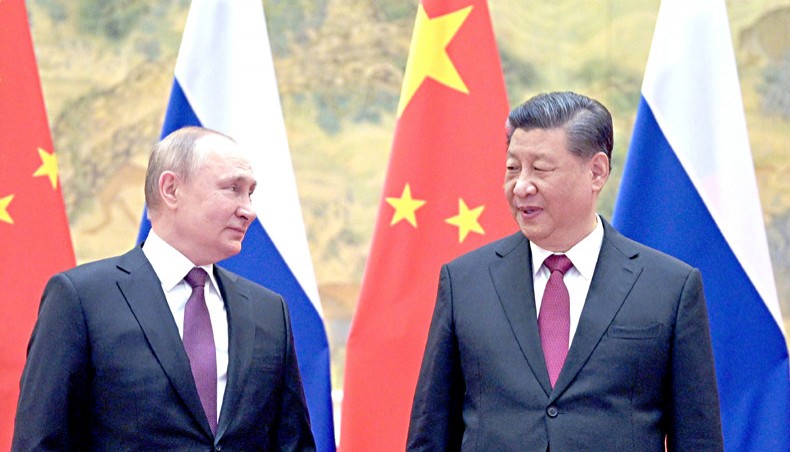 A file photo taken on February 4, 2022 shows Russian President Vladimir Putin (left) and Chinese President Xi Jinping posing for a photo during a meeting in Beijing. — Agence France-Presse/Sputnik/Alexei Druzhinin
Conflicting U.S. policy was causing fatigue. The embarrassing US withdrawal from Afghanistan has gasped the world.Punter writes that he started changing bets Said Naqvi
To gauge the importance of China-mediated reconciliation between Saudi Arabia and Iran, it is useful to look at the development of this relationship since the 1979 Islamic Revolution.
In an era that yearns for peace, such radical development will undoubtedly be contagious. As much as the world marveled at this development, we began to see signs of quiet, modest efforts to restore other parts of West Asia's worn tapestry. Deputy Foreign Minister left for Moscow.
President Tayyip Erdogan will be ready for bargains everywhere if the May elections increase his chances. Would it be a coup for him to join the election campaign after a summit with Syrian President Bashar al-Assad? meeting has been temporarily postponed.
Indeed, the revolution that brought the Ayatollah family to power in 1979 caused a sharp polarization in the Islamic world, but more worrying for Saudis was the development of their citadel. Around the same time that the revolution was taking place in Iran, a sort of double-distilled variant of the Ahwan-ul-Muslimmen (Muslim Brotherhood), a group of Muslim extremists who called themselves "Akhwan," made their way to Mecca. Occupied and claimed the holiest mosque in Islam. For the House of Saud to relinquish control of the Holy Temple. The argument was that the monarchy was anti-Islamic.
This did not resemble Ayatollah's request. It also brought results. The Saud family began to describe themselves as 'guardians of the holy temple'. In good times, the new title fell into disuse. And now that friendship, or at least that promise, between the two countries has been broken, such a thorny issue is unlikely to be raised. More theological debates will intensify among sectarian clergy.
Iran was a Shiite country even under the Shah. The Ayatullahs avoided a change of sect, calling it an "Islamic Resolution". The sectarian divide was amplified by the coalition of Washington, Jerusalem and Riyadh for strategic reasons.
Since the establishment of the Jewish state, the Palestinian issue has become a very important issue in the Arab world. For the Iranian revolution, it was a stated tenet: there will be no normalization of relations with Israel unless all Palestinian rights are restored. Despite what happened to Saddam Hussein, Muammar Gaddafi and Bashar al-Assad (his county was destroyed even though he survived) the Iranians stood firm and thereby It has earned the wrath of Israel and all its supporters.
This position on Palestine, a stance against the Israeli-US coalition, clearly echoed in the Arab basement. This unnerved Arab flirts with Americans and Israelis. So playing the "Shiite Axis of Evil" served all purposes. Even thinkers like Henry Kissinger began amplifying this propaganda. "The region is no longer focused on the Palestinian issue. They are worried about the split between Shiites and Sunnis.
In the summer of 2011, when the late King Abdullah of Saudi Arabia returned from recuperation in a German hospital, he learned that the Arab Spring had killed two of his friends, Hosni Mubarak and Jin El Abidin Ben Ali of Egypt. I was disappointed that I had to leave. Tunisia.
He vowed that no more monarchies, emirates and dictatorships would be allowed to collapse. He said Americans should "cut off the head of the snake." In King Abdullah's words, the serpent was Iran. I had to weaken the shear arc to get to the "snake".
That's when the rebellion against Assad was concocted and fanned. I myself have seen US Ambassador Stephen Ford and his French Ambassador huddled with rebels in Homs, Hama and Della. Former U.S. Ambassador Ed Peck, who witnessed brazen U.S. interference in Syria, wrote the following letter to his friend, a former Indian ambassador to Damascus:
"I give Ambassador Ford, our man in Syria, for stepping out of the traditional and proper role of a diplomat and actively encouraging rebellion/riots/sectarian strife/outside interference. I am disappointed in the admiration and support that has been given, and you would.It is easy to imagine the reaction of the United States if some ambassador were to engage in far-flung operations here. I'm afraid that is doing more than just being insensitive.
After a decade of trying to oust Assad with the help of Western powers and regional powers, Americans are disappointed that Syria's president is still alive. If Assad cannot be defeated in a decade-long proxy war, is there any hope of defeating Putin by proxy?
By 2015, President Obama and Secretary of State John Kerry embarked on a pivot to the Pacific. By signing a nuclear deal with Iran, they were creating a balance of power in West Asia. Iran, Israel, Saudi Arabia, Egypt, and Turkey maintain a "balance of power" in the region, allowing the US to serve its larger business in the Pacific – the rise of China.
Donald Trump scrapped the deal. His son-in-law, Jared Kushner, helped put the regional crown on the head of Iran's relentless enemy, Israel.
Conflicting U.S. policy was causing fatigue. The embarrassing US withdrawal from Afghanistan has gasped the world. Punter began to change bets. To provoke Vladimir Putin to Ukraine, drag him into a long war and impose economic sanctions until Putin is on his knees – this was the intention. Nothing of the sort happened. In fact, at this stage, French President Emmanuel Macron seems to have said it right. "After 300 years, Western hegemony is coming to an end."
Thus, the United States, as yesterday's hegemonic power, has severely undermined its persuasive power.
When Trump asked Jimmy Carter: "Now that China is ahead, what should we do?" Carter's response was brief: "Except for a brief conflict with Vietnam in 1978, China is not at war." Carter's punchline says, "We have never stopped fighting."
Saeed Naqvi is a Senior Journalist in India and Fellow of the Observer Research Foundation, New Delhi.