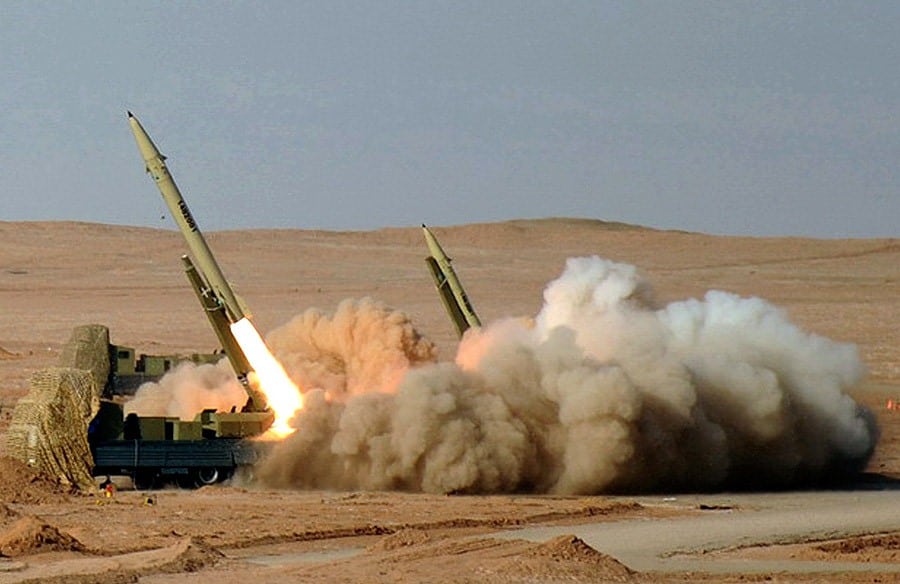 According to US intelligence Iran may be preparing to ship Fateh-110 and Zolfaghar ballistic missiles to Russia for use in Ukraine. Reports last week also suggested that the Wagner Group, a Russian private military company, has purchased munitions from North Korea. Image of an Iranian Fateh-110 missile being launched during the Great prophet-7 military exercise in 2012 (Hossein Velayati / CC BY 4.0).
On December 16, CIA Director William Burns expressed concern over what he believes to be "at least the beginnings of a full-fledged defense partnership" between Iran and Russia. A few days earlier, the Russian military launched a wave of Iranian-made unmanned aerial vehicles (UAVs) in an attack on Kyiv. These developments followed months of Iranian UAV use by Russian forces in Ukraine and discussion of potential Iranian missile transfers to the Russian military. Recent reports also suggest that the Wagner Group, a Russian private military company, has purchased infantry rockets and missiles from North Korea, several months after US officials first suggested Russia had approached that country for munitions.
Cooperation in the economic and military sphere between countries under sanctions and arms embargoes is not a new phenomenon. Recent reports of Russian procurement of military equipment from Iran and North Korea, therefore, come as no surprise. As Russia faces ever-tightening restrictions on its economy and military procurement, Moscow will likely continue leveraging trade opportunities that Tehran and Pyongyang present, relying on well-established methods of illicit trade and sanction evasion. To develop more effective countermeasures, it is important to understand how Moscow may rely on established sanction-evasion practices and the unique challenges it may present.
Mutually beneficial partnerships. As Russia again comes under expanding Western trade and financial restrictions, Moscow, Pyongyang, and Tehran all stand to benefit from closer economic cooperation. Besides selling drones to Russia, Iran has reportedly deployed personnel from the Islamic Revolutionary Guard Corps to train the Russian military in using its UAVs. Recent US intelligence assessments also suggested that Iran is preparing to ship Fateh-110 and Zolfaghar ballistic missiles to Russia for use in Ukraine. Speaking in early December, White House National Security Council Coordinator for Strategic Communications John Kirby said that the growing Iran-Russia military cooperation could also potentially include Russian transfers of Sukhoi Su-35 fighter jets to Iran and the development of a joint UAV assembly line in Russia.
While there is no visual confirmation yet of arms transfer to the Wagner Group or the Russian military, North Korea's military capabilities may be relevant to Russia's needs. Both countries rely extensively on artillery in their military doctrines, with Russian supply chains increasingly under pressure to produce shells. North Korea's weaponry is also largely based on aging Soviet-era designs—of which Pyongyang has sold maintenance and upgrade packages to overseas customers in recent years. This may provide opportunities for further cooperation with Moscow and the replenishment and repair of the mothballed Soviet systems, either for deployment in Ukraine or for use in future conflicts.
The shuttering of many Western market opportunities to Russian firms could also open new—albeit limited—opportunities for economically isolated and cash-strapped Pyongyang and Tehran. While Russia has long criticized international and unilateral sanctions on North Korea and Iran—and has been accused of skirting them on occasion—Moscow had not gone so far as to blatantly disregard them altogether. However, that calculus may be changing as reports emerge of new Iran-Russia economic cooperation in the energy, aerospace, and automotive sectors. Meanwhile, analysts have speculated that Pyongyang may accept compensation for any weapons sales to Russia in the form of cash transfers, fuel, or advanced weapons—all of which North Korea has struggled to procure under international sanctions.
Long experience in arms trade under sanctions. Tehran, Pyongyang, and Moscow all have extensive experience living and trading under sanctions. Iran has been subject to a US trade embargo since the 1979 Islamic Revolution and—because of its nuclear program—to progressively expansive international trade restrictions, including in arms and weapons systems. As part of the 2015 Iran nuclear deal (the Joint Comprehensive Plan of Action, or JCPOA), most international restrictions on trade with Iran have been lifted, including many—although not all—prohibitions on weapons trade.
North Korea and the Soviet Union had faced similar trade restrictions since the 1950s—including embargoes on arms and technology by members and allies of the Western bloc of countries. Since 2006, North Korea has also been subject to universal and vastly expanding UN sanctions as a direct result of Pyongyang's nuclear-related activities. In Russia's case, many Western controls were relaxed following the collapse of the Soviet Union. However, following Moscow's illegal annexation of Crimea and invasion of eastern Ukraine in 2014, Western countries reintroduced some restrictions on arms-related transfers to Russia. These have been further expanded after Russia's full-scale invasion of Ukraine in February 2022.
Despite restrictions, all three countries managed to procure weapons and related dual-use technologies to sustain—and advance—their military capabilities. The Soviet Union constructed a vast military-industrial complex during the Cold War by harnessing domestic capabilities and procuring from Western markets, both legally and illicitly. Iran and North Korea have also managed to advance their nuclear and missile programs despite sanctions, sometimes by cooperating. North Korean arms and related technologies—often based on Soviet designs supplied to Pyongyang by Moscow during the Cold War—have made their way to, among other countries, Syria, Myanmar, Cuba, the Democratic Republic of the Congo, and Uganda. Iran has also provided extensive military support to the Syrian regime during the country's civil war and has armed destabilizing non-state actors across the Middle East.
Reusing and adapting sanction-evasion methods. Illicit transfers and procurement of weapons and related technologies by Russia, Iran, and North Korea have historically relied on sanction-evasion strategies that have allowed sanctioned entities to obscure their involvement in the prohibited movement of goods. These methods have relied on the establishment of complex procurement and financial networks, involving a myriad of front companies, bank accounts, and procurement agents in third countries with poor sanction-compliance practices. Diplomats and intelligence officers have leveraged government resources and diplomatic privileges to support the creation and operation of these networks. Corrupt facilitators—which include government officials, compliance officers, lawyers, and accountants—have "greased the wheels" or turned a blind eye where needed.
If Moscow seeks to expand its military and economic cooperation with Tehran and Pyongyang, it will rely on many of these same tried-and-tested methods of sanction evasion and illicit procurement. Russian companies have already demonstrated their reliance on front companies and procurement agents in Europe, North America, and Asia to source Western components for their integration into military systems. The chief executive officer of one Russian logistics company, Novelco, even gave a seminar on trade under sanctions, highlighting the value of "friendly" countries like Turkey as transshipment hubs. Many of the countries targeted by Moscow to facilitate illicit trade—including Turkey, the United Arab Emirates, and Hong Kong—have been well-established jurisdictions of convenience for sanction evaders, like Iran and North Korea.
China's apparent unwillingness to support sanctions on Russia is particularly concerning. The country has facilitated North Korean circumvention of UN sanctions in the past. It is also the top importer of Iranian oil (in defiance of US sanctions on the purchase of Iranian petroleum) and has reportedly facilitated the illicit transfer of missile technology between Iran and North Korea. Hong Kong and Chinese entities already appear to be acting as intermediaries in the supply of Western components for integration into Russian weapons systems. As a major economy, and a key financial and shipping hub, China's willingness to cooperate with Western efforts at stemming Russian trade in arms and related technologies will be a key factor in their success.
Russia will undoubtedly also look to recent Iranian and North Korean successes in sanction evasion as it seeks to adapt established practices to new realities. Countries and banks that have demonstrated their continued inability—or unwillingness—to root out sanctioned Iranian and North Korean activities, will likely attract illicit business from Moscow as well. North Korean and Iranian sanction-evasion methods for trade in certain commodities (like coal or oil) may also provide learning opportunities for Moscow.
Russia poses new challenges. But Russia's re-entry into this heavily "sanctioned club" of countries will present some unique enforcement challenges as well. Sanctions against Russia have been pursued by a relatively small number of Ukrainian allies, led by the United States and the European Union. This lack of a global consensus means that Moscow will have a wide range of third countries to choose from in facilitating the circumvention of unilateral sanctions. Russia's veto power at the UN Security Council also means that the adoption of any international trade restrictions will be impossible.
Opportunities for Western states to interdict shipments of military or strategic goods will be limited if Russia finds ways to avoid transshipment through jurisdictions sympathetic to Western sanctions. For instance, if North Korea were to supply military goods to Moscow, the shared land border will afford no opportunities for interdiction. Meanwhile, Russia and Iran appear to be establishing a trade corridor through the Caspian Sea and the Sea of Azov. Iran has also reportedly been delivering drones to Russia by air, which is more challenging to interdict than maritime transfers. Russia also appears to be using at least several countries in the Caucasus and Central Asia to transship goods from the European Union. Moscow may seek to also use these regions as a land route to transship goods between Russia and Iran, making interdiction dependent on the transit countries' ability and willingness to implement sanctions.
Russia also has a greater capacity for sanction-busting than Iran and North Korea. A relatively stronger economy, a bigger military-industrial complex, as well as a greater intelligence, diplomatic and commercial presence abroad, provide Russia with greater resources to establish and operate sanction-evasion operations. But, in turn, the needs of the Russian economy, its military-industrial complex, and its armed forces during wartime are also much greater than, for example, North Korea's.
Strengthening and adapting countermeasures. Efforts to counter Russia's sanctions evasion will require strengthening the implementation of existing countermeasures, as well as adapting these measures to new challenges. In jurisdictions that have adopted sanctions on Russia, improving private sector awareness of sanction-evasion methods is key. Governments should continue to identify—and sanction—entities involved in sanction evasion themselves; investigative journalists and research institutions can support them in this work. However, identifying and issuing advisories on observed sanction-evasion patterns, high-risk third countries, and goods of particular interest to sanction evaders will help businesses take a more nuanced and effective approach to the implementation of sanctions on Russia.
The United States and its allies should also continue to engage with countries that could play the role of third-country facilitators, helping strengthen these countries' export controls and sanctions implementation. Engagement with countries lying geographically between Russia and Iran and those with a record of being exploited by sanction evaders for their illicit activities could prove particularly valuable.
In addition, maintaining a dialogue with China, a key determinant of the effectiveness of sanctions on Russia, and making clear the potential costs of providing material support to Putin's illegal invasion will be equally important. Governments, researchers, and journalists should shine a light on any support by Chinese entities to Russia's defense industries. This will both help to highlight the nature of the challenge and may help rattle Beijing toward greater restraint.
In cases for which cooperative implementation of sanctions is unlikely, the US government has developed an extraterritorial toolset that it has used to punish and disrupt proliferators and sanction evaders that lie outside the reach of US jurisdiction. Covert action can yield effects too. This may include sting and lure operations, or the insertion of compromised technology into illicit supply chains. Actions like these come with the risk of political and diplomatic blowback, but the humanitarian situation in Ukraine and the threat from Russian aggression may lead Washington to judge such risks worth taking.
Iranian and North Korean contributions to support Putin's war in Ukraine are concerning, albeit not entirely surprising. Nor are the measures Moscow will use to circumvent sanctions to engage in illicit trade with Iran, North Korea, and other willing partners. The United States and its partners are faced with much of the same capacity, resource, and political challenges that have plagued previous efforts to counter sanctions evasion and illicit arms trade for decades. Will they overcome them this time around?