Prince Harry's book went into more detail than ever before on the rift between him and Meghan and William and Kate Middleton—leaving a somewhat different impression to their Oprah Winfrey interview.
Some central themes remain the same in both, including Harry's hatred of the media and his feeling his family should have done more to help.
However, there are also some striking differences between the two accounts of how the royal family's impressions of Meghan changed over time.
Harry told Oprah that, in an echo of a story line from The Crown, his and Meghan's 2018 tour of Australia led to jealousy in the family that caused the rift. But in the book, he reveals that things were far from perfect behind the scenes months before that trip.
Prince Harry's Narrative in Oprah Winfrey Interview
Harry told Oprah in March 2021 that "my father, my brother, Kate and all the rest of the family, they were really welcoming" at first "but it really changed after the Australia tour, after our South Pacific tour."
"It was also the first time," the prince said, "that the family got to see how incredible she is at the job. And that brought back memories."
They then discussed a story line in The Crown in which Diana sparked Charles' jealousy during a successful tour of Australia.
Harry and Meghan's tour was in October 2018 and came a month before another major moment in their royal timeline that they talked about at length.
In November, 2018, The Daily Telegraph ran a story suggesting that Meghan made Kate cry in the days before Harry and Meghan's wedding during a discussion about bridesmaid's dresses. The story was later picked up on the front page of The Sun.
Meghan told Oprah it was her, and not Kate, who cried and that Kensington Palace should have denied the story on the record. She said that in the wake of a wave of hostile press, she told Harry she was feeling suicidal in January 2019.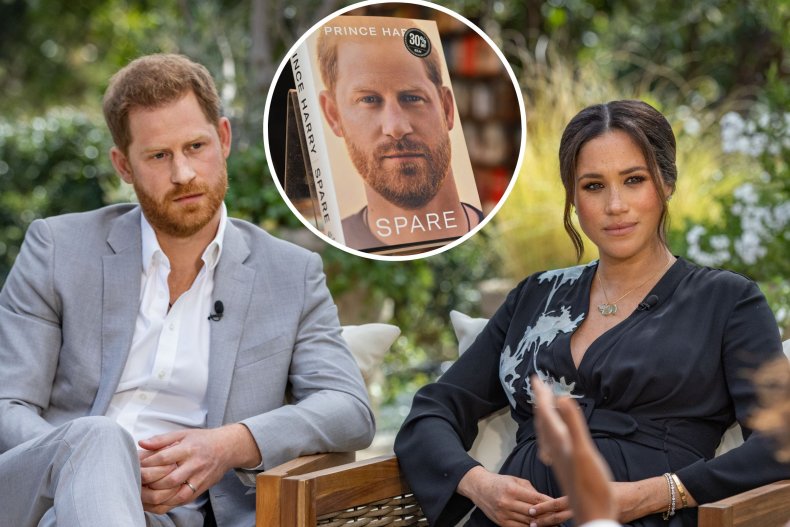 "After we had gotten back from our Australia tour," she said. "We talked about when things really started to turn, when I knew we weren't being protected.
"And it was during that part of my pregnancy, especially, that I started to understand what our continued reality was going to look like."
"I mean," she said, "they would go on the record and negate the most ridiculous story for anyone, right? I'm talking about things that are super-artificial and inconsequential.
"But the narrative about, you know, making Kate cry, I think was the beginning of a real character assassination. And they knew it wasn't true. And I thought, well, if they're not going to kill things like that, then what are we going to do?"
Prince Harry's Narrative in Spare
In Spare, relations between Harry and Meghan and William and Kate appear strained virtually from the outset but had certainly become a problem by June 2018, a month after Harry and Meghan's wedding and four months before the tour of Australia.
By that stage, things had become serious enough that the couple got together to talk through their mutual grievances at William and Kate's country retreat Anmer Hall.
Spare reads: "Meg then acknowledged the tension among the four of us and ventured that it might go back to those early days when she'd first joined the family—a misunderstanding that had almost passed without notice.
"Kate thought Meg had wanted her fashion contacts. But Meg had her own. They'd got off on the wrong foot perhaps? And then, Meg added, everything got magnified by the wedding, and those infernal bridesmaids' dresses."
The meeting where Meghan flagged that tension predates the story about the flower girl dresses leaking to the media by five months.
Kate, Harry writes, said she wanted an apology because in the run up to the wedding: "You talked about my hormones. We're not close enough for you to talk about my hormones!"
Spare reads: "Meg's eyes got wide too. She looked genuinely confused. 'I'm sorry I talked about your hormones. That's just how I talk with my girlfriends.'
"Willy pointed at Meg. 'It's rude, Meghan. It's not what's done here in Britain.'
"'Kindly take your finger out of my face.'"
Harry says that at the end of the meeting "we all hugged. Kind of."
Clearly there were pre-existing tensions between the couple that did not simply arise from a lack of support for Meghan and Harry in dealing with a hostile media, as they described to Oprah.
Harry, Meghan and Staff at Kensington Palace
The book also reflects wider issues with the working environment at Kensington Palace and relations with staff that predate the October 2018 tour.
In a section that appears to take place in summer 2018, Harry writes: "Our staff sensed the friction, read the press, and thus there was frequent bickering around the office. Sides were taken. Team Cambridge versus Team Sussex. Rivalry, jealousy, competing agendas—it all poisoned the atmosphere."
He described how there were "so many demands from the press, such a constant stream of errors that needed clearing up, and we didn't have nearly enough people or resources," meaning that in the end "nerves were shattering, people were sniping" and "all feedback was seen as an affront, an insult."
Spare reads: "More than once a staff member slumped across their desk and wept.
For all this, every bit of it, Willy blamed one person. Meg.
"He told me so several times, and he got cross when I told him he was out of line. He was just repeating the press narrative, spouting fake stories he'd read or been told."
It is unclear what Harry means by the "press narrative" since the stories describing Meghan as "Duchess Difficult" would not start in the U.K. media until months later in December 2018.
The coverage of Meghan in, for example, the Daily Mail in summer 2018 contained some sniping at Meghan for perceived breaches of the royal rule book but not related to staff relations.
One additional major story was Thomas Markle's repeated hostile interviews about Meghan, which the duchess previously told her lawsuit against The Mail on Sunday had led to Harry's family "constantly berating" him to do something about it.
In other words, though Harry and Meghan did not tell Oprah, all of those problems were already flaring behind the scenes over summer 2018 before the start of the Australia tour that Harry said sparked family jealousy and changed everything.
Prince Harry and Meghan's Tour of Australia
The book overlaps with Oprah in its account of the tour of Australia and says Harry began to suspect his family might turn against them while they were still away.
He wrote: "She was so brilliant that midway through the tour I felt compelled … to warn her. "'You're doing too well, my love. Too damn well. You're making it look too easy. This is how everything started … with my mother.'
"Maybe I sounded mad, paranoid. But everyone knew that Mummy's situation went from bad to worse when she showed the world, showed the family, that she was better at touring, better at connecting with people, better at being 'royal,' than she had any right to be. That was when things really took a turn.
"We returned home to jubilant welcomes and exultant headlines. Meg, the expectant mother, the flawless representative of the Crown, was hailed. Not a negative word was written.
"It's changed, we said. It's changed at last. But then it changed again. Oh, how it changed."
Then came a rash of negative stories, including the one framing Meghan as "Duchess Difficult."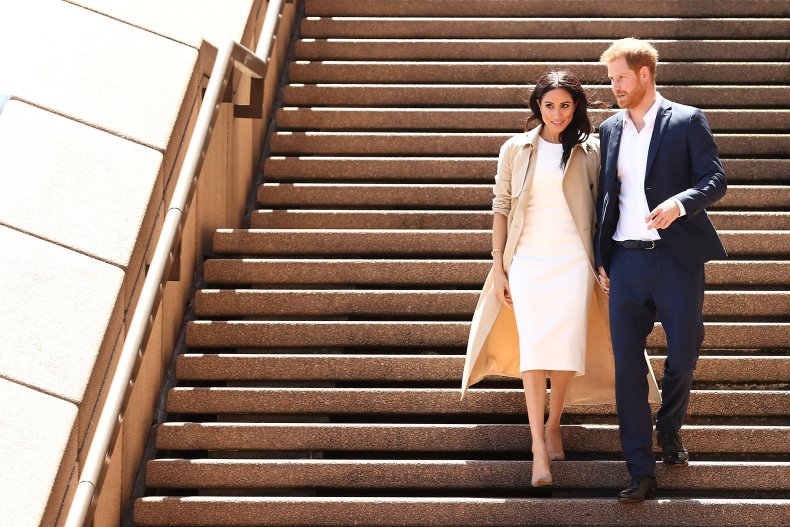 Harry wrote: "She was also said to have driven our assistant to quit; in fact that assistant was asked to resign by Palace HR after we showed them evidence she'd traded on her position with Meg to get freebies.
"But because we couldn't speak publicly about the reasons for the assistant's departure, rumors filled the void. In many ways that was the true start of all the troubles. Shortly thereafter, the 'Duchess Difficult' narrative began appearing in all the papers."
Harry appears to place more emphasis on this story about Meghan's PA while Meghan's account to Oprah focused mainly on the dispute over flower girl dresses.
The duke does discuss that leak though and how they had another clear-the-air meeting with William and Kate on December 10, 2018, the day after the "Duchess Difficult" story.
Harry says that Kate began by acknowledging, "I know, Meghan, that I was the one who made you cry," but, he said, the palace would not correct the record because that would invite questions about what actually happened.
The truth, he suggests, would "embarrass the future queen," so they moved on to discussing where it came from.
Harry wrote: "The list of suspects became vanishingly small. Finally, finally, Willy leaned back and conceded that, ahem, while we'd been on tour in Australia, he and Kate had gone to dinner with Pa and Camilla … and, alas, he said sheepishly, he might've let it slip that there'd been strife between the two couples…
"I put a hand over my face. Meg froze. A heavy silence fell. So now we knew. I told Willy: 'You .. of all people … should've known … He nodded. He knew.'"
Complicating Factors in Harry and Meghan's Story
The Oprah interview did not make clear who the couple felt had leaked the story whereas they now appear to blame either Charles, Camilla or someone from the king and queen consort's team.
There is one slightly awkward dimension, however, which relates to the question of timing and Harry's assertion that the motivation for everything changing was jealousy.
According to Harry's account, Charles and Camilla would not have known about the argument before the Australia tour and so it could not have leaked via them or their office before that point.
So it is then unclear why Harry believes they were motivated by jealousy over the tour of Australia rather than simply shock at learning about the incident for the first time, for example.
The stories criticizing Meghan made no mention of the King and Queen Consort so it is unclear why anyone would think that it would boost their reputations.
Charles' own standing with the British public had seemingly improved, not been damaged, in the warm afterglow of Harry and Meghan's wedding.
In November 2017, he was liked by 47 percent of U.K. adults and disliked by 43 percent, giving him a net rating of +4. By November 14, 2018, two weeks before the story accusing Meghan of making Kate cry, he was liked by 48 percent and disliked by 20 percent, putting him on +28.
Harry does not seem to engage with possible alternative explanations for the saga, for example that the account was leaked by a staff member who simply disliked Harry and Meghan owing to the poisonous atmosphere that Harry himself described.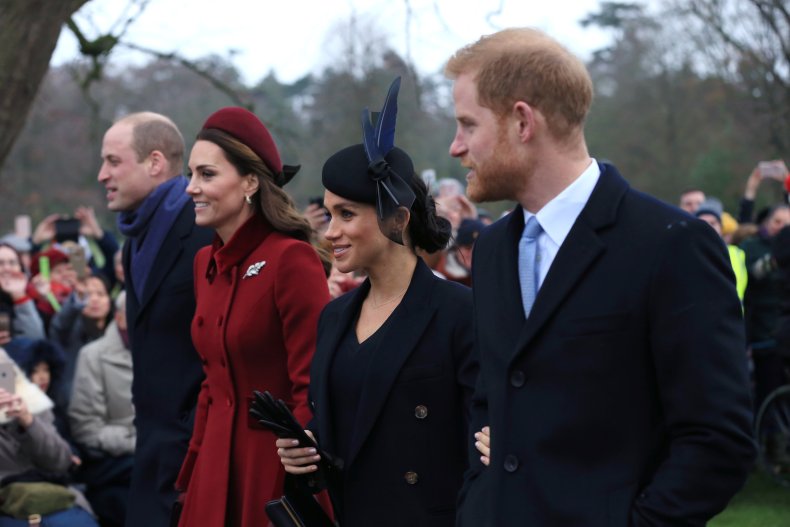 This could be for either cynical reasons, in pursuit of revenge, or in good faith, because they thought media attention might lead to something being done about it.
It would hardly be a surprise, given the scathing terms with which Harry describes senior palace officials. For example, one member of staff in the book is nicknamed "the wasp" because he was "lanky, charming, arrogant."
"Because he seemed so weedy, so self-effacing," Spare reads, "you might be tempted to push back, insist on your point, and that was when he'd put you on his list."
"I disliked these men," Harry continued, "and they didn't have any use for me. They considered me irrelevant at best, stupid at worst. Above all, they knew how I saw them: as usurpers."
Harry's account to Oprah only makes sense if he simply did not view those other things as a problem, namely, if the royal rift manifested itself only as negative stories about him and Meghan in the media. However, it is difficult to believe that the weeping staff members would agree with him.
The prince is free to give his version of events but—having acknowledged in Spare that he may have seemed "paranoid" when he first mentioned jealousy—it might help readers to have a more coherent account of why family rivalry is the only possible explanation for leaks from an institution staffed by people he appears to hate and who did not seem to like him much either.
Apart from anything, back in October 2018 the public view of Harry, Meghan, William and Kate was that they were the "fab four," working together in harmony.
Nothing was publicly known of the poisonous atmosphere Harry describes at Kensington Palace, of staff weeping at their desks, or of clear-the-air talks with William and Kate.
Harry and Meghan may have legitimate grounds for objecting to press reports printed at the time, but they do appear (on the strength of his book) to relate to real incidents that were not invented by journalists or palace spin doctors.
And that will be news to a lot of people.