A biographer of Prince Harry and Meghan Markle recently said the couple should be stripped of their titles for telling "unforgivable" lies despite aspects of his own book being called into question.
Tom Bower, author of Revenge, told Good Morning Britain he believed the Duke and Duchess of Sussex's television interview with Oprah Winfrey were "hugely damaging to the royal family."
Bower's comments were part of a debate on the show about whether the couple should be stripped of their titles over the upcoming publication in January, 2023, of Prince Harry's memoir Spare.
"The couple in Montecito who are making their fortune solely by damaging and destroying the royal family to promote their own fortunes and their own prestige and their own brand, I don't they think they should be allowed to call themselves Duke and Duchess anymore," Bower said.
However, host Ed Balls pointed out Bower's own biographies, including one about King Charles III titled Rebel Prince, were also critical of the monarchy, leading a fellow guest to accuse him of hypocrisy.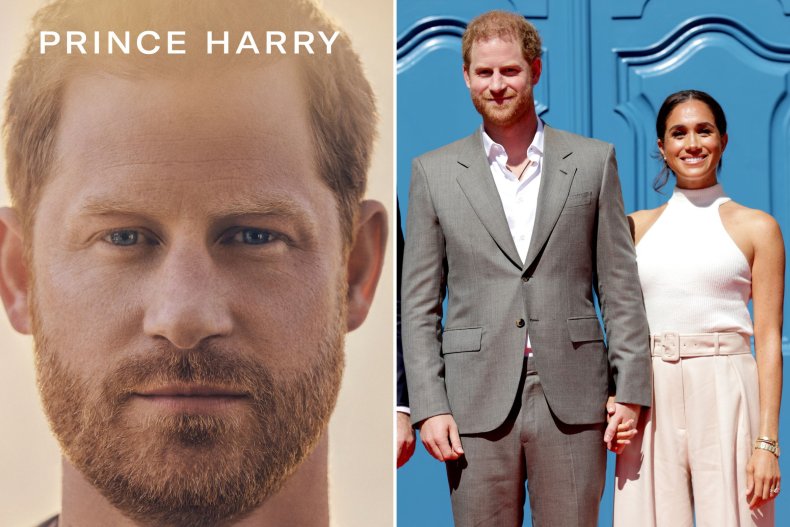 Bower defended his work by saying Harry and Meghan had told 17 lies to Oprah Winfrey and added: "I don't lie in my book."
However, a number of the factual claims made in Revenge were challenged following the book's publication.
Tom Bower's Comments to Good Morning Britain
Historian Tessa Dunlop, the author of Elizabeth and Philip, responded to Bower on Good Morning Britain, saying: "Accuse him [Bower] of rank hypocrisy because that is precisely what it is. You talk about them making their fortune in Montecito, arguably Harry with good reason, he's had a pretty rough ride in his young life.
"Meanwhile you're sitting there in your little establishment position absolutely raking it in off the back of their arguable misfortune or fortune depending how you want to spin the coin."
Bower disputed the comparison: "They're making their money out of lying—that's why. I don't lie in my book."
"I don't publish lies and they deliberately went to the Oprah Winfrey interview and said 17 lies and that is unforgivable because they are not trading as an author, they are not trading someone who has done any work, they are just peddling their titles," Bower added.
Contested Aspects of Tom Bower's Book Revenge
The book contained a number of eye-watering mistakes including Bower confusing Meghan with CBS host Gayle King.
"King's promotion owed much to Oprah Winfrey," Bower wrote. "'Both of us,' said Oprah about Meghan, 'grew up as Black girls striving to do better in poor lives…She [Meghan] is the mother I never had, the sister everybody would want, she is the friend everybody deserves. I don't know a better person."
However, the real quote was about King, not Meghan, and Bower also appears to have mistakenly included the phrase "poor lives" in place of the less politically charged "our lives."
Oprah's real remarks were made to The New York Times in 2018 for a feature about King.
The gaffe was, however, not the only slip up in the book as he elsewhere described the author of Finding Freedom as "Omar" rather than Omid Scobie.
Revenge also wrongly described Kristen Meinzer, co-host of Newsweek's The Royal Report podcast, as a friend of Meghan and erroneously said she describes herself as "he/she." Meinzer's Twitter profile actually lists her pronouns as "she/her."
"In his new book, Tom Bower claims I'm friends with #MeghanMarkle and that I use the pronouns he/she," Meinzer wrote on Twitter. "If he can't even get these simple facts right, how are we to trust anything he says about the Sussexes?"
Harry, Meghan and Royal Titles
Harry was given the title "Prince" at birth while the couple were given the titles Duke and Duchess of Sussex when they married. Meghan was also then given the title Princess Henry of Wales, which she still holds but does not use (Prince Harry's official first name is Henry).
However, now that King Charles III is the monarch, there is a further question about titles for their children Archie and Lilibet Mountbatten-Windsor.
Under the George V Convention, grandchildren of the monarch would get prince or princess titles depending on gender, however, no announcement has yet been made.
Meghan also told Oprah there was discussion during Queen Elizabeth II's lifetime of the possibility the convention would not be followed and they would not get titles.
"Even though I have a lot of clarity on what comes with the titles, good and bad—and from my experience, a lot of pain," Meghan said.
"I, again, wouldn't wish pain on my child, but that is their birth right to then make a choice about."