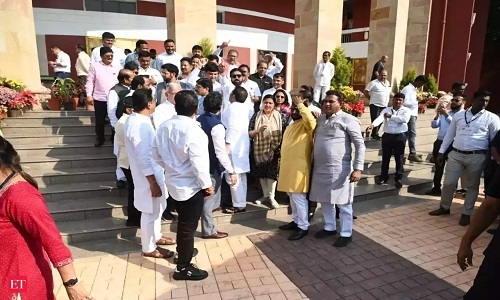 Staff Reporter
The proceedings of the day were adjourned following din in the Lower House, on Monday.
Demanding Agriculture Minister Abdul Sattar's resignation, the Opposition members trooped into the well and disrupted the proceedings of the Lower House. The pandemonium was over a land regularisation order passed by Sattar when he was a minister in the previous Maha Vikas Aghadi (MVA) Government.
After storming into the well, the Opposition members squatted and raised slogans causing disruption in the Lower House. The Opposition was alleging irregularities in ordering regularisation of the possession of the land reserved for grazing in favour of a private party. Leader of Opposition Ajit Pawar alleged there were irregularities worth Rs 150 crore and Sattar's land regularisation order was clear violation of a court order. Pawar said, "Sattar should immediately resign from his ministry as he misused his post. If he doesn't resign, then he should be sacked."
The House was adjourned twice over the issue after uproar by the Opposition. Finally, at around 2 pm, the Speaker adjourned the House for the day.
Outside the Assembly, the Opposition members raised slogans and demanded resignation of Abdul Sattar. The agitation by the Opposition attracted huge crowed inside the premises which lasted for half an hour.