Holly Garrod, one of the BirdsCaribbean's trainers at the recent workshop in the hills of central Dominican Republic, describes some highlights of the event. Wildlife professionals from 16 countries had the opportunity to get together in person and learn to address the challenges of identifying, counting, and tracking our fascinating landbirds – in a variety of beautiful habitats.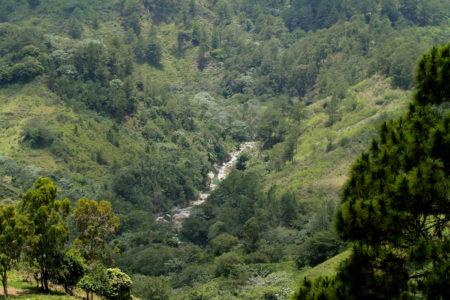 Our first Caribbean Landbird Monitoring Training Workshop (February 16–20, 2022) took place in the beautiful Jarabacoa Valley of the Dominican Republic. Wildlife professionals from across the region gathered for five days of non-stop learning, sharing, and growing. From the classroom to the forest, the workshop provided participants with the knowledge and confidence to train a monitoring team and institute a sustainable, local landbird monitoring program in their home countries using the Programa de América Latina para las Aves Silvestres (PROALAS) Manual bird survey protocols.
The workshop, led by BirdsCaribbean staff and local ornithologists, seeks to lay the foundation for a regional network of people dedicated to standardizing monitoring and conservation of landbirds. The Dominican Republic was selected as the workshop location for its undeniably rich variety of birds, including endemics, residents and many migrants. The workshop is just one part of a much bigger picture: BirdsCaribbean's ambitious goal of developing regional networks to support our wonderfully diverse landbird species. This brand new project aims to build regional capacity to study, monitor, and conserve our Caribbean landbirds through the use of standardized surveys, bird banding, and the Motus Wildlife Tracking System.
Welcome to Jarabacoa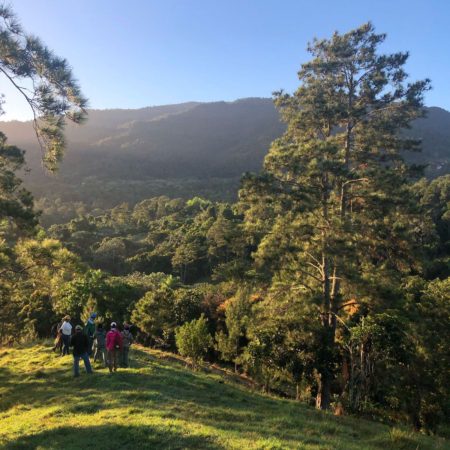 It was a quiet morning in the hills of Jarabacoa. Participants gripped their seats as the bus stumbled up the rocky road and entered into the cattle ranch of Jose Brache, blasting a steady stream of Dominican Bachata music with colored interior lights to match. The property, locally known as "Los Cerros" or "The Hills," is a conglomeration of many smaller plots of land, filled with rolling hillsides and riparian corridors along river margins and banks. While the property is still an active cattle ranch, the owner has maintained some of the historic tropical broadleaf forest, and the resulting bird activity is evidence that these efforts have paid off. Some participants may have been  doubtful at first about the idea of going to an active cattle ranch to survey birds, but their doubts were quieted upon exiting the bus. The sun began to rise above the undulating hills, hitting the mist and illuminating the surrounding slopes as bird song echoed through the treetops. The hills of Jarabacoa had come alive. 
Landbird Monitoring: The Basics 
As any experienced birder can attest, landbirds are the next level of birding. These birds are constantly on the move. They require birders to remember not just key identification features but also different vocalizations,  habitat types, and behavior of various species to better narrow down who that little brown bird really is. Landbirds are one of our canaries in the coal mine; they help us better understand our changing world. And the first step to protecting our beloved birds is to teach people how to start monitoring them.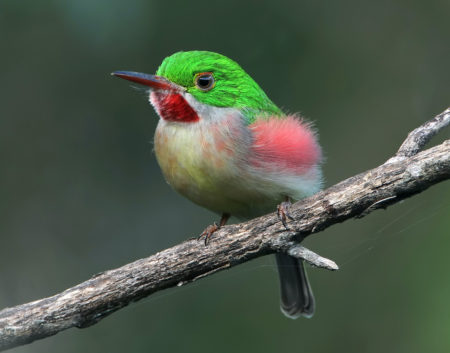 BirdsCaribbean brought 34 wildlife professionals from all across the Caribbean to the stunning mountain valley of Jarabacoa. Settled near center of the Dominican Republic, we chose Jarabacoa for our landbird monitoring training as it is well known for its variety of montane habitats, picturesque landscapes, and of course, because it is home to many of Hispaniola's notable endemic species, as well as many migrants. Our host for the workshop was the beautiful ecolodge, Rancho Baiguate, a calm oasis situated just outside the bustling mountain town of Jarabacoa.
In an outdoor classroom, we held sessions where participants learned about multiple aspects of landbird monitoring, including how to select sites, what the PROALAS protocols entail, tips for identifying and teaching people to identify landbirds, plus some key tools of the trade from estimating distances to entering data in eBird Caribbean. Our excellent trainers also put some sweet prizes on the line to incentivize trainees on how to practice wildlife counts, accurately estimate distances, and of course identify landbirds!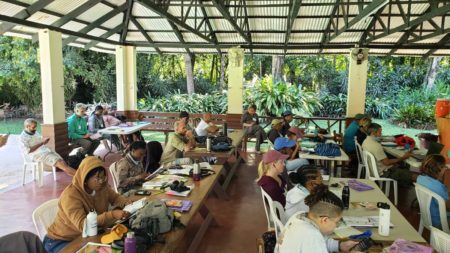 It's always better to be birding!
After a steady stream of knowledge we were all ready to put our new landbird monitoring skills to the test and head out to the field. Participants started at the locally known cattle ranch of José Brache's Los Cerros property. Here, participants learned how to survey in more open habitats, an important reminder that even fragmented landscapes can be important birding hotspots. Then, we climbed a little higher to the property of La Serena, sitting in the buffer zone of the Scientific Reserve, Ebano Verde. Here, participants learned the challenges of steeper survey points and practiced narrow transects with little visibility in a restored high elevation cloud forest. We then climbed a bit higher, ending the week with a hike through Ébano Verde, where participants learned about surveying in protected areas and everyone got epic views of the Hispaniolan Trogon. 
Overall we had 26 participants and 8 workshop leaders representing 16 countries! We saw a total of 63 species (and counting!) spread over an elevational range of 550 m to 1,200 m above sea level. Check out our trip list for the workshop here: https://ebird.org/tripreport/43434 
Workshop participants – don't forget to submit those eBird checklists!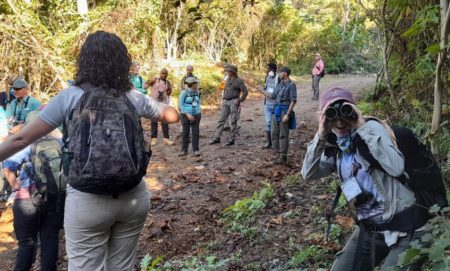 What was one of the favorite parts of the Landbird Monitoring Training? Finally getting to connect in person again with the BirdsCaribbean community! It was so refreshing to see familiar faces and finally go birding with people we've spent many hours chatting with on Zoom calls. Not only did we all come away with a newfound appreciation for many of Hispaniola's gems (including of course the Hispaniolan Emerald), but we all had the opportunity to learn how landbirds vary by island and just how different landbird monitoring might look across the Caribbean. 
What's the next step?
After a non-stop week of birding and learning, participants returned to their home countries to start the next phase. We're getting ready to launch our Small Grants program, so people across the Caribbean can take the knowledge they gained and begin implementing their own landbird monitoring programs, including training local communities to learn about their local landbirds. We hope to see many more PROALAS workshops sprouting up in future months. 
If the FOMO (or Fear of Missing Out, as the kids say) is getting to you down, don't worry! This is far from our last Landbird Monitoring Workshop! To start, we'll be holding another short (one-day) workshop to introduce the PROALAS protocols at our upcoming joint conference with AOS this summer.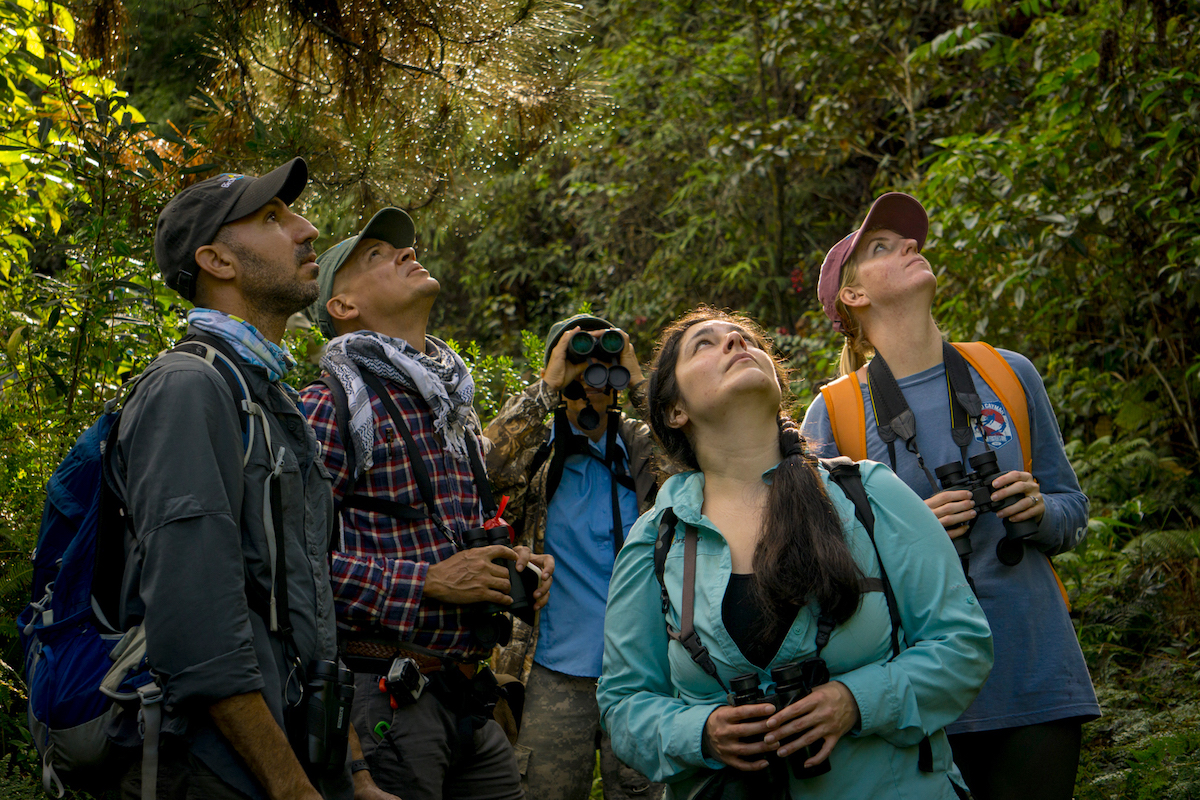 Birdwatching in Ebano Verde. (Photo by Zara Palmer)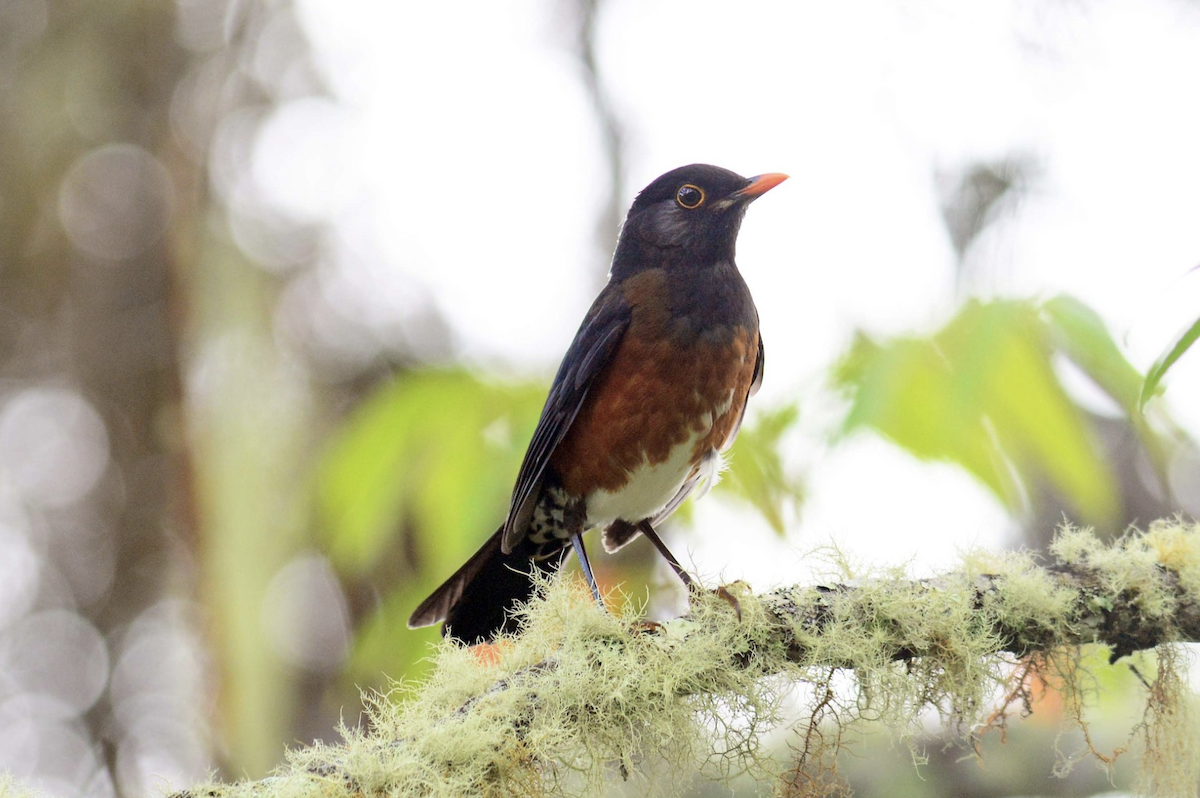 La Selle Thrush. (Photo by Paul Noakes).
Holly Garrod presenting at Landbird Monitoring Workshop. (Photo by Maya Wilson)
What did PROALAS do for you?
Participants shared their thoughts on the workshop and how the practical knowledge shared can be implemented in their respective countries.
Angela Ramsey, Wildlife Biologist at Tobago House of Assembly
"I am very happy to participate in this first Landbird Training in the Dominican Republic, using the PROALAS Protocol and eBird – which was a first for me. I'm hoping to go back to Tobago and be able to implement right away in the communities. We lack data, so we want to be able to incorporate community participation, in terms of trying to acquire the necessary data on landbirds, so that we can build our database and be able to improve our tourism sector. It was really good being here and participating with everyone, meeting a lot of people from the wider Caribbean region, and being able to just enjoy the time learning and sharing."
Tadzio Bervoets, Director of the Dutch Caribbean Nature Alliance
"We are very proud to be able to partner with BirdsCaribbean and to have representatives from the protected areas of Arbua, Bonaire, Sint Maarten and Saba attend the workshop to learn about the PROALAS method for landbird monitoring. We are looking forward to rolling out the methodology on all 6 islands of the Dutch Caribbean to help with the Protected Area Management in all those islands – specifically on the islands and then regionally, to answer questions related to climate change and interactions of different eco systems. We're very grateful that we've been able to attend and we're looking forward to closer collaboration with BirdsCaribbean in the future."
Daniela Ventura, Student at Havana University, Cuba
"This is the first BirdsCaribbean workshop that I'm participating in and it has truly been an incredible experience to be here in the Dominican Republic – a beautiful country with friendly people. It has also been interesting to meet people from the entire Caribbean and learn from the dilemmas that they are facing in bird conservation. This introduction, and all that we've covered on the PROALAS Protocol and they ways to monitor birds in our home countries, has been excellent. I leave here with many new friendships and with many new ideas to be able to use this protocol in my country and to understand a bit more about basic ecology and the Cuban species that we don't have much information on. I hope to be able to use my knowledge to contribute to the conservation of Caribbean birds."
Giselle Dean, Science Officer at the Bahamas National Trust
"This is my first BirdsCaribbean event after working at the Bahamas National Trust for the last 6 and a half years. I am pleased to say that it was an incredible experience where I got to meet so many different people working with birds across the Caribbean. I got to learn about the PROALAS Protocol, which we plan on using in the future to monitor bird populations within The Bahamas National Trust park system, including endangered species – such as the Bahama Oriole and Bahama Swallow. It was a great experience. I really loved being able to participate – finally! I'm excited for what the future."
Other comments shared by workshop participants:
"Extremely grateful to BirdsCaribbean and Para La Naturaleza for the opportunity to be part of the first Landbird Monitoring Training using the PROALAS protocol on the eBird platform. This will allow us to more effectively monitor our endemic, native and neotropical migratory populations."
"The Landbird Monitoring Workshop strengthened my knowledge, with which I am multiplying the lessons learned, giving workshops to park rangers and tour guides from different regions of the country."
"I feel confident in my abilities to set up and train people in PROALAS method for monitoring."
"I learned a lot and reached many of my goals."
"[The Landbird Monitoring Workshop] was a good introduction for me and I feel equipped to facilitate further training activities within my organization and develop our monitoring program."
"Comprehensive instructions, well delivered!"
"I feel that I walked away with a great deal more knowledge than I began with."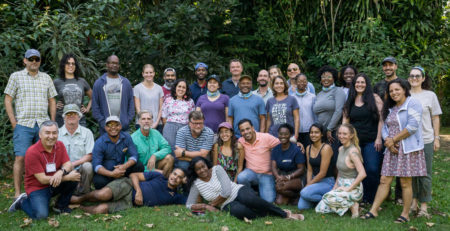 Acknowledgments: BirdsCaribbean is grateful to the US Fish and Wildlife Service for funding to develop our new Landbird Monitoring Program and hold this training workshop. We are also grateful to the US Forest Service International Programs, Environment and Climate Change Canada, and the Dutch Conservation Nature Alliance for additional funding support. Thanks also to Optics for the Tropics and Vortex Optics for providing binoculars for all participants, and to the friendly and helpful staff at Rancho Baiguate for hosting us. A special thank you to interpreter, Efrén Esquivel-Obregón, for his excellent and patient work with the group all week. Finally, we thank BirdsCaribbean members, partners, and donors for your support, which made this work possible.
Gallery
Enjoy more photos from the Landbird Monitoring Workshop below. Click the images to enlarge and see their captions.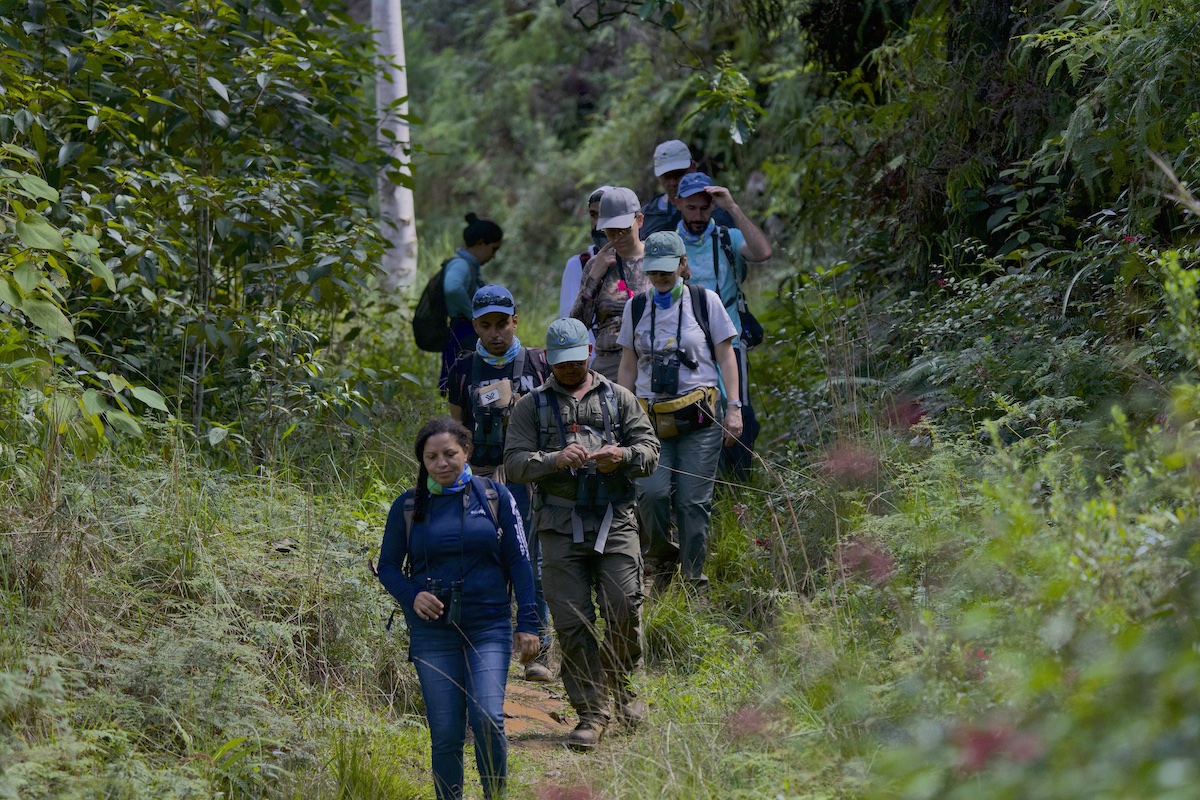 Group at Ebano Verde. (Photo by Holly Garrod)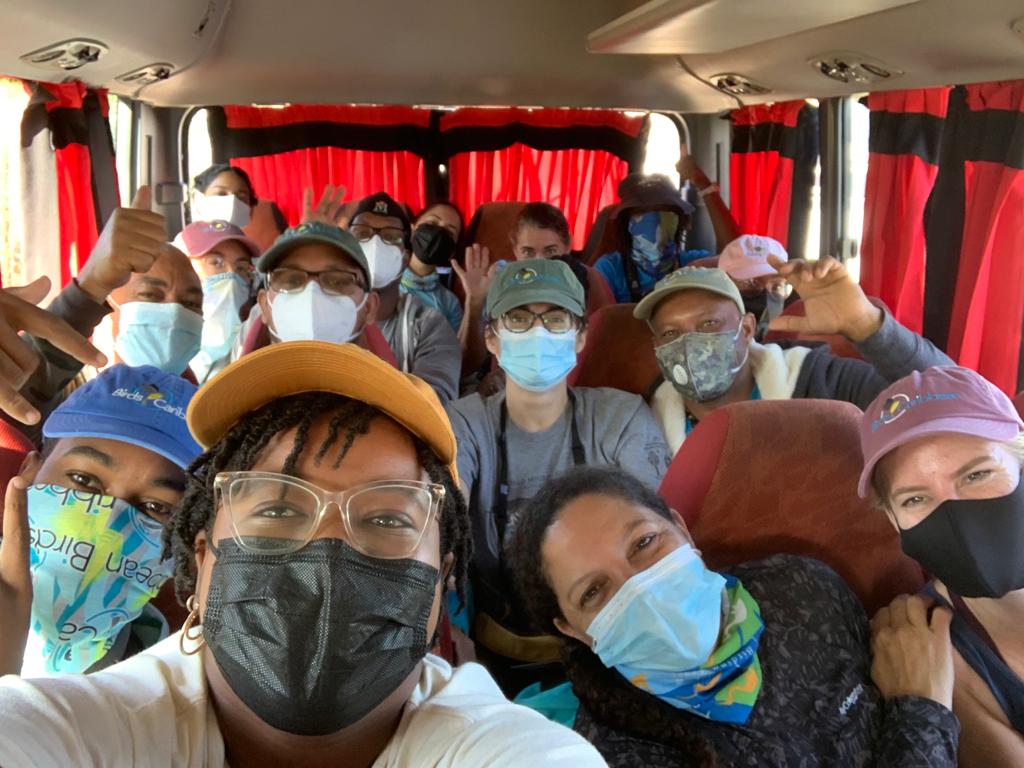 Group photo on the bus.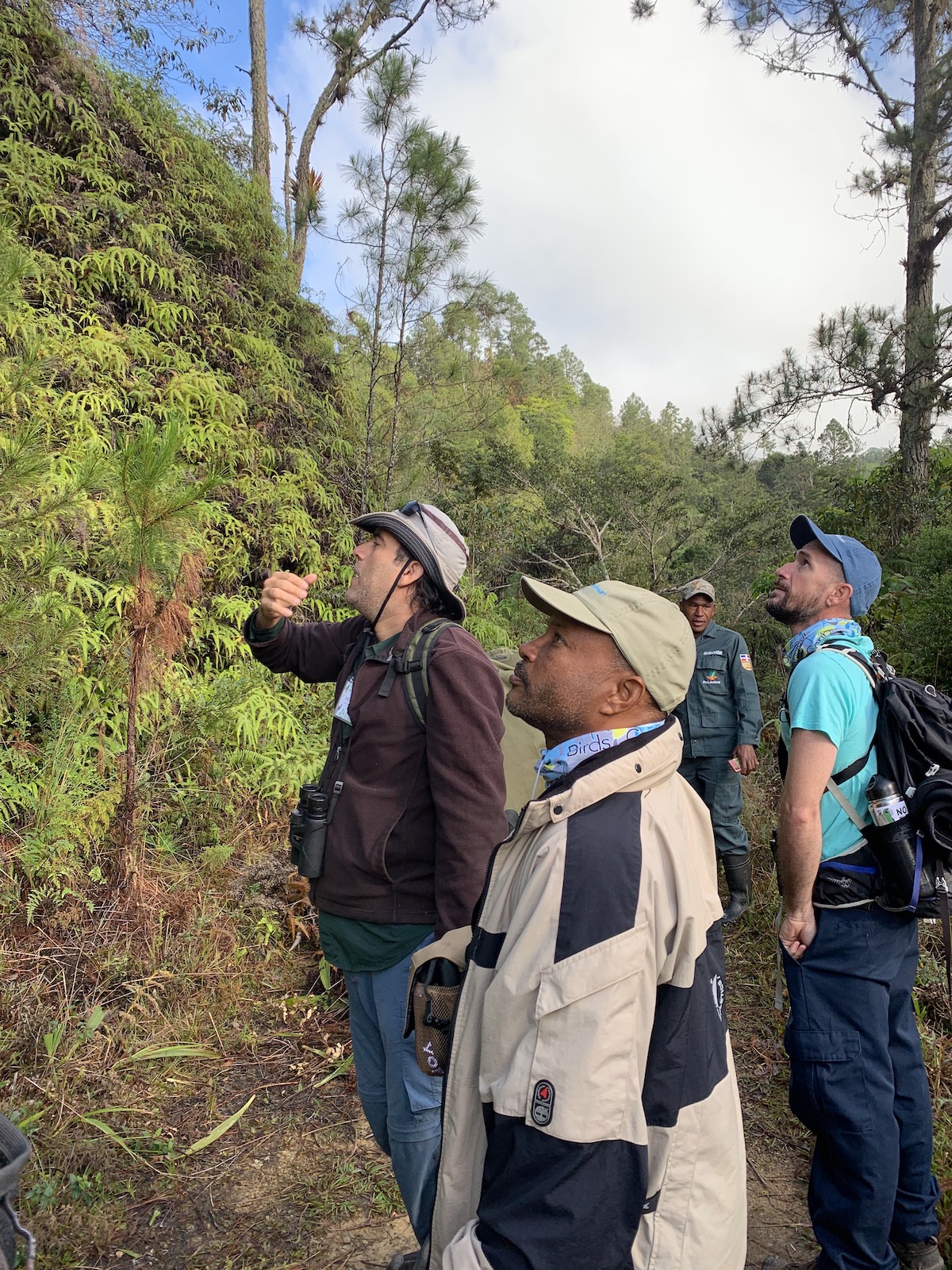 Miguel Landestoy calls in a bird for ID. (Photo by Adrianne Tossas)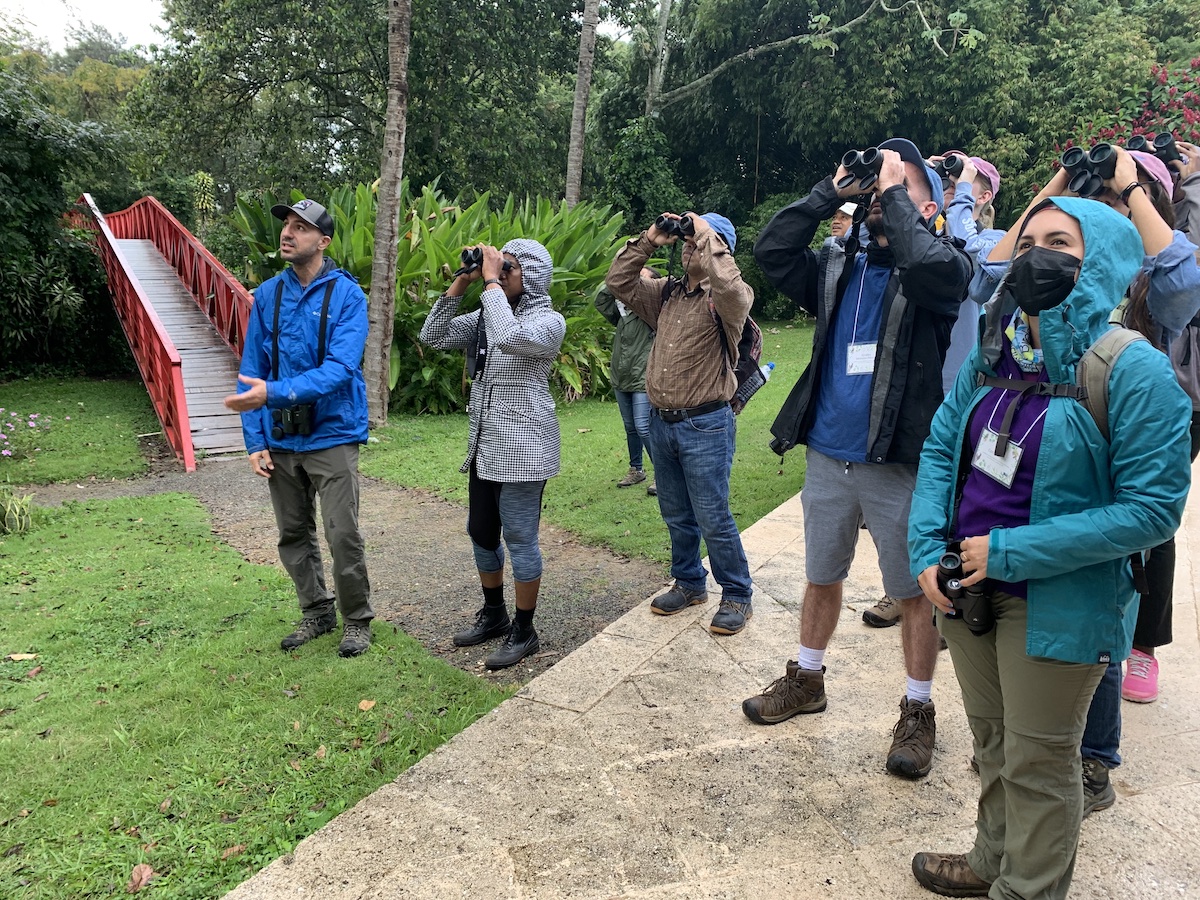 Ivan Mota teaches in the field. (Photo by Adrianne-Tossas).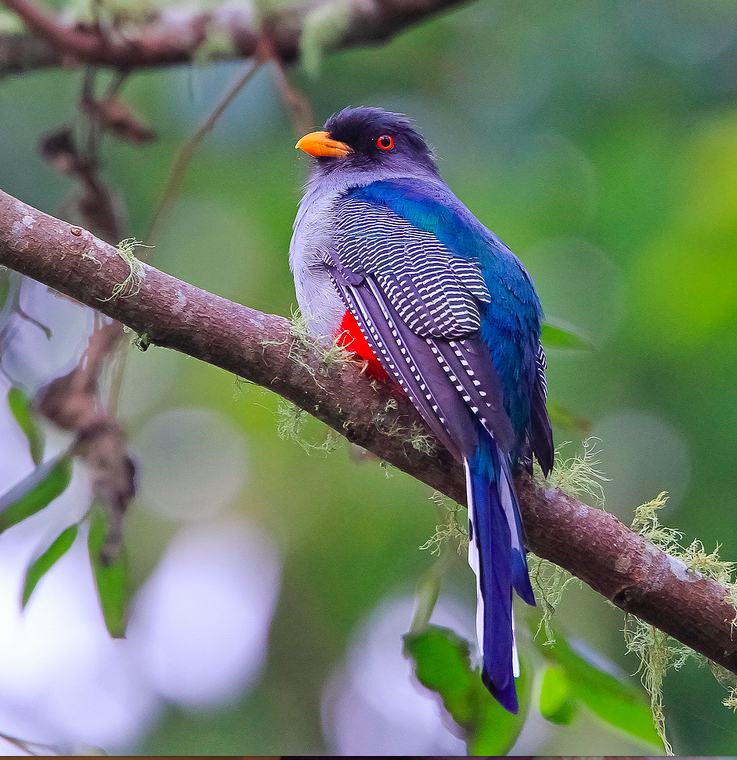 Hispaniolan Trogon. (Photo by Jose M. Pantaleon).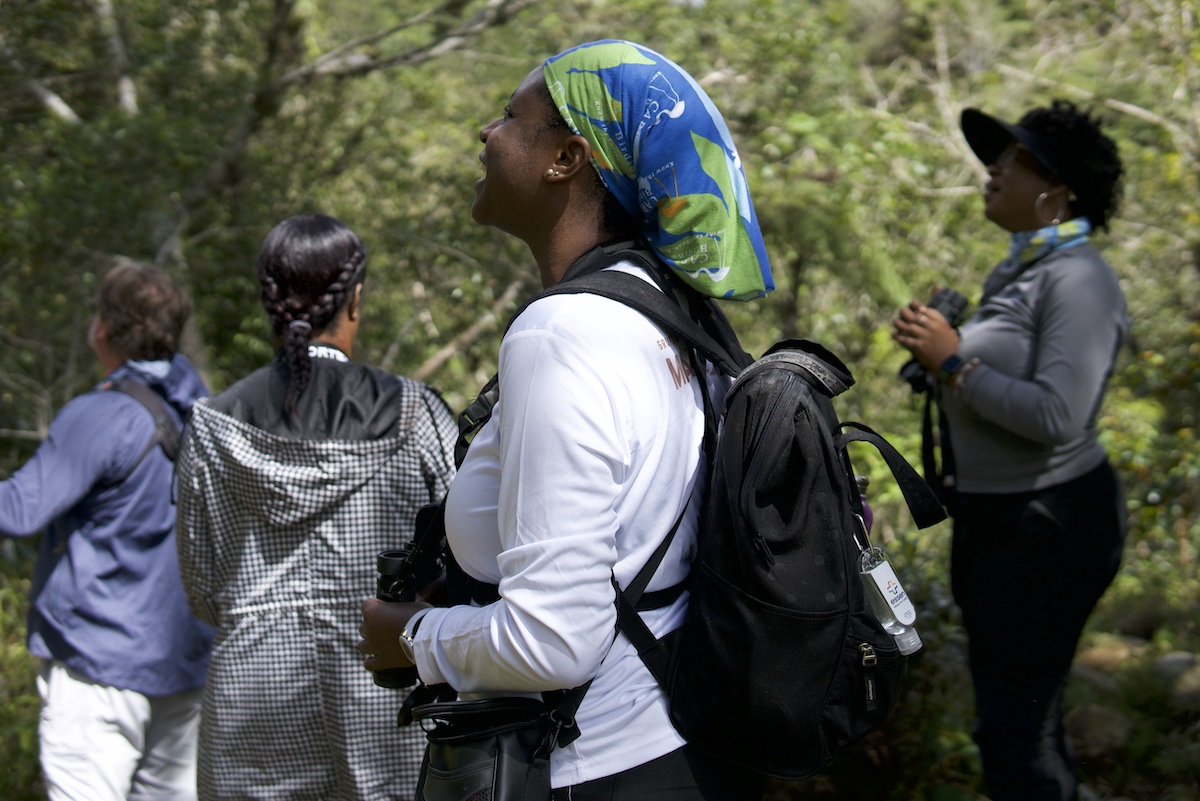 Participants explore Ebano Verde. (Photo by Holly Garrod)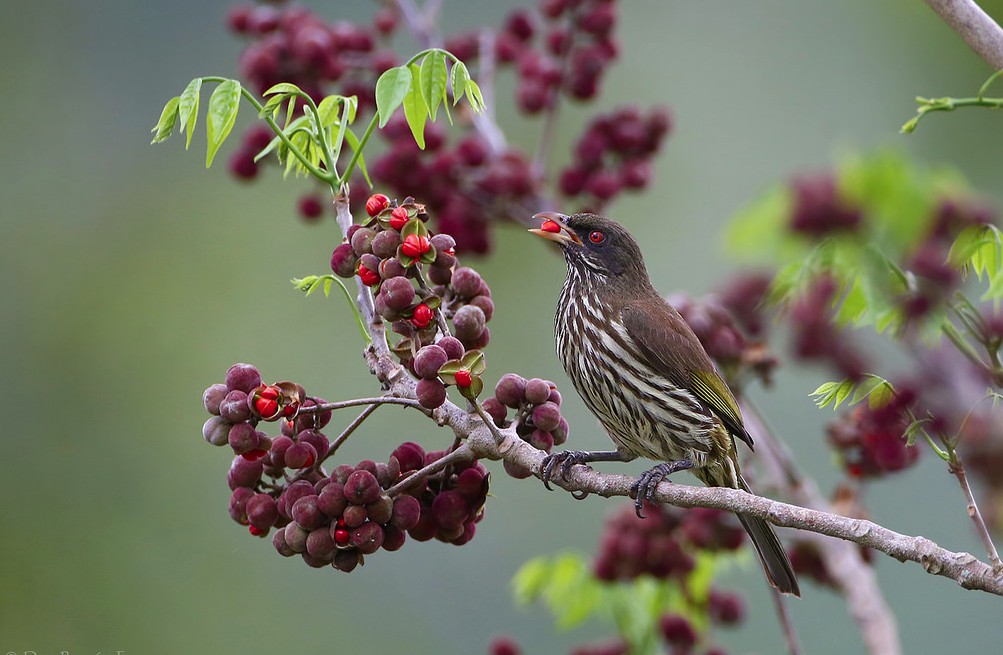 Palmchat eating red berries. (Photo by Dax Roman E.).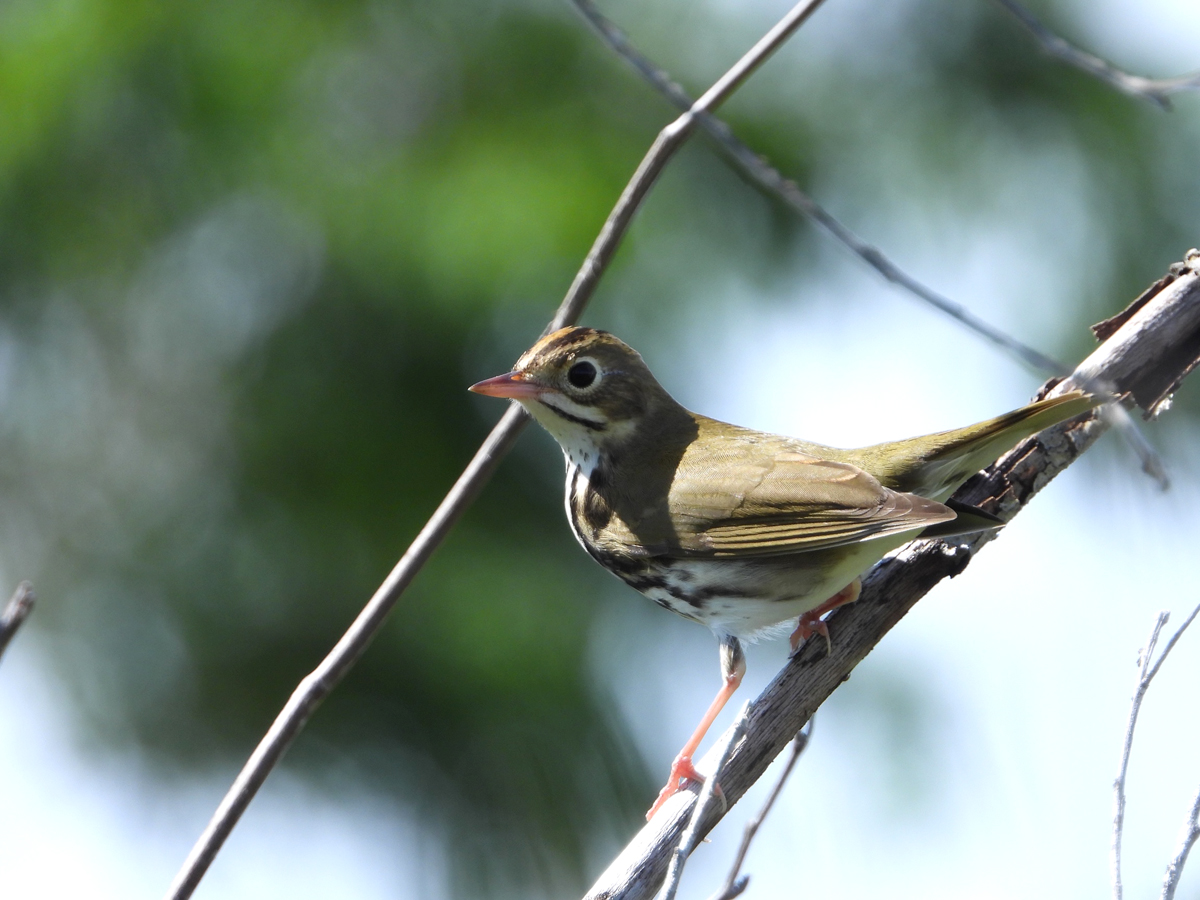 The always enchanting Ovenbird responded to our scold tape.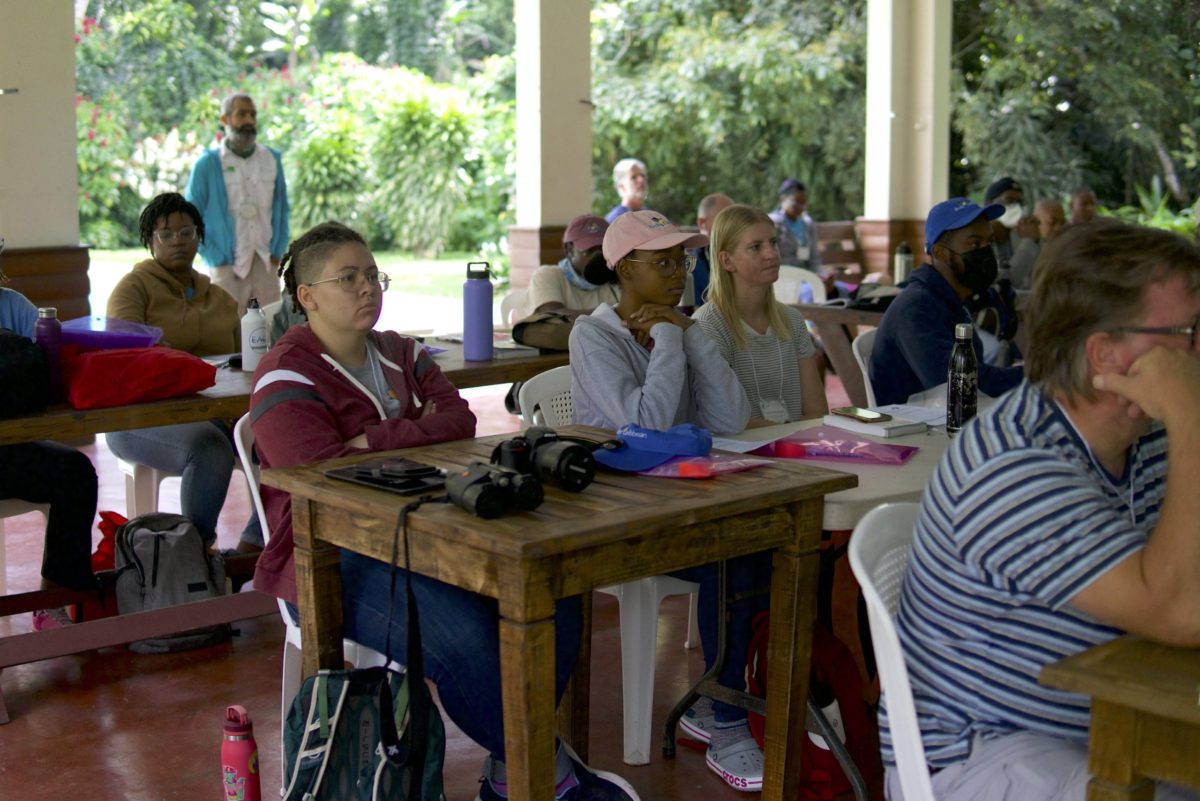 Participants attend a classroom session on PROALAS protocols.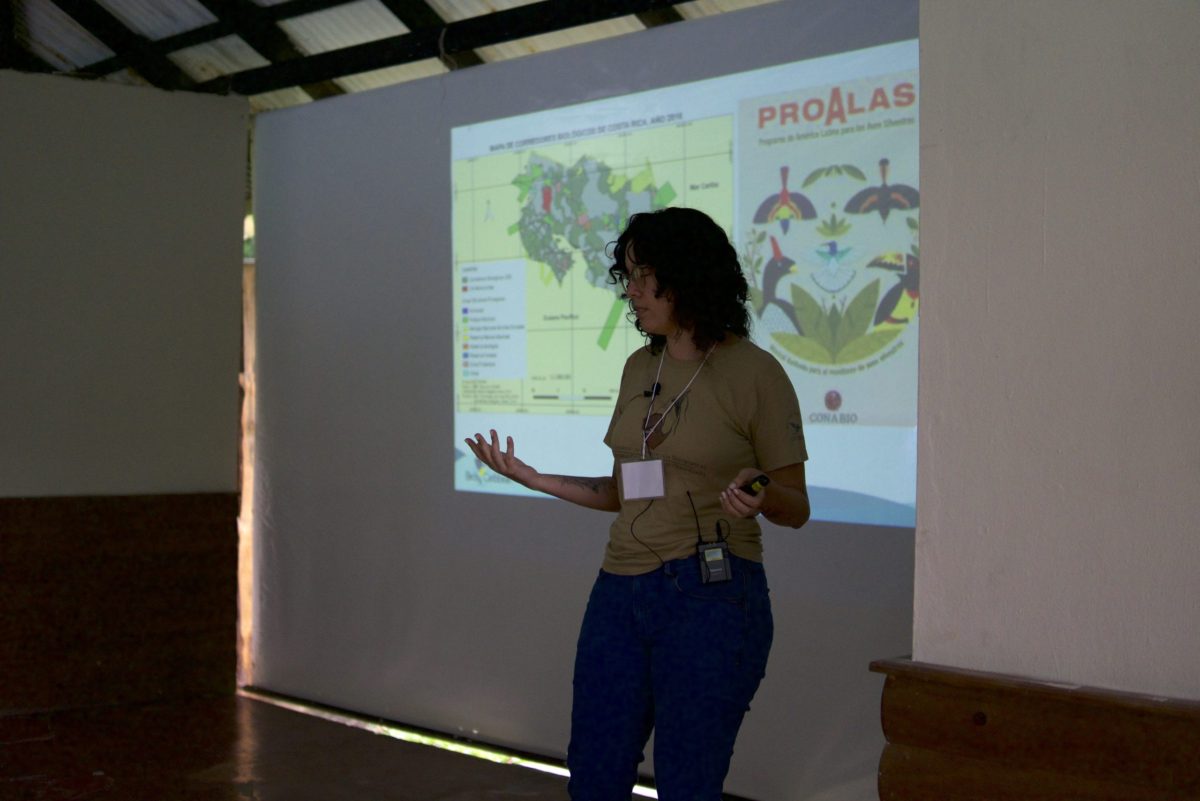 Workshop facilitator, Ingrid Molina, delivers a presentation on PROALAS protocols.
Greater Antillean Mango on Hispaniola. (Photo by Pavel Parkhaev)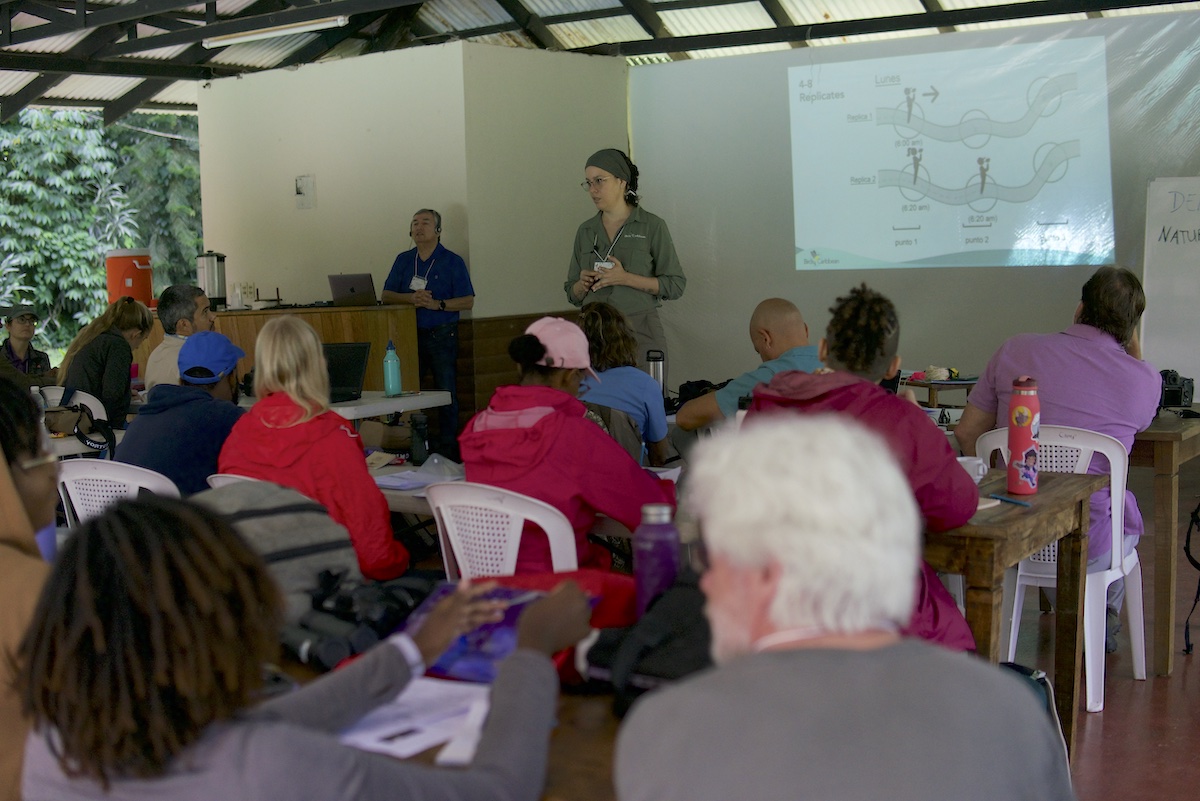 Ingrid Molina explains PROALAS. (Photo by Holly Garrod)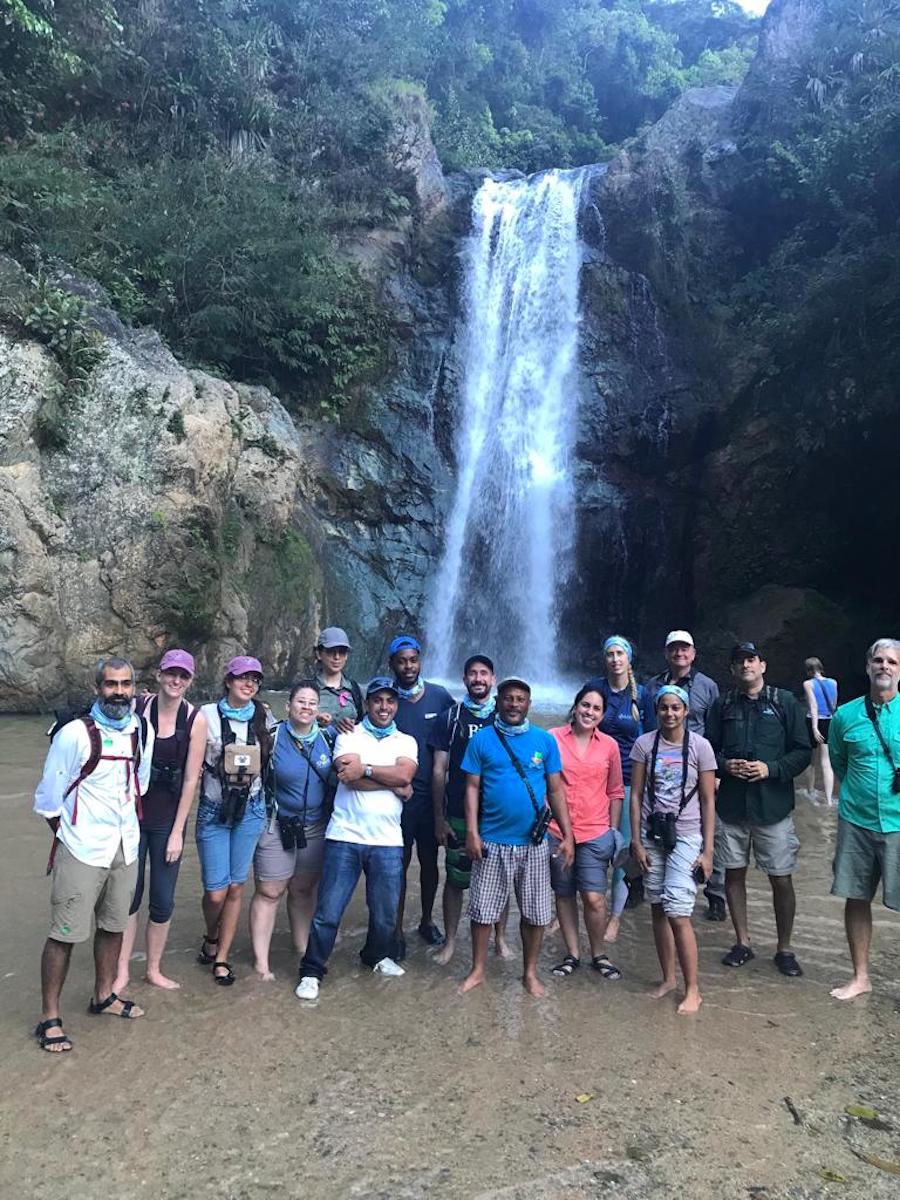 Group photo at Baiguate Waterfall, Dominican Republic.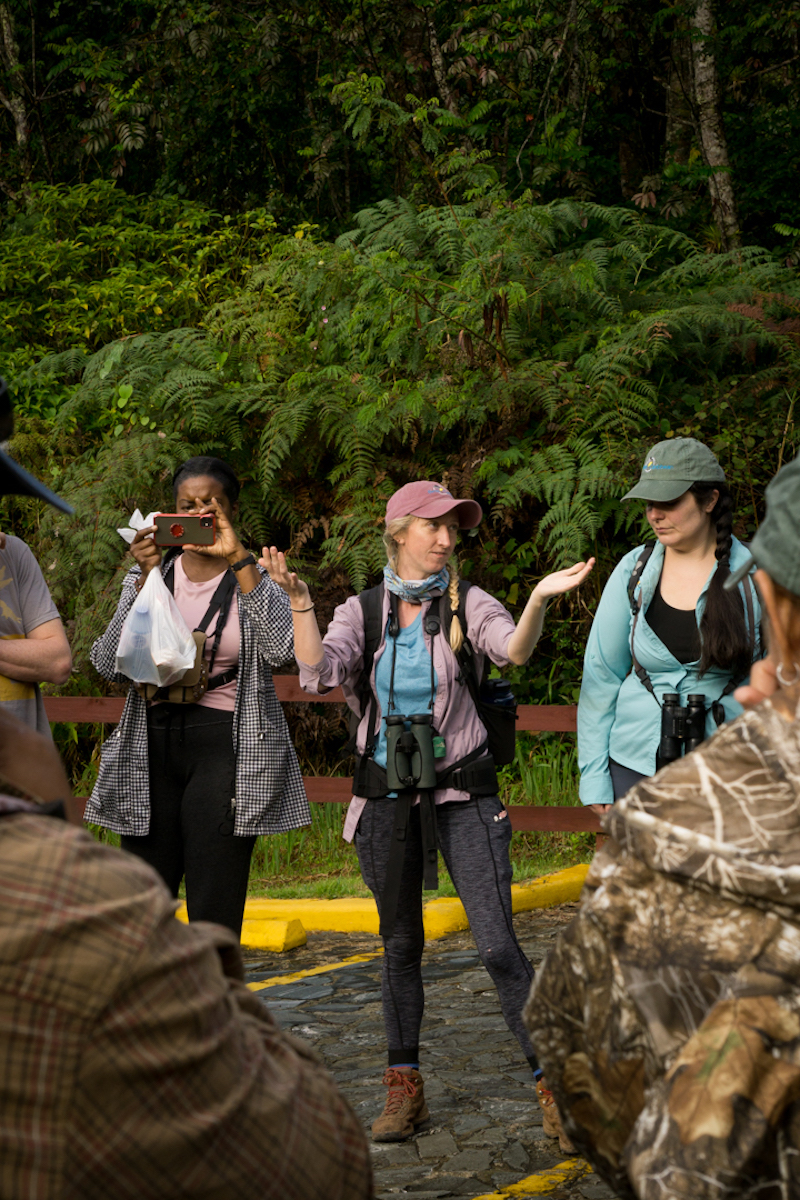 Workshop Facilitator, Holly Garrod, prepares the group for Ebano Verde. (Photo by Zara Palmer)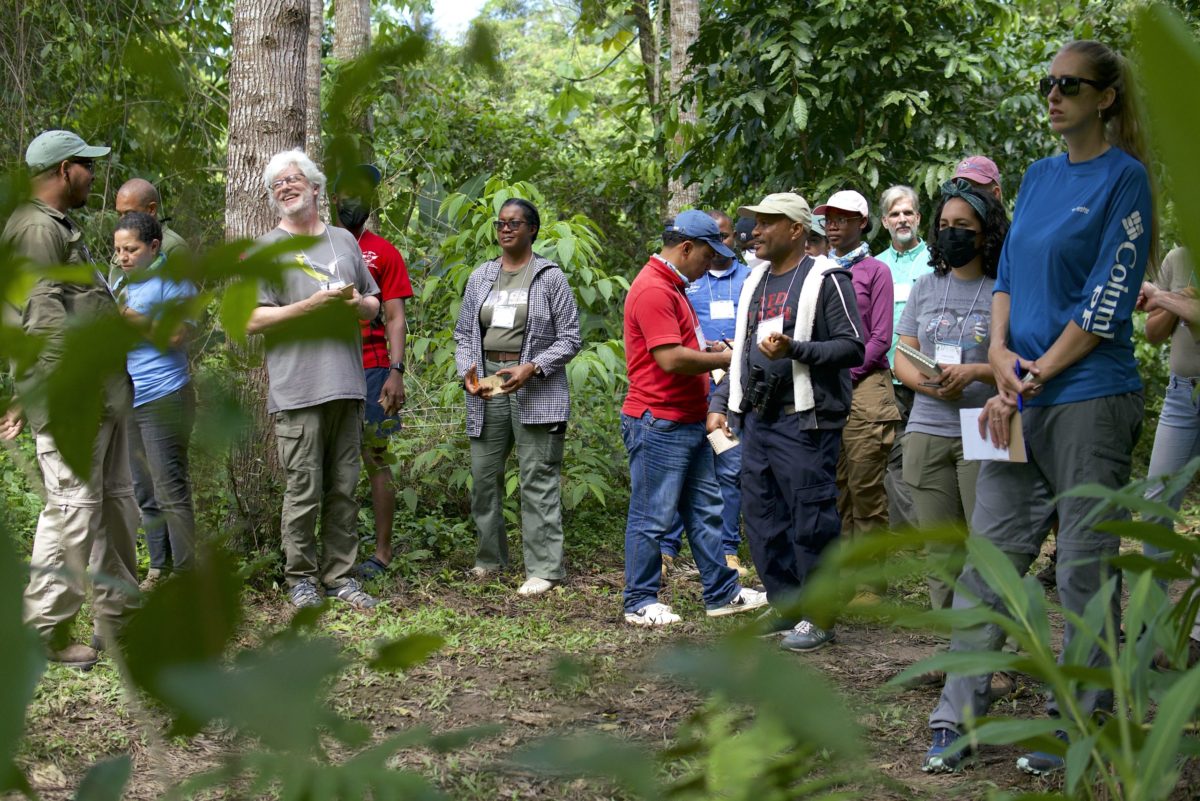 Putting knowledge into practice, participants take to the outdoors.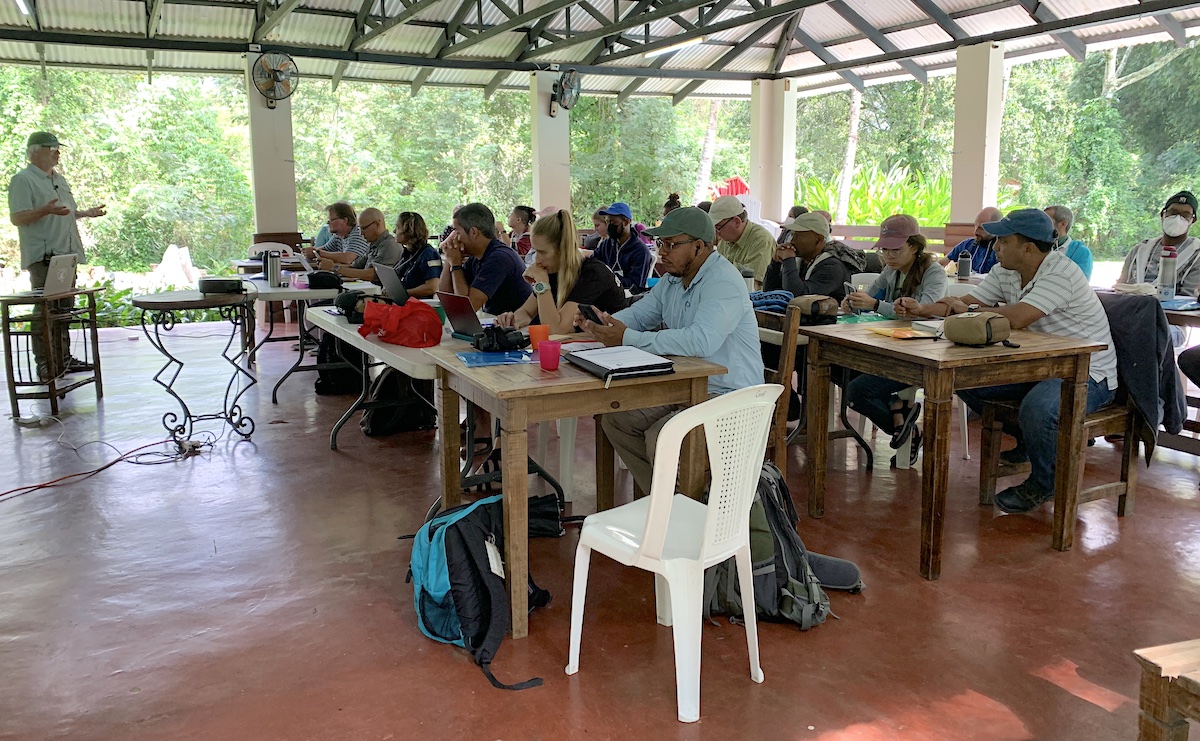 Jeff Gerbracht presents at Landbird Monitoring Workshop. (Photo by Adrianne Tossas).