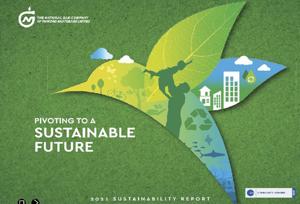 EVEN as he seeks to secure the country's gas supply, NGC president Mark Loquan has been focused on the company's green agenda with a goal to arrive at net zero carbon by 2050.
In the company's 2021 Sustainability Report launched last week, Loquan noted that the NGC already harness energy in various forms to fuel productivity.
"NGC is on a mission to create value from our nation's resources to contribute towards the economic, social and ecological development of Trinidad and Tobago. While our primary business remains the development and optimisation of natural gas at all points along the value chain, NGC is rapidly pivoting to satisfy the demands for energy in the low carbon future," he observed.
He noted the Government's COP26 pledge to reduce overall greenhouse gas (GHG) emissions by 15 per cent by 2030 from a 2013 baseline.
This, he said, will see reductions in power generation, public transportation and industrial sectors.
"The NGC Group is cognisant of its role and responsibility as the premier State-owned group of companies with operations in the industrial and transportation sectors. Accordingly, The NGC Group has articulated the following targets representing its contribution to the national effort in the short, medium and long term:
1. By 2030, to attain 30 per cent of Trinidad and Tobago's market share for renewable energy and energy efficiency business
2. By 2030, to achieve a 75 per cent reduction in venting of methane, and 50 per cent reduction of fugitive methane emissions from The NGC Group's operations
3. By 2030, to achieve 2 per cent of Trinidad and Tobago's Nationally Determined Contributions (NDCs) target for GHG reduction
4. By 2040, to achieve 30 per cent of Trinidad and Tobago's NDCs target for GHG reduction
5. By 2050, to achieve carbon neutrality across The NGC Group," he said.
Loquan said the NGC intends to utilise natural gas as a pathway to sustainability.
The NGC Group first embarked upon its Green Agenda in 2020.
"The Green Agenda provides a strategic focal point for The NGC Group's initiatives in the green space. These include methane measurement, reporting and reduction as well as energy efficiency and renewable energy projects and investments. Under the Green Agenda, The Group is also exploring opportunities for development of alternative energy sources, such as blue and green hydrogen and landfill waste. The NGC Group has emerged as a major advocate for climate adaptation and energy transition, as we continue to lead by example in the energy industry," Loquan said.
As for investing for a sustainable future?
This, the NGC has done through strategic investments in alternative fuels and renewable energy projects which it contends will help it pivot towards a carbon neutral business.
He noted that in 2021, NGC subsidiary, NGC Petrochemicals Limited (NPL) signed a term sheet with Gulf Coast Methanol 1 LLC and its parent company, IGP Methanol LLC to purchase blue methanol from IGP's Gulf Coast Methanol Park (GCMP) project.
"Negotiations are ongoing to finalise the terms of the agreement, which will see the expansion of NGC's marketing and trading portfolio. In addition to marketing and trading of methanol cargoes from its investment in Caribbean Gas Chemical Limited (CGCL) based in Trinidad and Tobago, NGC would be positioned to expand its trading business in international markets. IGP Methanol is in the final stages of developing its first world-scale blue methanol plant in Louisiana. The plant, which is scheduled to be commissioned in 2026, will produce ultra low-carbon methanol utilising the Haldor Topsoe Blue Methanol™ technology. This system generates heat from hydrogen, thereby reducing carbon dioxide emissions. There is an additional potential benefit to be derived from the process, as carbon dioxide emitted during methanol production can be captured and either sequestered or re-used to produce green hydrogen," he said.
He noted that National Energy signed a memorandum of understanding (MOU) with Methanex Trinidad Limited to conduct a feasibility study to determine the potential for use of methanol as a fuel for marine transportation in the region and vehicular transportation in Trinidad and Tobago.
"If deemed viable, this initiative would see the replacement of diesel with methanol, to satisfy the international requirement for low-sulphur fuel for marine vessels while reducing carbon emissions. Another Green Agenda milestone was achieved in September 2021 with the signing of an MOU between NGC and its subsidiaries – NGC CNG and National Energy – and The Trinidad and Tobago Solid Waste Management Company Limited. The MOU will explore opportunities to capture and commercialise landfill gas for the provision of carbon-negative, renewable compressed natural gas and other uses," he said.
He noted that the NGC's membership in the global Oil and Gas Methane Partnership (OGMP) was finalised in 2021, making NGC the first state company to join the voluntary organisation for methane monitoring, reporting and mitigation.
In addition, the NGC is working towards producing its first OGMP report in the first half of 2022.
"NGC has emerged as a leader in the green revolution, advocating through our numerous business partnerships and associations, for the creation of a greener Point Lisas Industrial Estate—Point Lisas 2.0. We recognise that the energy transition will not happen overnight. Nevertheless, NGC is making the necessary changes and positioning itself now, pivoting towards a sustainable energy future," he said.