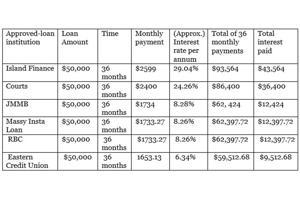 IF YOU took out a loan to survive financially through the Covid-19 pandemic, you are not alone.
Although some borrowers have been able to keep up with their loan payments, according to recent data made public by the Central Bank, loan delinquency in Trinidad and Tobago has slightly increased over the last three years.
When a loan instalment isn't paid by the due date, it becomes overdue. Loan delinquency in the country rose by 0.3 per cent from December 2019 to December 2021. The Central Bank refers to any loans that are 90 days overdue or more as "delinquent" or "non-performing" loans.
The Central Bank's statistics (see above) indicate the total amount of consumer (household) loans made during the previous three years by the banking system, including commercial banks and non-bank financial institutions. Additionally, it displays the proportion of gross loans that are non-performing loans in the banking sector as a percentage.
According to Christine Nanton-Winter, assistant manager of external relations at the Central Bank, a non-performing loan ratio (NPL ratio) of 5 per cent or less is often seen as being within the low to acceptable range.
While there are many reasons a loan can become non performing, Express Business looked at a few of the loans provided by commercial banks and non-bank financial institutions.
It was discovered that while many employees of lending institutions were prepared to obtain information and sign people up for loans, many of them were unwilling to disclose the "final price" or the precise interest rate that would be paid toward the loan until approval for the loan was granted.
Many of the financial organisations Express Business visited employ language like "This is an estimate" or "This is not the final amount, you will know that once your loan is approved."
Yet customers, nevertheless, agree to the terms of the loan without fully realising how much money they would actually have to pay back. Consumers have a right to know what the bottom line is, even if many in the financial industry go to great lengths to conceal this information.
Express Business recently went to six lending institutions to find out the total amount that would be due, including interest, if someone borrowed $50,000 for 36 months. All of the banks provided an estimate of the monthly payments, and this publication utilised that data to determine the expected interest rates. See below.
Note that all of the data are estimates that were provided by the corresponding institutions. However, based on the information shown above, the choice of the institution to take a loan from is just as crucial as the actual amount.
While some customers may find themselves paying just under $10,000 in interest plus the loan amount, others may find themselves battling to pay back almost double the loan amount. Some of the lending institutions acknowledged the existence of a processing fee, while others claimed that other fees had been added to the loan amount that had altered the final total. None of the financial representatives, however, was eager to reveal the amount of the processing fees or other charges.
While Express Business has averaged Island Finance's annual interest rate at 29.04 per cent, we spoke with two clients who recently borrowed money from the financial institution and produced documents proving that Island Finance's interest rate was substantially higher.
Brenda (not her real name) said she just obtained an unsecured loan for $50,000 for 60 months from Island Finance and was prepared to discuss the specifics of her financial transaction with the Express Business. With an extra fee of $1,527.50 for administration, a monthly payment of $1,330, and an interest rate of 45.93 per cent per year, Brenda will have paid Island Finance a total of $79,761.60 over the course of five years. She would pay $29,761.60 in interest alone.
If Brenda makes a late payment on her loan, Island Finance may assess a late fee equal to 5 per cent of the regularly scheduled monthly instalment.
According to the Island Finance document, missing a payment deadline would result in the accumulation of extra interest as well as a possible impact on the final instalment amount, interest charge, finance charge, total payments, and overall cost of borrowing.
If Brenda's income declines and she is unable to make her monthly payments, her $79,761.60 total payment might increase dramatically.
Brenda told the Express Business that she applied for the loan with Island Finance this year in order to settle her outstanding debts and raise money to launch a small business that would enable her to better support her family and herself.
She acknowledges that the lack of a down payment or collateral requirement, along with Island Finance's rapid approval process, led her to choose them as her lender.
"This was my first loan with Island Finance," she said. "I needed the money quickly, and they made it happen with little fuss. With hindsight, I would have opted for a different financial organisation that offered a far lower interest rate.
Her sister Susan (not her real name), who had previously borrowed money from Island Finance, concurred that the loan approval process took just a few days. But after giving her decision more thought, she also agreed that Island Finance's interest rate is simply too high.
The Express Business tried to get in touch with Duane Hinkson, the CEO of Massy, to learn more about its borrowing policies, but he did not respond in a timely fashion.