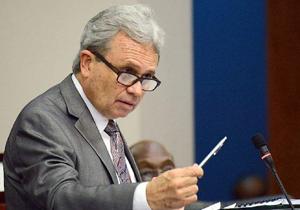 The Public Services Association's (PSA) rejection of the four per cent wage increase for the periods 2014-2016 and 2017-2019 has been referred to the Industrial Court by Minister of Finance Colm Imbert.
During his 2023 budget presentation last month, Imbert said that the Government will be sticking to its offer.
Amalgamated Workers Union (AWU) and the Trinidad and Tobago Defence Force are the only bodies to have accepted the four per cent.
The PSA, in a news release yesterday, said the Industrial Court has invited the parties to the Case Management Conference for Special Tribunal on November 7, at 1.30 p.m. which is to be held in person.
The union said it has been meeting with Chief Personnel Officer (CPO) Dr Darryl Dindial on other measures to be implemented to ease the burden of its membership .
It said such measures include filling of vacancies by promotion and appointments of public officers and regularisation of contract officers' positions, an improved health plan where public officers are exempted from paying the full upfront cost but just their portion, preferential access to Housing and Development Corporation (HDC) homes and land, tax and duty exemptions to purchase vehicles.
Also under discussion is travelling officers being able to purchase "T" registered vehicles and public officers being able to earn vacation leave while on vacation.
However, the union noted that these talks are being held without prejudice to the parties' last publicly stated positions.
In other words, these negotiations have been taking place and shall only be made public where an overall agreement appears imminent.
"Suffice to say, that there has been progress and we (the PSA) are of the firm view, that with continued engagement, these negotiations shall be concluded in a manner fair to all parties, particularly, fair to public officers.
"It does appear, and was expected, that the CPO has a mandate to fast-track the process and has consequently referred the matter to the Special Tribunal for additional leverage over the union," the PSA said.
The union said it remains committed to the negotiating process with the CPO to bring about a reasonable and judicious conclusion to these negotiations.
"As we have been doing over the preceding weeks, we will continue to pursue discussions with the CPO notwithstanding the matter being referred to the Industrial Court with the intention of settling these long outstanding wage negotiations," the PSA added.