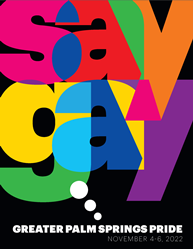 Palm Springs Pride president and CEO Ron deHarte explains, "Say Gay is a theme, it's a political statement, it's a call to action. Mobilize your friends, family, neighbors, and workplace to vote for politicians that stand up and fight for LGBTQ rights."

PALM SPRINGS, Calif. (PRWEB)
November 03, 2022
Greater Palm Springs Pride organizers chose their 2022 "Say Gay" theme as a challenge to fight extremism at the ballot box. PromoHomo.TV® is set to carry this message to the world with its Official Palm Springs Pride Parade Livestream Sunday, November 6, 2022, at 9:50 AM PST. PromoHomo.TV® Creator, Producer and Host Nicholas Snow will be joined again this year by co-hosts Delfina Zarate, Jonathon P. Mugridge and Clifton Tatum (Click through to https://youtu.be/09B_sTXjpTE and use the "Notify me" feature).
Palm Springs Pride president and CEO Ron deHarte explains, "Say Gay is a theme, it's a political statement, it's a call to action. Mobilize your friends, family, neighbors, and workplace to vote for politicians that stand up and fight for LGBTQ rights. Say Gay No to politicians taking away control of our bodies and silencing teachers from recognizing the existence of LGBTQ+ people to their students. In facing adversity and staring directly at the threats to our rights, we gather in protest and celebration. In doing so, we knock on the door of justice and fight for our freedom."
deHarte adds, "Nicholas Snow and PromoHomo.TV® make it possible for viewers around the world to see why the Palm Springs Pride Parade, under crystal blue skies and sunshine, attracts thousands of spectators who gather along palm tree-lined streets to experience what is known to be one of the most scenic pride parades in the world."
Viewers can watch the parade live on the website, http://www.PromoHomo.TV and at Snow's official YouTube channel, http://www.YouTube.com/PromoHomoTVNetwork, which offers a "Notify me" feature for anyone who wants to get a reminder of the broadcast Sunday, November 6, 2022, at 9:50 AM PST.
The PromoHomo.TV® broadcast team also announces to the in-person crowed gathered around 849 N. Palm Canyon in front of EIGHT4NINE Restaurant and Lounge, a longtime sponsor of both the pride organization and PromoHomo.TV®, also presented with the support of DAP Health, Pink Media's #ILoveGay Campaign and media partner KGAY 106.5 Palm Springs.
Palm Springs resident Richard Vaughn, Advertising Art Director, Palm Springs Life Magazine, created this year's Palm Springs Pride Poster.
"We shared the theme Say Gay with Richard, seeking a bold design to elevate the importance of two words. Simple but serious words intended to set the mood for Pride in Palm Springs," explains deHarte. "We had a good feeling that Richard would create a great design because he designed the popular cover of the 2021 Pam Springs Pride Magazine."
"For the 2022 Greater Palm Springs Pride poster, I was inspired by Robert Indiana's iconic 'Love' image, which stacks the L and O atop the V and E to create a graphic emphasizing the message 'love.' Similarly, this year's Pride theme, 'Say Gay,' packs a powerful and political message for the LGBTQ+community," Vaughn says, adding, "when I visualized the theme, I saw bold letters overlapping, creating positive and negative shapes, which allowed me to use Gilbert Baker's original 1978 Pride flag colors. I added a dialog bubble tail to express the power of speech. I love the unabashed way the poster conveys its message."
Unique entries in the Parade include LGBTQ supportive businesses, organizations like Brothers of the Desert, PFLAG, Free Mom Hugs, DAP Health, Palm Springs city councilmembers, employees, and the Human Rights Commission. The Desert Winds Freedom Band will return for their 22nd year. This year will be the sixteenth appearance of the Palm Springs High School Spirit of the Sands Band and Visual Corps and the eleventh appearance for Desert Hot Springs High School "Golden Eagle Regiment" Marching Band.
The Palm Springs Pride parade is known for the significant number of youth marching groups participating from the region's Gay-Straight Alliance organizations. Up to 500 students representing 56 GSAs are expected to march and represent their school.
PromoHomo.TV® programming reached hundreds of thousands of viewers across social media platforms before the pandemic but—while sheltering in place for over a year in his modest apartment in the affordable housing complex on the campus of DAP Health in Palm Springs, California—Producer/Host Nicholas Snow expanded PromoHomo.TV® into a full-fledged online streaming network with television-quality programs created for a global audience.
Snow, who describes himself as a Multimedia Entertainment Activist, explains, "yes, I really am building a television network in my converted bedroom. I am committed to creating programming that includes, celebrates, and empowers the diversity and intersectionality of all of us. PromoHomo.TV® is, in fact, 'Connecting the Circuitry of Humanity by Creating Programming for LGBTQ+ Everyone!'"
While programming is free across multiple social media platforms, the network is supported in part by around 30 PromoHomo.TV® Superstars who subscribe using the Patreon platform for as little as $10/month. All subscription options are available at http://www.Patreon.com/PromoHomoTV.
For more information about this year's Greater Palm Springs Pride Festival and Parade, visit http://www.pspride.org.
For the 2022 Palm Springs Pride Guide, visit https://flipbook.pub/ps-pride/2022
To find live and on-demand broadcasts, visit http://www.PromoHomo.TV or like and follow @PromoHomoTV on your favorite social media platform:
http://www.YouTube.com/PromoHomoTVNetwork

http://www.Facebook.com/Nicholas.Snow

http://www.Twitter.com/PromoHomoTV

http://www.Instagram.com/PromoHomoTV
Share article on social media or email: