Celebrate the Caribbean Endemic Bird Festival (CEBF) with us! Our theme in 2022 is "Loving Birds is Human Nature".  Have fun learning about a new endemic bird every day. We have colouring pages, puzzles, activities, and more. Download for free and enjoy nature with your family at home.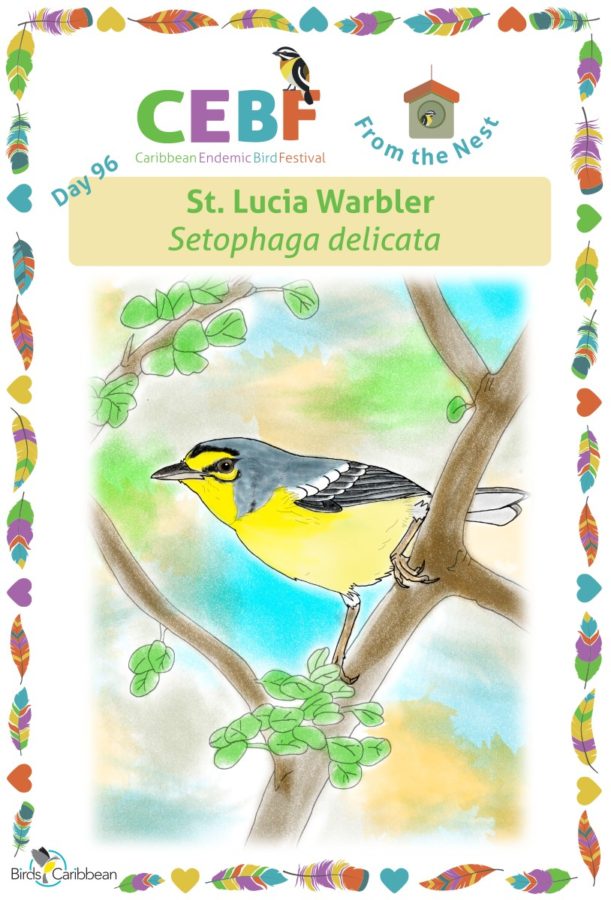 Endemic Bird of the Day: St. Lucia Warbler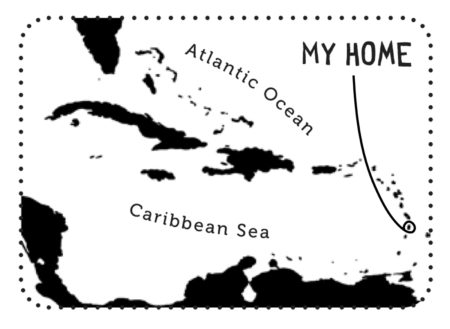 This eye-catching little bird is endemic to the island of St. Lucia and locally known as "Sucrier babad." The St. Lucia Warbler (Setophaga delicata) is a common bird on the island, it is found in most forest types but more so in middle and upper level forests. It can be identified by its bluish-gray upperparts, two white wingbars, bright yellow throat and underparts, broad yellow eyebrow stripe and cheek patch. It has a black crescent below the eye and a narrow black stripe on the edge of the crown. The tail is gray with white outer feathers. Females differ from males by having less white in the tail, and less pronounced black edging to crown stripe.
The only other species occurring in St. Lucia with yellow underparts are the Yellow Warbler (Setophaga petchia) and the Bananaquit (Coereba flaveola). The Yellow Warbler has yellow upper parts and under tail coverts, more plain yellow face, and no white wing bars. It is more commonly found in drier scrub & mangrove forests. The Bananaquit has a yellow rump patch, white eyebrow stripe, down-curved bill, and a small square patch on its wing. It is found in most forest types. 
The St. Lucia Warbler is an active bird and can thus be difficult to spot, as it flits from branch to branch, searching for insects and spiders. It is a small warbler measuring between 12–12.5 cm. When in the forest, listen out for its song—a loud trill, variable in pitch and speed, which often ends in "which-you." The call is a single loud sweet chip. 
St. Lucia Warblers typically breed from March to June, but the seasons can vary based on nest success, the weather, and other variables. They commonly build their nests in the fork of a shrub or tree, in a thickly vegetated location. Nest heights range from 0.2m-6m. Nests are small, cup-shaped, made with fine grasses, and lined with feathers. They normally lay between 2-4 eggs, which are flecked with reddish-brown spots at the broad end. 
Major threats to the success of St. Lucia Warbler nests are the Shiny Cowbird which may parasitize their nests, the Carib Grackle, who rob nests and eat the eggs, and drought.  Although currently listed as a species of Least Concern, the long-term survival of this single-island endemic and most of our wildlife, is threatened by loss of forest habitats to development and climate change, which will likely increase droughts.  Learn more about this species, including its range, photos, and calls here.
Colour in the St. Lucia Warbler
Download our West Indies Endemic Bird colouring page.  Use the photos below as your guide, or you can look up pictures of the bird online or in a bird field guide if you have one. Share your coloured-in page with us by posting it online and tagging us @BirdsCaribbean #CEBFfromthenest
Listen to the song of the St. Lucia Warbler
The song of the St. Lucia Warbler is highly varied, with rich, liquid notes in a trill often ascending or descending at the end.   
Puzzle of the Day
Click on the image below to do the puzzle.  You can make the puzzle as easy or as hard as you like – for example, 6, 8,  or 12 pieces for young children, all the way up to 1,024 pieces for those that are up for a challenge!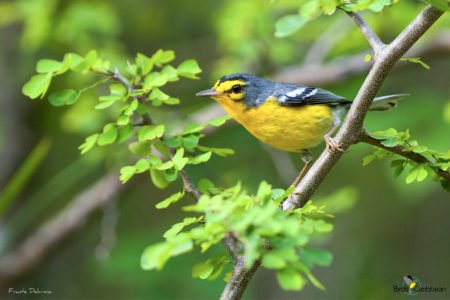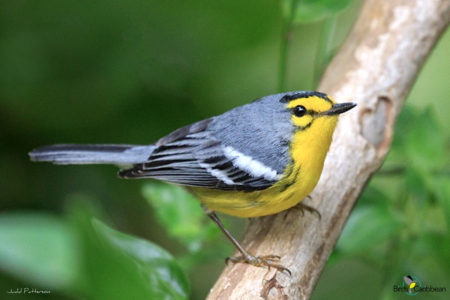 Activity of the Day
FOR KIDS:  There are many different warblers in the the Caribbean, as well as other small bird they might be confused with! Some warblers migrate and are only in the Caribbean for part of the year whilst others, like the St. Lucia Warbler are endemic! How much can you remember about warblers?  Test your knowledge and see if you can  pick our today's bird in our Warbler Memory Matching Game!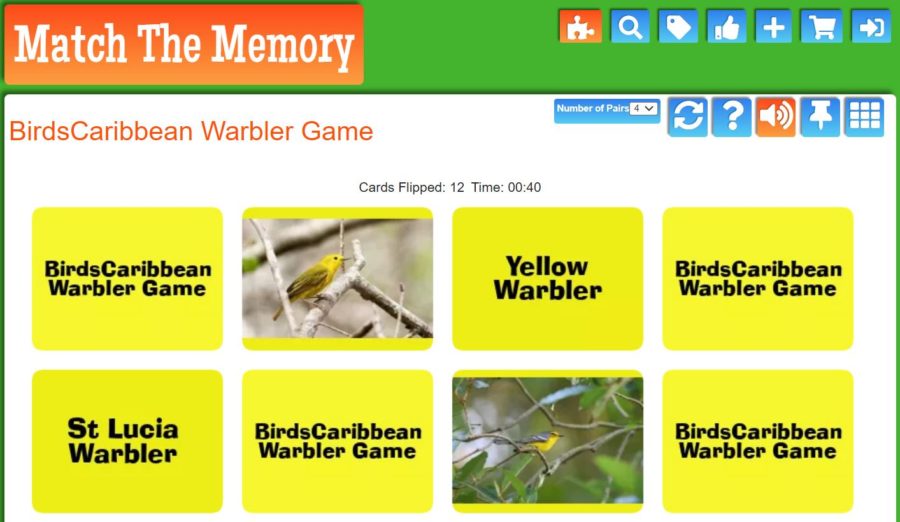 FOR KIDS AND ADULTS: Enjoy this video of a St. Lucia Warbler in the wild!