Celebrate the Caribbean Endemic Bird Festival (CEBF) with us! Our theme in 2022 is "Loving Birds is Human Nature".  Have fun learning about a new endemic bird every day. We have colouring pages, puzzles, activities, and more. Download for free and enjoy nature with your family at home.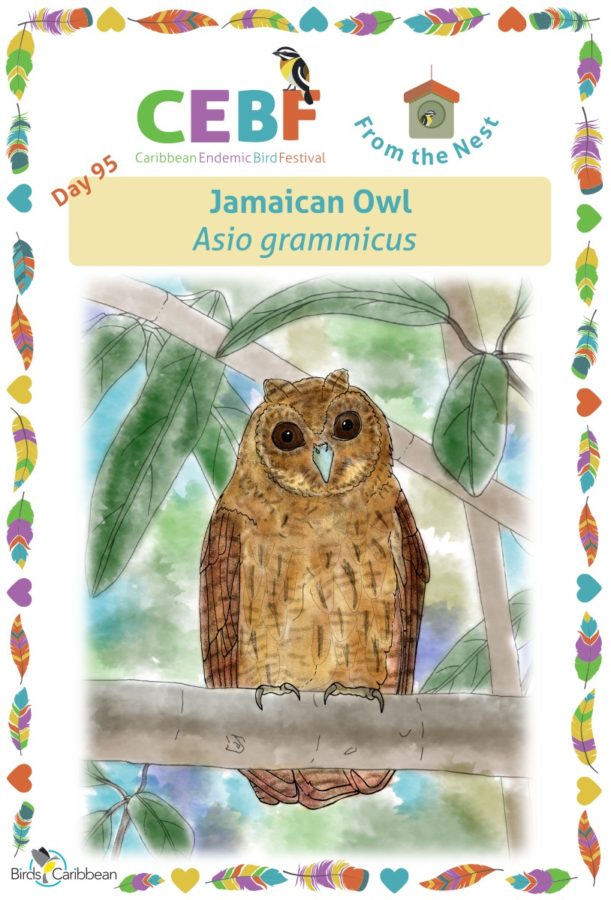 Endemic Bird of the Day: Jamaican Owl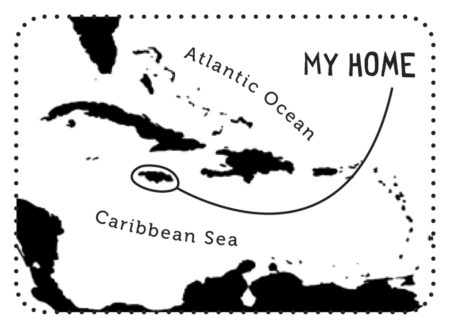 The Jamaican Owl Pseudoscops grammicus and the Barn Owl Tyto alba, locally known as Patoos are probably the most misunderstood birds in Jamaica. Many people are afraid of them and will kill them on sight. These fears have their roots in local mythology. Some people think they are omens of death. Others think that at night the owls leave their skins, and turn into witches that fly around committing evil deeds. Therefore, they believe that if you find an owl, you should kill it, skin it, and put salt in the skin to prevent it from coming back. 
In reality, the small and irresistibly cute little brown fluffy Jamaica Owls are uniquely Jamaican and ecologically important. Not only are they endemic to Jamaica, but there are no other species in the genus Pseudoscops anywhere else in the world! Their reddish brown plumage, with large jet-black eyes and distinctive ear tufts, make them unmistakable. The downy chicks are white and fluffy with huge eyes, like a baby Yoda. 
During the day you might be lucky to spot an adult or a pair in a wetland, dry forest, montane forest, wooded pasture, or a garden. They may be perched on a branch or twig, in the center or edge of a large tree, such as an old West Indian Cedar Cedrella odorata, which is covered with bromeliads – anywhere where there are trees that are large enough to support their nests. Nests can be in cavities in trees, or under a bromeliad. Jamaican Owls lay two eggs but usually only rear one chick, which will hang around and be fed by its parents for almost a year. 
At dusk falls, the adults prepare for the evening's hunt by preening, stretching, and calling. The calls are deep and rasping – something between a silky "wow" and a bark. If you listen carefully you may hear them calling to each other.  Unlike people, the male makes the higher pitched call. The juvenile's begging calls are high-pitched and very loud. The parents respond by flying out of the roost trees to capture insects, lizards, tree frogs, mice, small birds, and even an occasional bat. 
Although they are harassed in many places, Jamaican Owls are common in suitable habitats, especially mid-level wooded pastures, where every karst hilltop may support a pair or a family group of two adults and a juvenile. Owls play an important role in maintaining the ecological balance of the forests, and enrich the experience of visiting forests. They deserve to be better understood. This means more environmental education, better protection of habitats, and increased enforcement of the laws that protect the species.  Learn more about this species, including its range, photos, and calls here.
Colour in the Jamaican Owl
Download our West Indies Endemic Bird colouring page.  Use the photos below as your guide, or you can look up pictures of the bird online or in a bird field guide if you have one. Share your coloured-in page with us by posting it online and tagging us @BirdsCaribbean #CEBFfromthenest
Listen to the calls of the Jamaican Owl
The calls of the Jamaican Owl include a low hoot, as well as a "wa-waaa-o" growling sound (see amazing video below).
Puzzle of the Day
Click on the image below to do the puzzle.  You can make the puzzle as easy or as hard as you like – for example, 6, 8,  or 12 pieces for young children, all the way up to 1,024 pieces for those that are up for a challenge!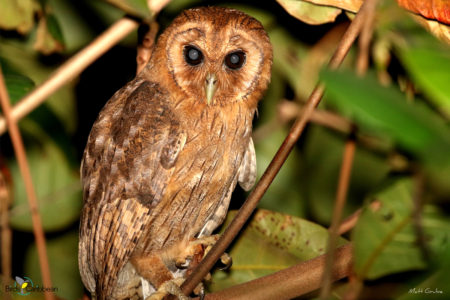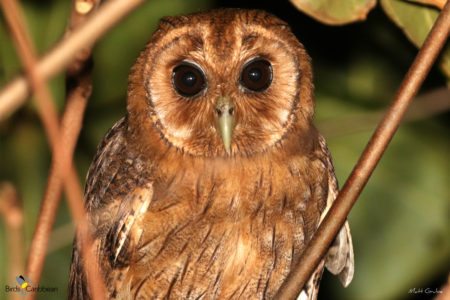 Activity of the Day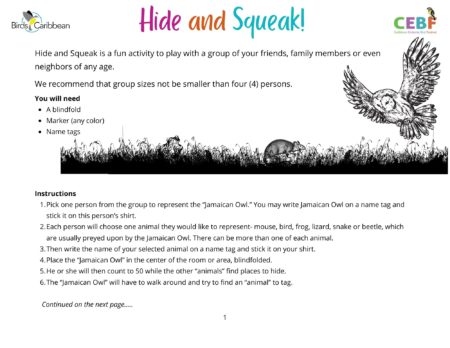 FOR KIDS: Time to get active and play our fun "Hide and Squeak" Jamaican Owl game! For this game you will need four people to play – one 'Owl' and at least three people to be 'hunted' as different types of animals that the Owl would eat. You will also need: 
Something to act as a blindfold for the 'owl' (if you don't have a blindfold you could us a scarf of cloth etc.) 
A marker pen
Some name tags
How good are you at finding 'prey' only using your ears? You can play more than once, taking it in terns to be the 'owl'!
FOR KIDS AND ADULTS: Enjoy this video of a Jamaican Owl in the wild! You will hear the 'growling' noise that these birds sometimes make. 
Take a virtual camping trip in Jamaica and discover more about the Jamaican Owl in this colourful and fun 'Zine' made by Sarita Emmanuel for the Caribbean Endemic Bird Festival in 2021.