Celebrate the Caribbean Endemic Bird Festival (CEBF) with us! Our theme in 2022 is "Loving Birds is Human Nature".  Have fun learning about a new endemic bird every day. We have colouring pages, puzzles, activities, and more. Download for free and enjoy nature with your family at home.
Endemic Bird of the Day: Cuban Green Woodpecker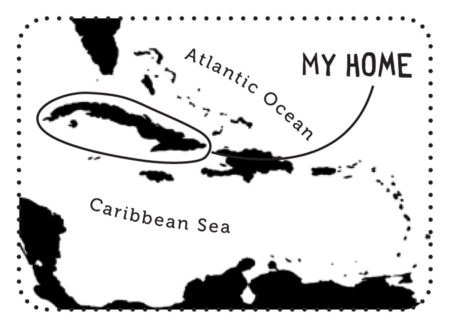 Under the canopy of the forest, the Cuban Green Woodpecker (Xiphidiopicus percussus) is busy creating homes in the trunks and branches of trees – one peck at a time. Its olive-green upperparts are unique among Caribbean woodpeckers and, paired with yellow-greenish underparts streaked with black, it makes for the perfect camouflage! The disguise is given away by a head with white sides, a black line behind the eye, a red throat, and a flashy bright red crown that rises like a crest. The front half of this crown is black on females. Still, they may be really difficult to spot if it weren't for their active and noisy behavior – constantly raising their red crest, calling, and inspecting tree branches for food. They feed mostly on insects and larvae but also eat small frogs, lizards, fruits, and have been seen preying on eggs and even feeding on nectar. It is common to see them foraging in pairs, or even in families teaching their young. 
Cuban Green Woodpeckers are specially adapted to forest life. Their smaller size brings them agility, even thin branches will support them. With feet and tail specially designed to climb and move all along trees they can inspect horizontal branches even from below, turning and hopping around effortlessly. Their short and sharp beak is the perfect tool to build and maneuver in tight spaces. This, along with their small size allows them to make a nest cavity in smaller tree trunks and even in branches using both live and dead wood. By doing this, they avoid competition for nesting sites with other bigger woodpecker species on the island. This also enables them to  occupy almost all types of forest habitat, from mountains to mangroves.
Cuban Green Woodpeckers breed between February and August. The male bores a nest cavity in a tree, the home for three to four white eggs. The couple takes turns incubating the eggs and feeding the chicks. They may be small but they fiercely defend their nest and territory against any intruder, especially other woodpeckers. Their voice is a strong "ta-há ta-há" or "nrwac-nrwac" repeated a couple of times. They also produce a distinctive sound with a short burst of three or four beak strikes on wood, which is very useful to communicate over long distances. 
Endemic to Cuba, this bird can be observed across the whole territory. As it is the most common woodpecker in all Cuban forests, it is of great importance, allowing other endemic birds such as the Cuban Trogon or Cuban Pygmy Owl to also thrive and reproduce in these habitats using its abandoned nesting cavities.  Learn more about this species, including its range, photos, and calls here.
Colour in the Cuban Green Woodpecker
Download our West Indies Endemic Bird colouring page.  Use the photos below as your guide, or you can look up pictures of the bird online or in a bird field guide if you have one. Share your coloured-in page with us by posting it online and tagging us @BirdsCaribbean #CEBFfromthenest
Listen to the calls of the Cuban Green Woodpecker
The calls of the Cuban Green Woodpecker include a strong "ta-há ta-há" repeated a couple of times and a rasping  "gruhh." 
Puzzle of the Day
Click on the image below to do the puzzle.  You can make the puzzle as easy or as hard as you like – for example, 6, 8,  or 12 pieces for young children, all the way up to 1,024 pieces for those that are up for a challenge!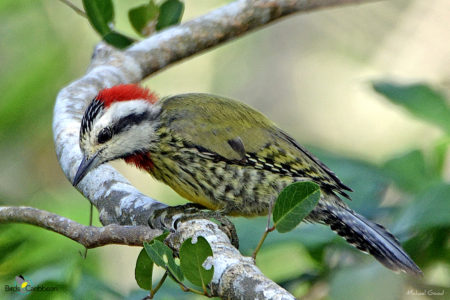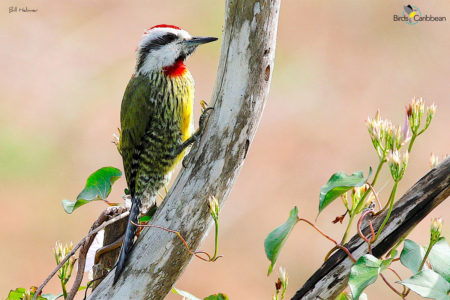 Activity of the Day
FOR KIDS: Cuban Green Woodpeckers have feet and tails specially designed to climb and move all along trees; they can inspect branches, for insects to peck with their pointy beaks, while moving up and down. In our fun woodpecker craft activity you can make your own feeding Cuban Green Woodpecker and then explore their 'pecking whist climbing' behaviour. For this activity you will need:
The woodpecker template (provided in the activity instructions)
Cereal box or card sheet
A plastic straw
Rubber band
Coloring pencils, crayons or markers
Glue
Scissors
As this activity involved using scissors you should get an adult to help you. 
FOR KIDS AND ADULTS: Enjoy this video of a male Cuban Green Woodpecker foraging in the wild! 
Find out more about the Cuban Green Woodpecker in this beautiful and fun 'Zine' made by Tara Razac during our Caribbean Endemic Bird Festival in 2021.