Celebrate the Caribbean Endemic Bird Festival (CEBF) with us! Our theme in 2022 is "Loving Birds is Human Nature".  Have fun learning about a new endemic bird every day. We have colouring pages, puzzles, activities, and more. Download for free and enjoy nature with your family at home.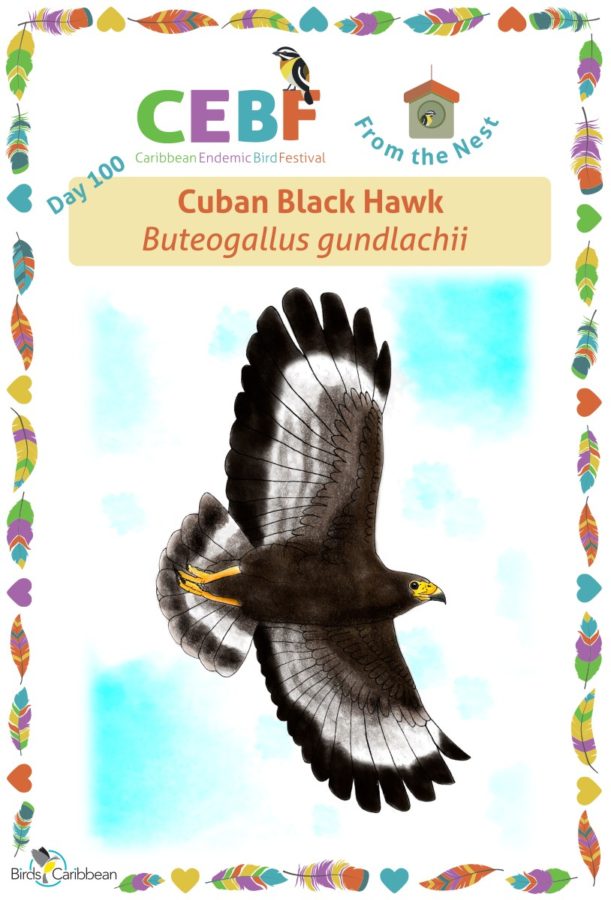 Endemic Bird of the Day: Cuban Black Hawk
If you're lucky enough to visit the beautifully preserved wetlands of the Cuban archipelago, you may be surprised by the call of a large, dark bird of prey that seems to say "Ba-tis-ta." This call explains why the Cuban Black Hawk is known locally as "Gavilán Batista," although for English speakers it seems to say "uiit-uiit-uiu." Although the Cuban Black Hawks is a bird of prey, it is possibly the tamest wild bird in Cuba. If you wait for it to perch, you can approach and observe it – sometimes as close as five meters away – an opportunity rarely offered by birds of prey, which are generally very elusive.
The Cuban Black Hawk ranges between ~43 to 52 cm in length (17-20.4 inches) and weighs ~650 g (22.5 oz). It has broad wings with white patches below and a short and wide tail with a very visible white band. Bill, legs, and feet are orange-yellow to yellow. Juveniles are mostly brown above and pale streaked below. This raptor, endemic to Cuba, prefers to live in wetlands such as mangroves, coastal lagoons, beaches, estuaries and swamps.
It breeds from January to July and both sexes build a cup-shaped nest with sticks and leaves, usually from mangroves, at a height of ~3 to 8m. It lays one to two grayish-white eggs with a bluish-green tint and some dark or reddish-brown blotches. It feeds on crabs, centipedes, lizards, rats, and is even known to hunt some birds.
The International Union for Conservation of Nature considers it Near Threatened. However, in Cuba the bird is considered Threatened due to a 75% reduction in its original distribution range and, above all, because its habitats are threatened by tourism development and the rise in sea level caused by climate change. Learn more about this species, including its range, photos, and calls here.
Colour in the Cuban Black Hawk
Download our West Indies Endemic Bird colouring page.  Use the photos below as your guide, or you can look up pictures of the bird online or in a bird field guide if you have one. Share your coloured-in page with us by posting it online and tagging us @BirdsCaribbean #CEBFfromthenest
Listen to the calls of the Cuban Black Hawk
The calls of the Cuban Black Hawk are a loud, high-pitched, thin  "weet-WEET-whew" 
Puzzle of the Day
Click on the image below to do the puzzle.  You can make the puzzle as easy or as hard as you like – for example, 6, 8,  or 12 pieces for young children, all the way up to 1,024 pieces for those that are up for a challenge!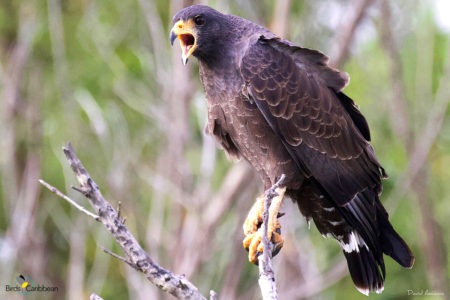 Activity of the Day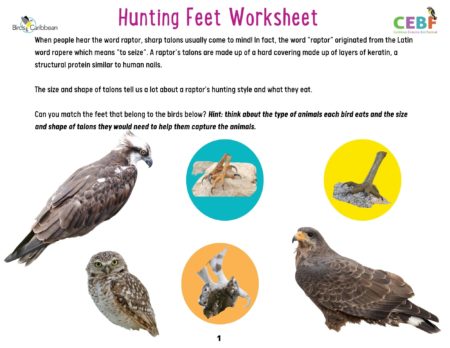 FOR KIDS:  The Cuban Black Hawk is in a group of birds often known as birds of prey or "raptors". They feed by catching other animals, often using their strong and powerful feet which have sharp talons. In fact, the word "raptor" means "to seize" or "grasp" in Latin! Can you Match the Feet to the correct Raptor in our fun activity?  Look at the size and shape of the talons and think about what types of things each bird eats to help you pick the right answers
Once you think you have matched them up you can check your answers here. When you've checked your answers you can also learn  a bit more about who each bird pictured in this activity is and what their favourite foods are.  
FOR KIDS AND ADULTS:  Enjoy this video of a Cuban Black Hawk in the wild!