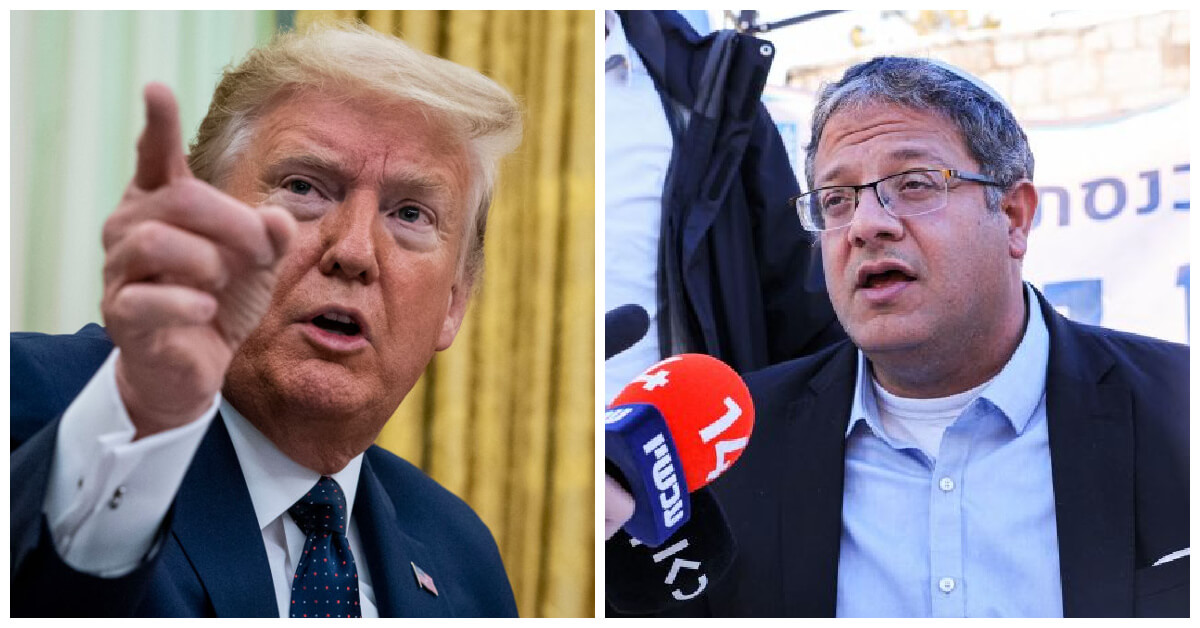 This article originally appeared on Haaretz and is reprinted here with permission. Sign up here to have Haaretz's free Daily Brief newsletter delivered to your inbox.
American Jews are in mourning.
It is not certain what Israel's new government will be, but based on what we know, the winners are Itamar Ben Guvir and the far-right Kahanism he represents.
We know what Kahanism is because it was the fringes of Jewish madness in America that gave rise to this ideology. We also know that international standing will come at a high price.
Americans already see Ben Guvir as a Trump-like figure who did for Israeli rights what Donald Trump did for the Republican Party. Both were radical and militant nationalists who moved from the outside of the political system to the center in just a few years. Both lend legitimacy to racist and extremist views and pollute political discourse in ways never before imagined.
Both are cynical showmen, provocateurs, and agitators who condone violence. Both speak the language of authoritarianism and quasi-fascism, sometimes coded and sometimes articulate.
Thanks to Ben-Gvir, Arab-hating Israelis are freer to express their views in Israel today than ever before. Just like Trump has allowed minority-hating Americans to express their opinions freely in America.
Of course, Ben-Gvir might welcome comparisons to Trump. But he, like Benjamin Netanyahu, has misunderstood America and misunderstood its politics.
Arguably, this is a vulnerable time for Israel. Ben-Gubir's rise as a key Israeli political player would undermine the country's public standing in America, strengthen Israel's enemies, and anger its friends.
The danger can probably be contained, but only if Ben-Gubir stays outside the Israeli government and coalition, along with Bezalel Smotrich, an extremist partner of the religious Zionist party. After all, when about 10% of Israeli voters support a far-right extremist party, that's troubling, but nothing more. But if that party enters a government and its leaders serve as ministers representing the Jewish state and the Jews, it will be a disaster.
Right-wing Israeli politicians love to speak out about anti-Israel and pro-BDS activism on campus, seeing it as a left-wing effort. But the American Jewish community has fought against this. Only a handful of his BDS-supporting student resolutions have been passed, and none of the major universities have voted to boycott or withdraw from Israel.
But as soon as a narrow right-wing government takes office in Israel and Ben Gubir and Smotrych are seated as senior ministers, the campuses Israel hates will dance in the streets. They organize demonstrations, update BDS campaigns, and distribute flyers with Ben-Gvir's photo and past statements to all of America's elite his campuses. Those of us who have argued for decades that Israel is not an apartheid state will find ourselves at odds with quotes from two members of Israel's cabinet that sound like they support apartheid.
Those who say that apartheid supporters are at the highest levels of the Israeli government are correct and have no convincing response.
Worse, it's something that could unfold in Congress. A recent poll found that about a third of Americans who identify as Democrats support boycotting Israel. But in the current Congress, support for Israel is overwhelming. Only a handful of members of the House and Senate have encouraged boycotts or cuts in aid to the Jewish state. I've come up with an attitude.
But what happens when racists and extremists sit in the Israeli government? Its latest chapter is his newly released autobiography. It is full of vicious and totally unwarranted attacks on Bill Clinton and Barack Obama.
Change may not come soon, but if the government is led by a party-hostile prime minister and cabinet ministers endorse a position that virtually all Democrats rightfully loathe, Israel will become a long-term democrat. cannot be expected to support
If Netanyahu is counting on Donald Trump and a Republican victory in the midterms to solve the Ben Gabil problem, he is misreading reality here too. Democrats will dominate the White House and American foreign policy for the next two years, no matter what happens in the midterm elections. And Republicans can count on nothing, not even support for Israel.
It is true that the Trump administration delivered on the Abraham Accords, and Trump deserves credit for this. Within the party, there remains a core of pro-Israel support that should be appreciated and recognized. But it's also true that the Republican Party is changing under Trump's feet.
Part sociopath and ID-driven clown, Trump knows nothing and believes nothing. After spending his entire adult life in New York City with no ties to Israel, he accepted Israel as president at his convenience and renounced it the moment the party or MAGA base challenged him. To do.
That's exactly what's happening now, as Trump's challengers are beginning to emerge. The former president is essential to the activation of the base, but he no longer controls it.
As historian Nicole Hemmer suggests in her book The Partisan, the Republican Party is moving in the direction of populist nationalism, chauvinism, authoritarianism, and ethnic and class antipathy. Despite Trump's increasingly volatile pro-Israel fervor, the party is returning to its isolationist roots and the "America First" theme started by Nazi sympathizers in the 1930s.
The Republican Party today is the party of Tucker Carlson, Marjorie Taylor Greene and the Proud Boys. It revived the tensions of Pat Buchanan's populist nationalism and allowed his anti-Semitism to gain a powerful foothold within its peers.
Of course, some elements of the party are fighting back, resisting white supremacy, and supporting a strong foreign policy and a genuine commitment to Israel. Such people still exist in the Republican ranks. But these sane and sensible elements are just as appalled by the crude racism of Ben-Gvir and his company as Democrats are.
They know, just as the Democrats know, that if Israel is to maintain American support in this dangerous and uncertain time, it must do so in the traditional way. To human rights and the values ​​that bind the nations and peoples of America and Israel.
And they know that this can never happen if a half-fascist like Ben-Gubir and his crew sit in Israel's cabinet and make decisions that determine Israel's fate. listening?