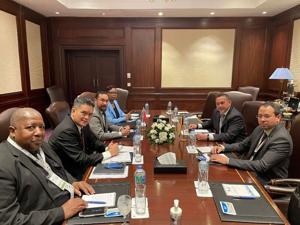 Energy Minister Stuart Young met with Venezuela's Vice-Minister Gas Leonardo Graterol, on the sidelines of the Gas Exporting Countries Forum (GECF) 24th Ministerial Meeting in Cairo, Egypt.
During the meeting yesterday, Young recalled his visit to Venezuela in August and the discussions that took place on energy and other matters of interest between Trinidad and Tobago and Venezuela.
The parties also discussed the volatility of the energy supply, markets, and the potential to positively contribute to energy security and stability.
Also in attendance at the meeting were Ronnie Romero, vice-president PDVSA, Penelope Bradshaw-Niles, permanent secretary in the Ministry of Energy, and Mark Loquan, president of National Gas Company (NGC).
The minister and T&T's delegation also participated in the GECF meetings and discussions which took place yesterday.
The Ministerial Meeting is the supreme governing body of the Forum and meets once a year, in accordance with the GECF statute.
The GECF was established in 2001 and in 2008 it was transformed into an international governmental organisation headquartered in Doha.
The GECF comprises 19 member-countries, with Algeria, Bolivia, Egypt, Equatorial Guinea, Iran, Libya, Nigeria, Qatar, Russia, Trinidad and Tobago and Venezuela as members, and Angola, Azerbaijan, Iraq, Malaysia, Mozambique, Norway, Peru, and the UAE as observers.
Together, they represent 72 per cent of the global proven natural gas reserves, 43 per cent of marketed production, 55 per cent of exports by pipeline, and 50 per cent of LNG exports.