Former President Donald Trump Wednesday settled a civil lawsuit alleging his security guards violently attacked protesters outside Trump Tower in 2015.
The lawsuit, filed by Ephraine Galicia and four other protesters from Mexico against Trump and his head of security Keith Schiller, came to the Bronx High when the parties reached a confidential agreement. I was in the middle of jury selection in court.
A video of a September 2015 rally appeared to show Schiller slapping Galicia in the face after reaching for a sign reading "Trump: Make America Racist Again."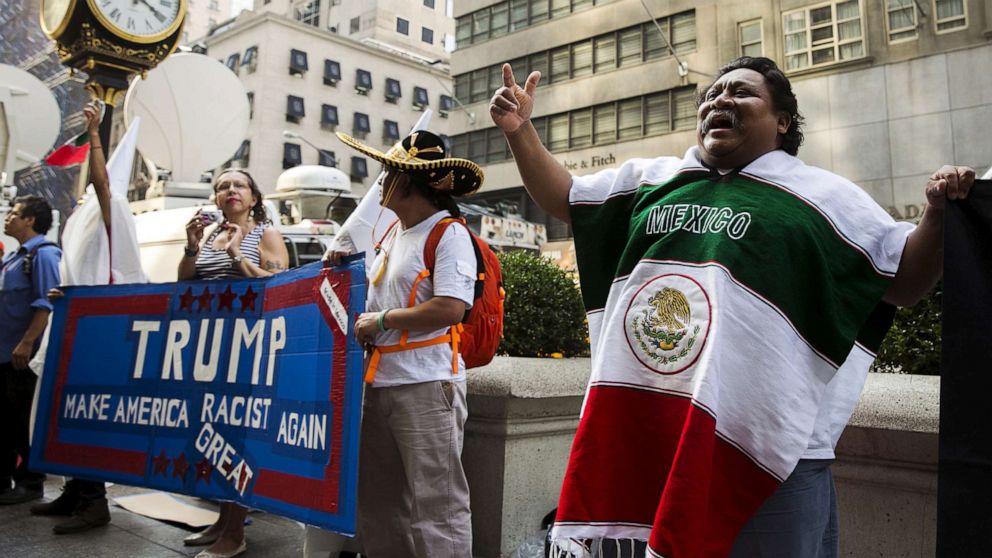 "Defendants looked down the barrel of a Bronx jury about to be presented with overwhelming evidence to support plaintiffs' claims," ​​plaintiffs' attorney Ben Diktor said in a statement to ABC News. "Nevertheless, the plaintiffs have settled their claims and are proud to have received written approval from Donald Trump for their right to protest on public sidewalks. Those in power may name the building." But the sidewalks will always belong to people."
The settlement was announced under the stipulation that both sides agreed that the matter should be "completely put to rest." The provision did not disclose terms.
"We were eager to go to trial to prove the frivolity of this case, but the parties were finally able to reach an amicable settlement. We are happy to finally be able to put an end to this matter once and for all," Trump's attorney Alina Habba said.
A joint statement by Mr Trump and the plaintiffs, signed on behalf of Mr Haba, read: "Both parties agree that the plaintiffs in the lawsuit and all persons have the right to participate in peaceful protest on public sidewalks. ' said.
Mr Trump said Mr Shiller "did nothing wrong" and called the protesters "troublemakers" during a deposition in October 2021.
"I think they were troublemakers. Yes. I think they were," Trump said, according to the minutes.
Protesters said they were legally on the sidewalk outside Trump Tower on Manhattan's Fifth Avenue when they were "attacked and property destroyed." Their lawsuit also alleged violations of their freedom of speech.
Two of the demonstrators wore Ku Klux Klan costumes to call attention to David Duke's support for Trump's immigration policies during the campaign.