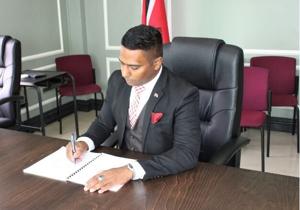 Discussions on a new job evaluation exercise for daily-paid workers of the Port of Spain City Corporation have begun between Chief Personnel Officer Dr Daryl Dindial and Amalgamated Workers Union (AWU).
The CPO's office said in a news release on Tuesday that the new job evaluation exercise was included in the four per cent offer following negotiations in August,
Dindial advised that $1 million was allocated to initiate the exercise this fiscal year, 2022-2023.
Discussions focused on the job evaluation methodologies, timelines, cost consideration, and the governance structure of the steering and job evaluation committees.
This is to support the development of appropriate mechanisms and criteria for effective and efficient leadership and administration of the exercise, the release added.
The CPO was advised of the enrolment of 18 members of AWU at the Cipriani Labour of College and Co-operative Studies on fully-paid scholarships, and AWU's commitment to engage MIC Institute of Technologies for additional scholarships for other members to train in technical/vocational areas.
The scholarship initiative for AWU members was also a direct outcome of the negotiations between the CPO and the AWU.
Dindial anticipates the job evaluation exercise will be completed within an 18-month period from the time it commences.
The AWU represents approximately 1,500 members in 130 distinct jobs that are distributed into six classes.
The CPO thanked the executive of the union for its leadership and engagement in seeking to optimise opportunities for enhancing the training, development, and revising of the classification and compensation system for its members.
A follow-up meeting is scheduled for next Tuesday.