Sustained harassment of nesting Brown Pelicans (Pelecanus occidentalis) in Le Gosier, Guadeloupe, in recent years, has resulted in the abandonment of the largest colony of this species in the French Caribbean islands. BirdsCaribbean is greatly concerned by this unfortunate development and urges French authorities to take action to stop any harassment and ensure the birds return to breed in this important colony.
Brown Pelicans in the Caribbean rarely nest in urban settings, and yet this colony is just a few steps away from both a library and primary school. BirdsCaribbean regrets that the pelican colony in Le Gosier did not receive adequate consideration and protection from the local authorities of the town that proudly takes its name from the Brown Pelican. This indeed is a missed opportunity for education where, with the right will and incentives, the name-sake of the town can turn a human-wildlife 'neighborhood dispute' into a source of pride for the small town of Le Gosier.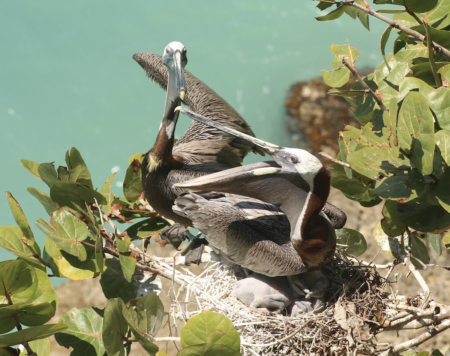 History of Brown Pelicans on Guadeloupe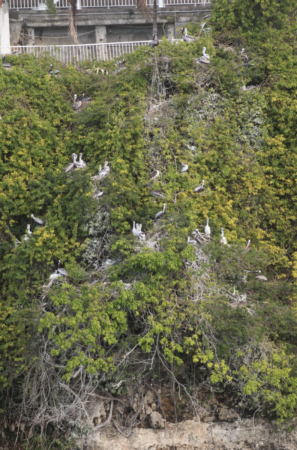 Brown Pelicans were extirpated from Guadeloupe in the 19th century following hunting and persecution. Low numbers nested in the archipelago in 1984 and 1996 but the species only resumed breeding permanently in 2007. This is the same year that a few nests with chicks were rediscovered at the Le Gosier colony. From a handful of nests in 2010-2011, this colony increased in size to reach a maximum of 117 nests in 2016-2017, covering a large area on the spectacular sea cliffs of Boulevard Amédée Clara. This made it one of the largest nesting colonies of Brown Pelicans in the Lesser Antilles. It hosted as many breeding pairs as the other three colonies known to have re-established in Guadeloupe combined, and represented the largest colony of this species in the French Caribbean islands. In fact, the town of Le Gosier takes its name from "gwan gosyé", the traditional Créole name for the Brown Pelican. This majestic bird is also the town's emblem and, as such, appears on numerous buildings and monuments. 
For the first time since 2007, Brown Pelicans did not nest at the Le Gosier colony in 2020-2021 and 2021-2022. This fact was brought to the attention of BirdsCaribbean in November, 2020 by the Association pour la Sauvegarde de la Faune des Antilles (ASFA). Visits by rangers of Parc National de la Guadeloupe in December 2020, and by Association AMAZONA in January 2021, confirmed the abandonment of this breeding site. Visits by ASFA in early 2022 confirmed that Brown Pelicans did not renest in 2021-2022. 
"When, in 2007, we announced that we had discovered a Brown Pelican colony in Le Gosier, we thought it would stimulate decision-makers to make the return of the Brown Pelican in Guadeloupe a success. The loss of this colony is a resounding defeat for the recovery of this species." — Association pour la Sauvegarde de la Faune des Antilles
Threats to the Caribbean Brown Pelican
Despite its familiar presence on our shores, the Caribbean Brown Pelican population is still considered at risk in the region. It is also listed as a strictly protected species under the Specially Protected Areas and Wildlife (SPAW) Protocol, of which France is a signatory. In Guadeloupe, nesting Brown Pelicans are listed as Vulnerable on the Red List of Threatened Species in France (IUCN France 2021) and protected under the Arrêté du 17 février 1989. Under this arrêté, any form of destruction, removal, capture or use of this seabird or its nest is forbidden. 
As early as 2014, ASFA alerted relevant French authorities of the potential human-wildlife conflicts that could arise from the growth of the colony, but no action was taken by the administration. Indeed, intentional disturbances directed at the nesting Brown Pelicans accelerated. ASFA shared with BirdsCaribbean that, over the years, people were observed deliberately and regularly throwing rocks at nests from both the top and bottom of the cliffs; demolition works directly above the colony repeatedly disturbed pelicans during nest initiation; and vegetation that supported nests was cut or degraded before or during the breeding season. Although the Arrêté du 17 février 1989 makes it unlawful to hurt or kill pelicans and their chicks or eggs, it does not protect them against disturbance (whether accidental or intentional), nor does it protect their breeding and resting sites from intentional destruction.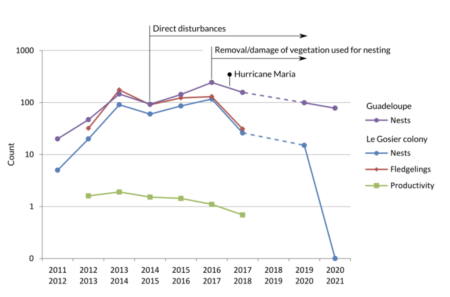 The failure of France to curb these threats to a protected species partly results from the long-overdue revision of this arrêté, stuck in negotiations. BirdsCaribbean urges the French government to hasten the acceptance of the revision of Arrêté du 17 février 1989 to actually provide full protection to the Guadeloupean birds it seeks to protect. Furthermore, the Brown Pelican colony of Le Gosier did not receive the protection it needed from French authorities as pledged under the SPAW protocol, despite France being a signatory and ratifying country, and Guadeloupe hosting the offices of the Regional Activity Centre that oversees its implementation. 
"The case of the Brown Pelican is a good example: France should make a priority of revising our weak national regulations. It could also easily compensate for the loss of breeding habitat for the Brown Pelican by protecting îlet Rousseau, a public land with strong potential not only for pelicans, but also for Magnificent Frigatebirds." — Association pour la Sauvegarde de la Faune des Antilles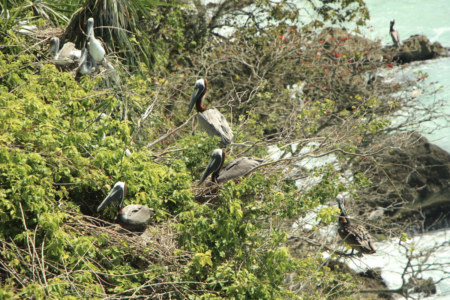 Next Steps
The Brown Pelican colony at Le Gosier was a jewel of Caribbean wildlife, one that was enjoyed by local people and visitors alike, but no longer – it only took only a few misplaced acts to destroy it.
BirdsCaribbean calls on the government and local administration to:
1) investigate and document what happened to the colony in 2020-2021;
2) put into place an action plan to avert a similar tragedy happening in 2022-2023 and the future;
3) monitor the areas where Brown Pelicans return and nest again, ensuring that they are not disturbed;
4) educate the local community to instill pride in the town's name-sake, showing that it deserves our protection;
5) complete the revision of the Arrêté du 17 février 1989, and ensure that adequate legislation is in place to protect wildlife from disturbance and destruction.
En Francais
BirdsCaribbean est extrêmement préoccupée par l'abandon en 2020, 2021 et 2022 de la colonie de nidification de pélicans bruns du Gosier, en Guadeloupe, suite à des dérangements prolongés.
BirdsCaribbean est extrêmement préoccupée par les dérangements répétés de pélicans bruns (Pelecanus occidentalis) nicheurs ayant eu lieu au Gosier, en Guadeloupe, ces dernières années. Ces dérangements ont provoqué l'abandon de cette importante colonie de reproduction durant les saisons de reproduction 2020-2021 et 2021-2022. Les autorités responsables doivent agir pour arrêter et prévenir tout dérangement, et assurer le retour en nidification lors de la saison 2022-2023. Ceci aura des bénéfices économiques et pédagogiques pour la commune du Gosier. Dans les Caraïbes, les pélicans bruns nichent rarement dans des zones urbaines : malgré tout, la colonie ayant subi les dérangements n'est qu'à quelques pas de deux écoles et d'une médiathèque, dans une ville qui prend son nom de ces mêmes pélicans !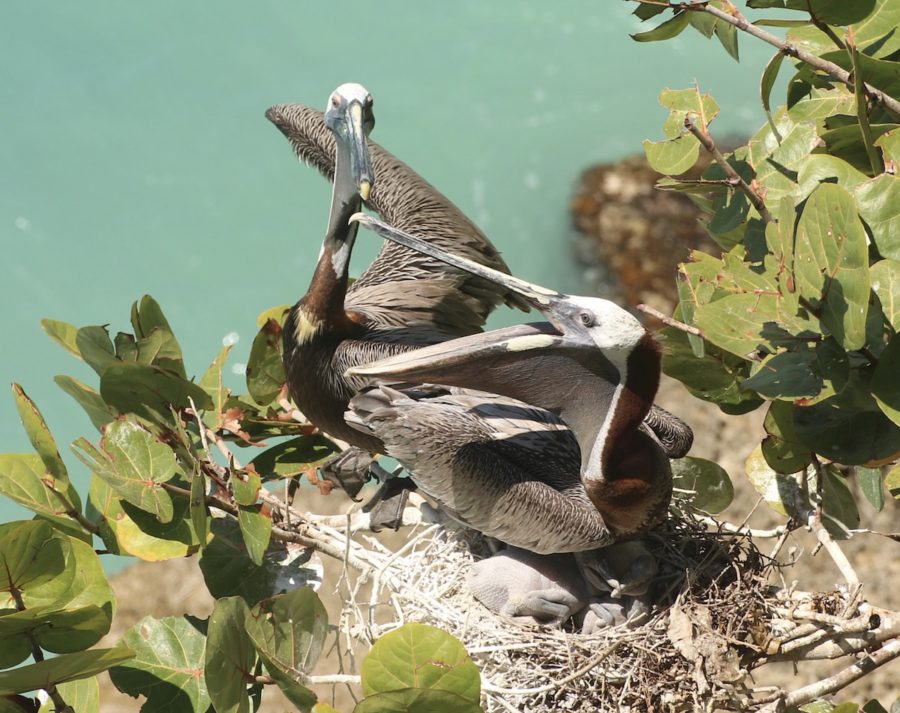 Pour la première fois depuis 2007, les pélicans bruns n'ont pas niché à la colonie du Gosier en 2020-2021 et 2021-2022, une information que l'Association pour la Sauvegarde de la Faune des Antilles (ASFA) a partagé avec BirdsCaribbean dès novembre 2020. Des visites effectuées par des gardes du Parc National de la Guadeloupe en décembre 2020, et par l'Association AMAZONA en janvier 2021 ont confirmé l'abandon de ce site de nidification. Des visites de l'ASFA début 2022 ont montré que les pélicans n'avaient pas re-niché en 2021-2022.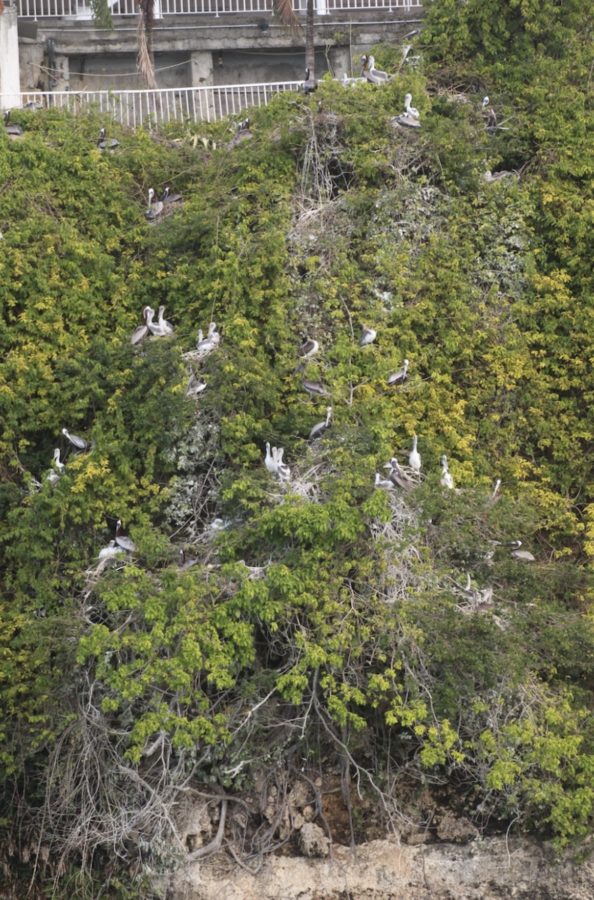 Le pélican brun a été éradiqué de Guadeloupe au cours du XIXième siècle par la chasse et la persécution. Des effectifs limités ont niché sur l'archipel en 1984 et 1996 mais l'espèce n'a recommencé à nicher de façon permanente qu'en 2007. Cette même année, des nids avec des poussins étaient découverts à la colonie du Gosier. De quelques nids en 2010-2011, cette colonie a ensuite gagné en taille pour atteindre, à son maximum, 117 nids en 2016-2017, utilisant alors une grande partie des falaises spectaculaires du Boulevard Amédée Clara. Ceci en faisait l'une des colonies de nidification les plus grandes des Petites Antilles. Elle abritait autant de couples nicheurs que les trois autres colonies recensées en Guadeloupe combinées, et était alors la plus grande colonie de cette espèce dans les Antilles françaises. La ville du Gosier prend justement son nom du "gwan gosyé", le nom créole du pélican brun. Cet oiseau majestueux est aussi l'emblème de la ville et, en conséquent, il apparaît sur de nombreux bâtiments et monuments. 
"En annonçant, en 2007, que nous avions découvert une colonie de pélicans bruns, qui plus est, dans la ville du Gosier, nous pensions susciter une mobilisation des décideurs pour que ce retour de l'espèce en tant que nicheuse sur l'Archipel guadeloupéen soit un succès. L'abandon de la colonie sonne le glas d'une pleine reconquête de l'espèce." —Association pour la Sauvegarde de la Faune des Antilles
Malgré sa présence familière sur nos côtes, la population caribéenne du pélican brun est toujours considérée comme à risque dans la région. Elle est aussi listée comme strictement protégée au titre du protocole SPAW, protocole dont la France est signataire. En Guadeloupe, les pélicans bruns nicheurs sont listés comme Vulnérables sur la Liste Rouge des Espèces Menacées de France et sont protégés par l'Arrêté du 17 février 1989. En vertu de cet arrêté, toute forme de destruction, capture ou enlèvement de cet oiseau marin, de ses œufs ou de son nid est interdite. 
Dès 2014, l'ASFA a alerté les autorités françaises compétentes des potentiels conflits qui pourraient découler de l'expansion de la colonie de nidification du Gosier, mais l'administration n'a pris aucune mesure. Au contraire, les dérangements intentionnels envers les pélicans bruns nicheurs se sont accélérés. L'ASFA a d'ailleurs informé BirdsCaribbean que, au fil des ans, des personnes ont été observées en train de jeter des pierres sur les nids, depuis le haut et le bas des falaises, de manière délibérée et régulière ; des travaux de démolition juste au-dessus de la colonie avaient dérangé les pélicans à plusieurs reprises au commencement de la nidification ; et la végétation sur laquelle les nids étaient construits avait été coupée ou dégradée avant ou pendant la saison de reproduction. L'Arrêté du 17 février 1989 rend illégal la destruction et la mutilation des pélicans, de leurs poussins et de leurs oeufs, mais il ne les protège pas des dérangements (accidentels ou intentionnels), et ne protège pas non plus leurs sites de reproduction et de repos de destructions intentionnelles.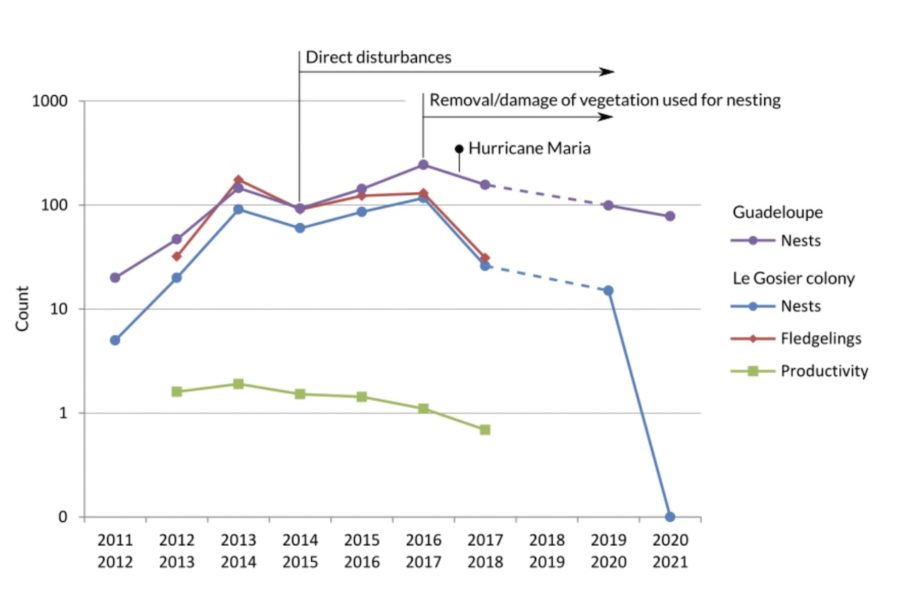 L'incapacité de la France à limiter ces menaces à l'encontre d'une espèce protégée est en partie le résultat de son incapacité à réviser l'Arrêté du 17 février 1989. BirdsCaribbean exhorte donc les autorités françaises à finaliser la révision de l'Arrêté du 17 février 1989 afin de véritablement offrir l'entière protection de la loi aux oiseaux de la Guadeloupe que cet arrêté prétend protéger. Par ailleurs, la colonie de pélicans bruns du Gosier n'a pas reçu la protection des autorités françaises, en directe opposition avec le protocole SPAW qu'elles ont pourtant signé et ratifié, et malgré le fait que les bureaux du Centre Régional d'Activité qui supervise la mise en application dudit protocole se trouvent en Guadeloupe . 
"Cet échec est un bon exemple : la révision de la réglementation nationale devrait être la priorité de la France. Il serait aussi facilement réalisable de compenser les pertes survenues sur la colonie du Gosier en protégeant l'îlet Rousseau, un terrain public à fort potentiel non seulement pour les pélicans mais aussi pour les Frégates." — Association pour la Sauvegarde de la Faune des Antilles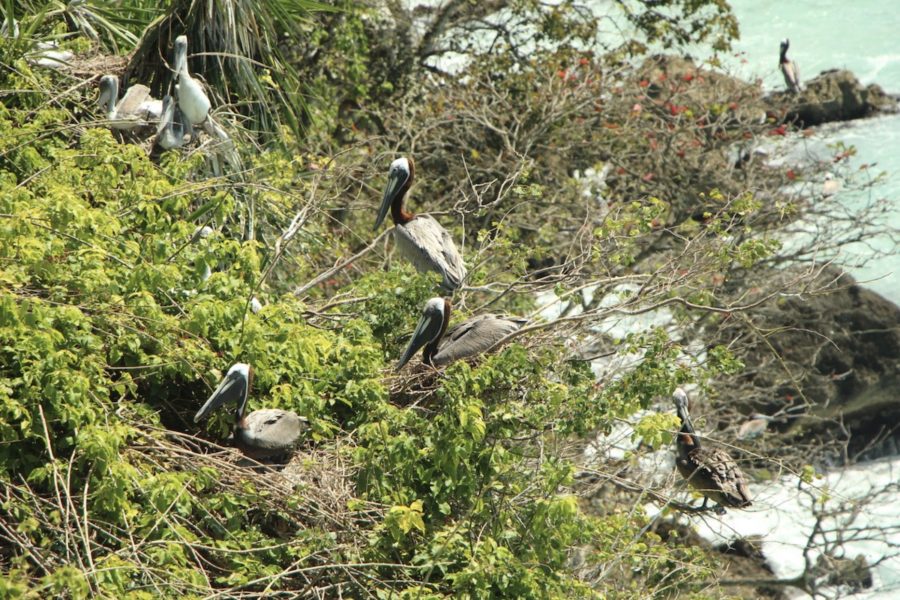 BirdsCaribbean regrette que la colonie du Gosier, qui est située face à la médiathèque et aux écoles du Boulevard Amédée Clara, n'ait pas reçu une considération appropriée de la part des autorités locales d'une ville qui emprunte fièrement son nom au pélican brun. Nous regrettons, par ailleurs, que cette opportunité pédagogique et économique ait étée négligée : avec des bonnes intentions et des soutiens adaptés, l'espèce qui prête son nom à la ville aurait pu transformer un "conflit de voisinage" entre humains et faune sauvage en une source de fierté pour la petite ville du Gosier. 
La colonie de pélicans bruns du Gosier était un joyau de la faune des Caraïbes, autant appréciée par les locaux que par les visiteurs, mais elle n'existe plus : il n'a fallu que quelques actes déplacés pour la détruire. Par conséquent, BirdsCaribbean demande au gouvernement français et aux administrations locales de
1) enquêter et documenter ce qui est arrivé à la colonie de pélicans bruns du Gosier en 2020-2021 ;
2) de mettre en place un plan d'action pour éviter qu'une tragédie similaire ait lieu en 2022-2023 et dans le futur ; 3) de suivre les zones où les pélicans bruns pourraient revenir et nicher, afin d'assurer leur protection ;
4) de développer des programmes pédagogiques à destination des communautés locales, afin d'inspirer de la fierté pour l'espèce qui prête son nom à la ville et de montrer qu'elle mérite notre protection ; et
5) de finaliser la révision de l'Arrêté du 17 février 1989 et de s'assurer qu'une législation appropriée soit en place pour protéger la faune sauvage des dérangements et des destructions. 
En attendant de recevoir de vos nouvelles rapidement, je vous remercie pour votre assistance.