The White House has expressed concern that some of the most pressing foreign policy issues facing the United States in Europe, East Asia and the Middle East have begun to converge, as U.S. officials have accused North Korea of joining Iran in supplying weapons to Russia for its ongoing war in Ukraine.
National Security Council Strategic Communications Coordinator John Kirby made the revelation Wednesday during a virtual press call, telling reporters that Pyongyang "is covertly supplying Russia's war in Ukraine with a significant number of artillery shells, while obfuscating the shipments, by making it appear they are going to countries in the Middle East, and North Africa."
Kirby also discussed previous assessments indicating that Iran had diverted drones to Russia that have already seen action in Ukraine, and may now also be in the process of sending surface-to-air missiles to be used in the conflict.
Asked by Newsweek about the implications of three nations featured prominently in recently released U.S. strategy documents now ostensibly working together, Kirby said that "there is greater concern" from President Joe Biden's administration than when Russian President Vladimir Putin first launched his war against Ukraine in February, a time when Kirby said the Russian leader "wasn't relying on any foreign sources of support."
"Now as he continues to lose ground, lose soldiers, lose momentum, he's reaching out beyond his borders for assistance," Kirby said. "It's a sign of the isolation that he continues to feel economically, that his own defense industrial base can't keep up with the pace at which he is using armaments in Ukraine."
"But it's also a sign of how much he's doubling down on continuing this war that he's willing to go outside the lifelines, as it were, to find foreign suppliers to continue to kill Ukrainians," he added. "And yes, it's concerning that any nation state around the world would tacitly or tangibly support Mr. Putin."
And while Kirby said it was unlikely that the current level of suspected support Moscow was receiving from either Pyongyang or Tehran would be enough to change the tide of the conflict, he also said the U.S. would pursue "appropriate accountability measures" against the two powers, "starting with the U.N."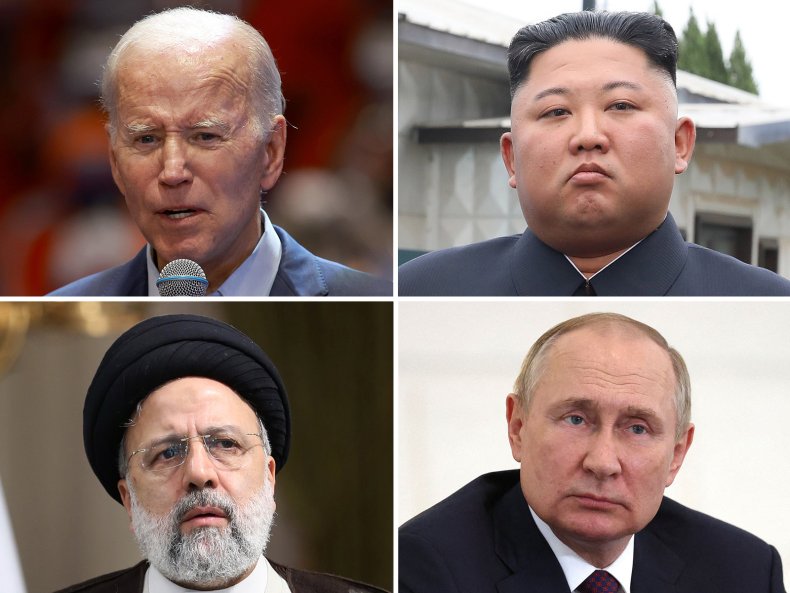 The remarks came amid separate turbulent developments surrounding North Korea and Iran, demonstrating the widening scope of international challenges the Biden administration is facing.
In the latest of a series of high-profile escalations to erupt on the Korean Peninsula in recent weeks, North Korea fired yet another volley of missiles and rockets on Tuesday. South Korea claimed at least one of them fell south of a disputed maritime boundary, the first such occurrence since the two neighbors' three-year war seven decades ago. In response, Seoul ordered fighter jets to launch air-to-surface missiles north of the line.
The exchange came as Pak Jong Chon, secretary of North Korea's ruling Korean Workers' Party Central Committee, issued a statement blaming joint U.S.-South Korean exercises for setting the stage for "a grave situation" on the peninsula.
Citing the Pentagon's recently released U.S. Nuclear Posture Review that warned any use of a nuclear weapon by Supreme Leader Kim Jong Un would "result in the end of that regime," accompanied by a similar threat issued by the head of South Korea's Joint Chiefs of Staff, Pak asserted that the return of combined U.S.-South Korea air drills after a five-year lull "is an extension of such provocation."
He warned that "the U.S. is mistaken" if it believed that the "Vigilant Storm" training could produce the same results as Operation "Desert Storm" pursued by the U.S. against Iraq in the early 1990s.
"If the U.S. thinks of playing on the Korean peninsula the way it had bombed weak countries at any time and made a mockery of the destiny of sovereign states at the end of the last century, it will be a daydream and a fatal strategic mistake," Pak said. "The Korean peninsula is not such a place where the U.S. military bluff can work as it does in other regions."
As North Korea now reportedly expands its own military cooperation abroad, however, Jeffrey Lewis, director of the East Asia Nonproliferation Program at the Middlebury Institute of International Studies' James Martin Center for Nonproliferation Studies, said there was a clear benefit for both Pyongyang and Moscow in such an arrangement.
"North Korea produces a whole range of artillery types, from shells to rockets that are compatible with Russian systems," Lewis told Newsweek. "North Korea is probably a very inexpensive source of artillery shells for Russia. In exchange, North Korea probably gets hard currency, much needed goods and the support of a friend that will prevent any further sanctions in the UN Security Council."
"Who said win-win isn't something that happens in international relations?" Lewis added.
North Korea has become one of the few nations to openly back Russia's actions in Ukraine, and the growing ties between Pyongyang and Moscow follow the gradual collapse of peace talks pursued by Kim alongside former U.S. President Donald Trump and former South Korean President Moon Jae-in in 2018. Diplomacy with North Korea has so far eluded successors to the two allied leaders, though Kirby said Wednesday that Biden had kept the door open to negotiations.
"Absent the ability to move the ball forward diplomatically with denuclearization, we're going to keep our military readiness because we have to, we have a treaty commitment with South Korea," Kirby said. "We've got to make sure we're ready to meet that."
"Clearly, Mr. Kim continues to conduct these provocative missile launches," Kirby added. "Clearly, the threat is palpable, and we've got to be able to meet that threat."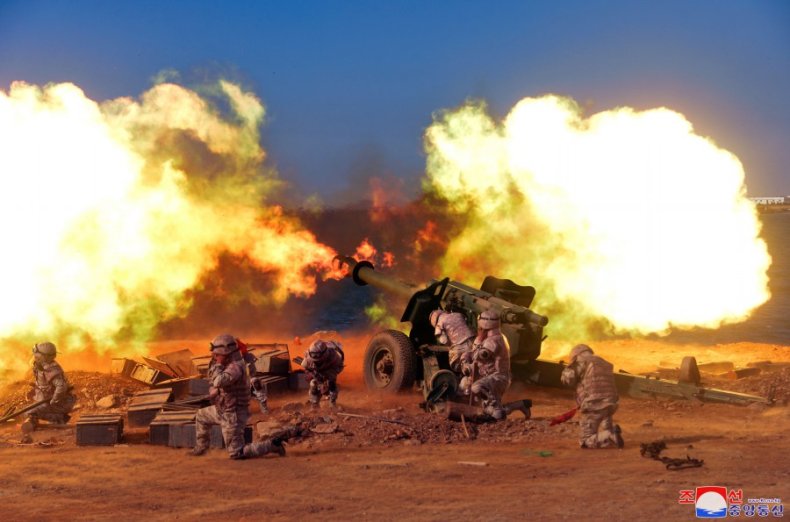 Diplomacy has also unraveled between the U.S. and Iran since 2018, when Trump abandoned a multilateral nuclear deal granting the Islamic Republic sanctions relief in exchange for curbing its nuclear program. While Biden set out to negotiate Washington's reentry into the agreement in April of last year, successive rounds of negotiations have produced no resolution and Iran has only ramped up nuclear enrichment, even as officials repeatedly denied they intended to build a nuclear weapon.
U.S. officials, including Kirby, have since acknowledged they were no longer focused on the effort to restore the nuclear agreement, given not only Tehran's alleged support for Moscow, but also over the nationwide protests that have rocked Iran in the wake of the death of a young woman in police custody in September.
Iranian officials, for their part, have denied any wrongdoing in the incident, and have also rejected reports that they were supplying drones to be used in Russia's war in Ukraine.
"We have good ties with Russia and we have had defense cooperation from the past, but our policy toward the Ukraine war is to respect the territorial integrity of countries, not to send weapons to the conflicting parties, and to stop the war and the people's displacement," Iranian Foreign Minister Hossein Amir-Abdollahian told his Ukrainian counterpart Dmytro Kuleba, according to an Iranian Foreign Ministry readout of their phone call Friday.
The top Iranian diplomat said his country's policy "is fully transparent, is based on a unified standard, and is against war," and offered a bilateral meeting of military experts to investigate the claims.
An open-source intelligence and Iranian weapons expert who goes by the name Mehdi broke down his take on the language used by Iranian officials to explain why such drones were ending up in Ukraine despite the repeated denials.
"As a Farsi speaker familiar with Iranian officials' tones," Mehdi said, "I think what Iran means by 'not provided to Russia to be used in the conflict' is that they TOLD Russians not to use them in that conflict or at most wrote a phrase like that in the contract, but Russians used it anyway and they really did not care."
Nonetheless, he said that "the Iranian drones so far seen in Ukraine include Shahed-131 and Shahed-136 loitering munitions, as well as Mohajer-6 ISTAR (Intelligence, Surveillance, Target Acquisition, and Reconnaissance) UAV."
"It's also worth noting that one Mohajer-6 crashed (likely shot by Ukrainians) in the Black Sea that was armed with Iranian Qaem bombs," Mehdi said. "There were also reports that Iran is preparing to send Arash loitering munition to Russia, which is bigger and carries more explosives than Shaheds. However, no evidence of Arash has been seen in Ukraine yet."
He said the drones, especially larger ones like the Mohajer-6 are "rarely transferred as a whole," and instead were more often sent "in packaged subassemblies which then get assembled in the destination.
"It's also very unlikely that the drones were all sent to Russia before the war started in February," he added, "as unusual flights continue to be seen in some Iranian airports during the year."
Demonstrating a far more diplomatic outlook than North Korea, Iran has sought to employ balanced language when it comes to Russia's war in Ukraine, even offering to play a role in mediating an end to the conflict.
But as the U.S. sought to punish Iran for its reported supplying of drones to Russia, tensions between Washington and Tehran continued to play out in the Middle East itself. A report published by the Wall Street Journal on Tuesday cited unnamed U.S. and Saudi officials warning of a potentially imminent attack being plotted by Iran against Saudi Arabia and the northern Iraqi city of Erbil, where Iran recently launched a series of drone and missile attacks against Iranian Kurdish dissident groups.
Iranian Foreign Ministry spokesperson Nasser Kanaani denied the U.S. reports as "baseless accusations."
"Such biased news stories by some Western and Zionist circles are aimed at creating a negative atmosphere against the Islamic Republic of Iran," Kanaani said, "and destroying current positive trends with countries in the region."
Iran's relations with a number of nearby Arab nations traditionally more closely aligned with the U.S. have actually been on the rise as of late, with Tehran and Riyadh having held several rounds of talks over the past two years to de-escalate tensions between them.
Meanwhile, Kirby and other U.S. officials have called for a need to "re-evaluate" the longstanding U.S. relationship with Saudi Arabia, after the influential kingdom joined with other members of the expanded format of the Organization of the Petroleum Exporting Countries (OPEC+) last month to cut oil production at a time when the White House was seeking to lower gas prices.
On Wednesday's call, Kirby said "nothing's changed in the [Saudi] relationship as of yet."
"We're still reviewing and taking a look at what it will look like going forward, but that is separate and distinct from the fact that we recognize that from Iran is real," Kirby said. "We are concerned about that, and we're going to continue to work not only with our Saudi partners but with other partners in the region to better be able to address it."
As the National Security Council warned that same day that the U.S. "will not hesitate to act in the defense of our interests and partners in the region," Iranian Supreme Leader Ayatollah Ali Khamenei told a crowd marking the "National Day of Fight against Global Arrogance" that the U.S. is not "untouchable" and, rather, was "completely vulnerable."
"A sign of the U.S. decline is the election of people like the current and former presidents," Khamenei cited by his official website as saying. "One was a man like Trump whom the world considered to be crazy. After he was defeated, a man like this current one comes into power, and you know about him!"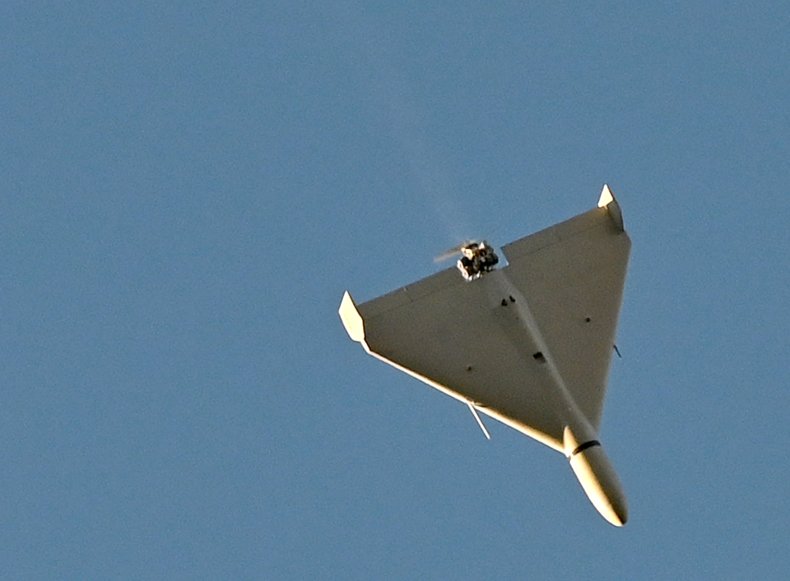 Russia, for its part, has denied receiving weapons from other nations, and Kremlin spokesperson Dmitry Peskov also dismissed having any knowledge of an upcoming Iranian attack on Saudi Arabia or Iraq.
"Frankly, we have no information at all and do not know where such speculation came from," Peskov said Wednesday, according to the state-run TASS Russian News Agency.
But Moscow has lauded its effort to realize a strategic partnership plan signed with Tehran in June, a project that Russian Deputy Prime Minister Alexander Novak said Tuesday was now "in its final phase." A draft of the deal was said to have been submitted on June 16, less than a month before the White House began warning that Iran was set to supply armed unmanned aerial systems to Russia.
Following intergovernmental talks hosted in Grozny, Novak also revealed that Russia and Iran were already cooperating on multiple fronts, including on energy, where Moscow was said to have initiated energy swaps with Tehran and was working to increase Iranian oil output.
Upon his return to Tehran on Wednesday, Iranian Oil Minister Javad Owji also touted the growing relations between the two nations.
"The Islamic Republic of Iran and Russia may not have been so close in their views until now," Owji said, according to the semi-official Iranian Students News Agency. "The Islamic Republic and the Russian Federation should make the most of this potential and opportunities that both countries have."
Following "various intensive meetings" over the past few months, Owji said that Iran has "signed over $4 billion worth of contracts in oil and gas and field development with Russian companies, and we also signed a memorandum of understanding worth almost $40 billion."
Meanwhile, Russia has also increasingly spoken out on the issue of the Korean Peninsula, joining both China and North Korea in criticizing the U.S.-South Korea exercises that have drawn Kim's ire. Both Beijing and Moscow have called on Washington to reduce sanctions and freeze military training in exchange for concessions from Pyongyang, a proposal repeated by Deputy Foreign Minister Andrey Rudenko in the wake of the latest flare-up in the region.
"We believe that all these issues related to the Korean nuclear program and the nuclear issue on the peninsula's agenda should be resolved collectively, with the participation of all countries in the Security Council and other partakers involved, including Russia and China," Rudenko told reporters Wednesday.
"We have our own proposals," he added. "We believe that time is ripe for approaching them as seriously as possible."