Belmont Estate, in partnership with the International Trade Centre (ITC) and Grenada Tourism Authority (GTA), is representing Grenada at the Salon du Chocolat in Paris, France.

Salon du Chocolat is the world's largest event dedicated to chocolate and cocoa. The country's participation is an opportunity to showcase the island's cocoa and chocolate; expand the market in Europe, and promote Grenada as a tourism destination. At this event in 2019, the Cocoa of Excellence (COE) selected Belmont Estate's cocoa as one of the 50 Best Samples submitted at the International Cocoa Awards (ICA). The Estate currently exports its cocoa beans to Saveurs et Nature, a French chocolate manufacturing company. Grenada and Belmont Estate are represented by Belmont Estate's Managing Director Shadel Nyack Compton and Marketing Executive Jadey Bissessar.
Nyack Compton expressed her delight and gratitude for the opportunity to take part in this event saying, "It is an immense privilege and honour to represent Grenada and Belmont Estate at the Salon du Chocolat. We take pride in showcasing what our beautiful island has to offer, particularly our cocoa, chocolates, spices, diverse flavour profiles and our wonderful people! We look forward to increasing trade and foreign business as a result of this event. We are extremely grateful to the International Trade Centre for their sponsorship and to the Grenada Tourism Authority for collaborating with Belmont Estate to represent Pure Grenada – The Spice Isle of the Caribbean."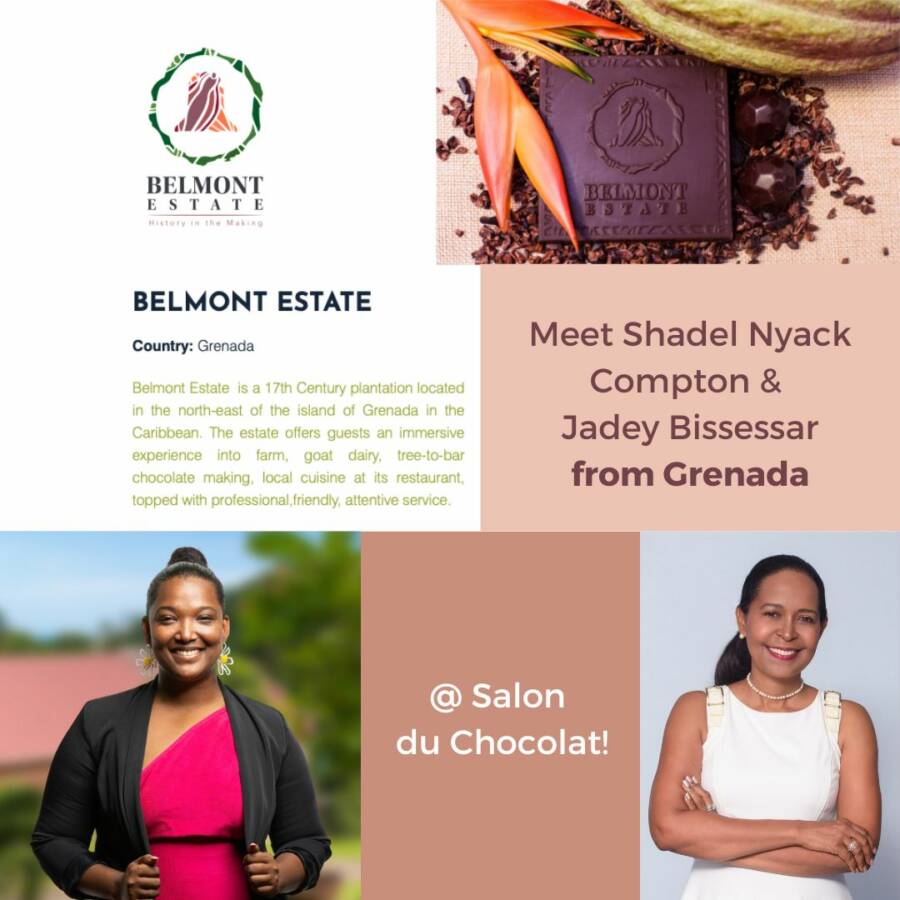 The ITC works towards global prosperity by connecting small businesses in developing countries to international markets, and is fully dedicated to helping cocoa farmers by strengthening alliances along the production line, from bean to bar, fostering entrepreneurship and better market access. This year, ITC's participation at the Salon du Chocolat is in collaboration with Alliances for Action, ACP Business Friendly, and the UK Trade Partnerships Programme. Belmont Estate is a part of a group of 17 chocolate makers that were sponsored to showcase chocolate makers from African and Caribbean countries.
Petra Roach, Chief Executive Officer (CEO) of Grenada Tourism Authority, also expressed her enthusiasm about Grenada's participation at the Salon du Chocolat, "This is a wonderful promotional platform to showcase Grenada's chocolate and an incredible opportunity for the team at Belmont Estate. They create and curate a fantastic array of delectable chocolate products while seamlessly bridging the gap between culinary tourism and agrotourism. The sustainable 'tree to bar' production process that Belmont Estate utilises, using only organic and eco-friendly resources, ensures a high quality, rich, flavourful and delicious chocolate-tasting experience that Grenada is proud to boast of.
The Grenada Tourism Authority is excited about the future of chocolate production in Grenada and wishes the team at Belmont Estate the best of luck during this exhibit and looks forward to seeing what they accomplish next."
The Salon du Chocolat will be held from 28 October to 1 November 2022. The 5-day trade show will be held at the Porte de Versailles in Paris, France. It will be attended by consumers and businesses worldwide.
Belmont Estate
NOW Grenada is not responsible for the opinions, statements or media content presented by contributors. In case of abuse, click here to report.
window.fbAsyncInit = function() { FB.init({ appId : '640135875998340', cookie : true, xfbml : true, version : 'v8.0' });
FB.AppEvents.logPageView();
};
(function(d, s, id){ var js, fjs = d.getElementsByTagName(s)[0]; if (d.getElementById(id)) {return;} js = d.createElement(s); js.id = id; js.src = "https://connect.facebook.net/en_US/sdk.js"; fjs.parentNode.insertBefore(js, fjs); }(document, 'script', 'facebook-jssdk'));