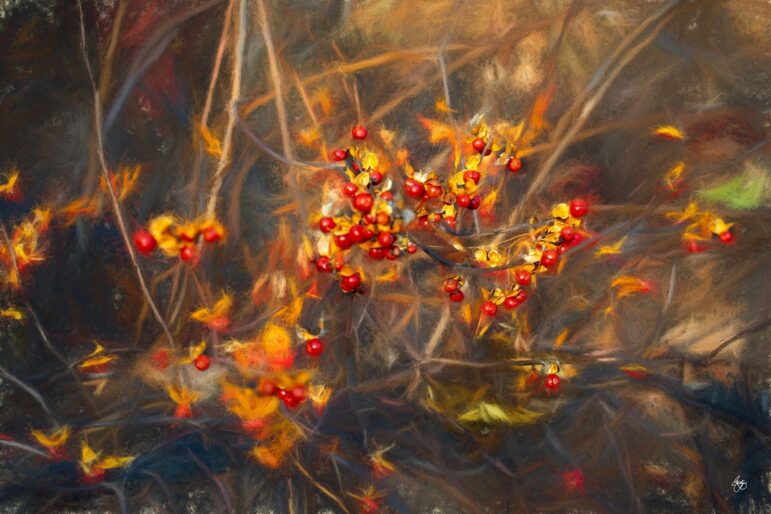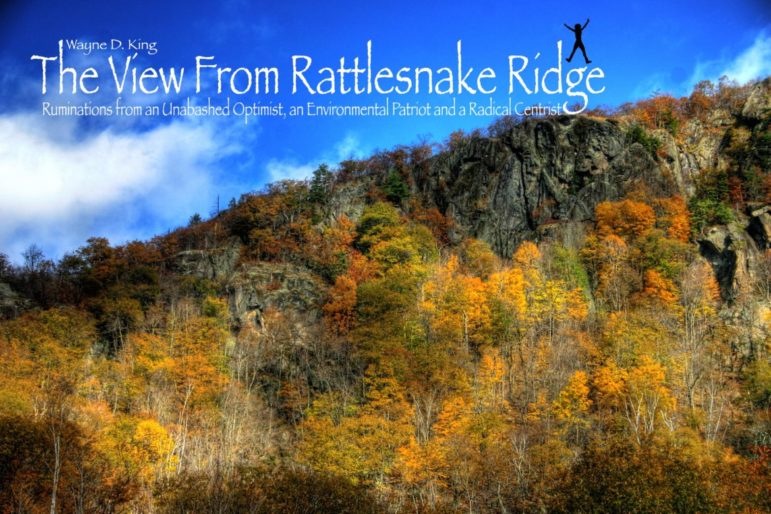 By WAYNE D. KING, The View From Rattlesnake Ridge
Ruminations from an Unabashed Optimist, an Environmental Patriot and a Radical Centrist
Autumn is Sooo Bittersweet . . .
But today there are Ripples of Hope
"The thing about hope is that it can travel through space and it can travel through time. It's contagious. Sometimes it just looks like it's splashing against the rocks and not making a difference but, over time, slowly, it starts breaking down those rocks. If we do our best, others will take heart from our example. They will find their own strength and summon others to hope and that strength and hope will course through their children and grandchildren and all the children yet to come."  
~ Barack Obama, Robert F. Kennedy Ripple of Hope Award Speech 2018
By WAYNE D. KING, The View from
Autumn is sooo bittersweet. It has always been this way for me. 
From my earliest memories as a young adult, autumn has always been a bittersweet time. In the fall of 1976 I can recall stopping the car at the side of the road in the midst of the winter's first snowfall at the peak of foliage season. I jumped out, tears streaming down my face, and ran to catch a snowflake on my tongue, as the swirling colors of the autumn storm were brushed into my soul from a pallet in the hands of grandmother earth.
There, at the confluence of pure exuberance, splashing color, and immense sadness, I found a place of profound peace. 
It probably had something to do with the fact that I was in love, really in love, for the first time. Her name was Bobbie, and still – to this day – I rejoice in the moments like this one we shared together, though I have not heard of – or spoken with her – in more than 50 years. 
But Tuesday, as I cast my first vote in my new hometown of Bath, NH, these memories flood back in a swirling confluence of hope, and determination, braided into a miasma of trepidation about the state of our country. 
Back in my car, I hit the button for my Audible account. Listening to Jon Avlon's extraordinary new book "Lincoln and the Fight for Peace" provides me with equal measures of those same inter-woven emotions. My heart breaks for what was lost, even today, with the events at Ford Theatre that Good Friday.  Yet, Avlon's book also gives me a measure of comfort. Particularly today, a few days after I cast my ballot. Though there are still elections outstanding, votes still being counted, victories undeclared and denials still pending (Kari Lake election remains un-called), it's looking like what Steve Schmidt called "The Coalition of the Decent" has thrown itself into the breach and held back the wave of authoritarianism that was staring us down as we approached the election.
Republicans are making excuses, Democrats are crowing, even as they wipe their brows, but neither have conducted themselves with much distinction. It was not they who have given breathing room to our democracy, it was Americans who believe that our song still matters. Many of them who no longer believe in either of the two major parties, with good reason. Yet they do believe in the American idea, as flawed as it has been over the years. They believe in the hope of the American dream and they know that Freedom isn't free. 
Noone knows better that this is so than the American Indian, who volunteers in greater percentages for the US military, despite a history of genocide and ongoing prejudice and mistreatment. At every one of the many Pow Wows I have attended, my brothers and sisters who are veterans carry the US flag proudly – and first – into the pavilion during the Grand March. 
What real patriot, African American or not, did not wipe back their tears, when Doc Rivers asked, "Why we keep loving this country, when it doesn't love us back?" Yet, still hope abides in the black community and they march on. 
But it is not just men and women of color for whom hope is a refuge, every woman who felt betrayed by the highest court in the land with the Dobbs decision has reason to despair, yet they persist. 
It was not just the members of the LGBTQ community, who have fought for equal treatment and marriage equality, who felt the chill of authoritarianism these last four years. It is also the sons and daughters of farmers and coal miners; who watched as a callous administration patronized their families while averting it's eyes to their pain and addiction; It is the immigrant family that came here to build a better life only to be demonized as the other, yet continues to teach their children that they are a proud part of the American story.
Our children know all too well that we are passing along a world on the brink of disaster yet they still love us. Despite it all, when they have every reason to resent what we have done to the earth, they are fighting to save us all from the ravages of climate change.
We have so much work to do, so much road still to travel on the road to a more perfect union and we can only do it if we are all pulling in the same direction. Of course there will always be the Tories among us, who sow hatred and dissension, but they are small in number when we are big at heart. 
If my native brothers and sisters can teach us one lesson from their Pow Wow parade it is this: We must carry the flag high, we must take pride in what our country can still be, despite all the pain of our checkered past. The American flag belongs to those of us who are willing to sing the American song together. At Lexington and Concord they called it the "Shot heard round the world." 
It is high time, my friends, for us to unleash the song heard round the world. Let us sing it loud and proud. Let us be heard around the world. Let freedom ring.
Notes & Links
Barack Obama Receives the Robert Kennedy "Ripple of Hope Award"
Wayne King is an author, podcaster, artist, activist and recovering politician. A three-term State Senator, he was the 1994 Democratic nominee for Governor and the CEO of MOP Environmental Solutions Inc., a public company in the environmental cleanup space. His art (WayneDKing.com) is exhibited nationally in galleries and he has published four books of his images, most recently, "New Hampshire – a Love Story". His novel "Sacred Trust" a vicarious, high voltage adventure to stop a private powerline as well as the photographic books are available at most local bookstores or on Amazon. He lives on the "Narrows" in Bath, NH at the confluence of the Connecticut and Ammonoosuc Rivers and proudly flies the American, Iroquois and Abenaki Flags. His website is: Anamaki.com
Wayne D. King
64 Monroe Rd., Bath, NH 03740
603-530-4460 Cell
waynedking9278@gmail.com
@wayne_d_king:Twitter
http://bit.ly/WayneDKing
Migrating soon to Anamaki.com
Podcasts
The Radical Centrist Podcast
New Hampshire Secrets, Legends and Lore Chosen as NH Podcast of 2019 by NH Press Assoc.
*NEW!*
Mindscapes – Wayne King Fine Art
www.WayneDKing.com
New Hampshire – A love story in images and words
*Sacred Trust, a Novel*
"The Monkey Wrench Gang Meets the Third Industrial Revolution"
https://thesacredtrust.blogspot.com/
The View from Rattlesnake Ridge 
New England Newspaper & Press Assoc. award-winning column by Wayne King at InDepthNH.org, NH Center for Public Interest Journalism.
Join the mailing list to receive occasional news about upcoming events 
and new images by Wayne. 
Coming:
Common Sense for Our Times
Steady Hands and Open Hearts
Renewing the American Idea in the Post Trump Era
Attachments area
Preview YouTube video President Barack Obama's 2018 Ripple of Hope Gala Remarks