Hajime Isayama will auction off the four desks he used to work on his critically-acclaimed series Attack on Titan, each with special illustrations.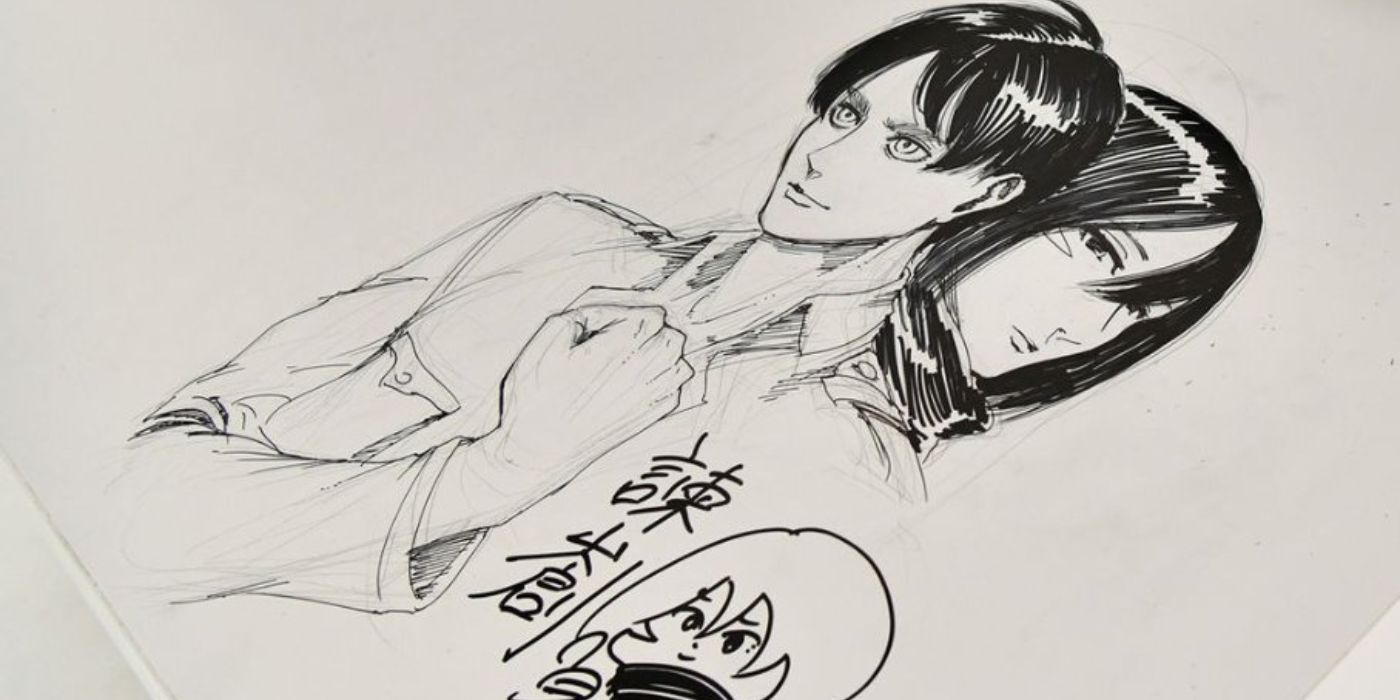 Hajime Isayama has revealed a new set of illustrations for Eren, Armin, Mikasa and Levi penned on the very desks that he used to illustrate Attack on Titan.
According to Attack on Titan Wiki (@/AoTWiki), the Attack on Titan mangaka will auction off a total of four desks used in the workplace of Attack on Titan for charity. All proceeds will go to Doctors Without Borders. Each desk features different characters: Eren and Mikasa, Eren and Levi, Eren and Armin and lastly, the Colossal Titan. Isayama's father, a furniture designer, custom-made the desks in Isayama's hometown, Hita, where he and his assistants spent a lot of time sitting at these desks, including eating and sleeping. While there has been a move towards digital drawing, and it's becoming rare for large groups of people to gather in one place to work on a manga chapter, he "would be happy if [the desks] could be of use to someone."
RELATED: Why Attack on Titan: Final Season Pt. 2's Opening Is the Most Viewed Anime OP on YouTube
Many of Isayama's assistants have gone on to create their own works, including Blue Lock's artist Yusuke Nomura and Tatsuya Endo, the mangaka of the action-comedy series Spy x Family. The mangaka revealed in a recent interview that he had a friendly ping-pong rivalry with Endo. Although Endo usually comes out victorious in their matches, Isayama revealed he occasionally wins a few, crowing, "Normally, Tatsuya Endo is stronger than me, but last time he didn't manage to win, I beat him."
Attack on Titan Takes Inspiration From Isayama's Hometown
Attack on Titan is Isayama's first work and originated from a 65-page one-shot he wrote in 2006. He offered the work to Weekly Shōnen Jump, but after being told he needed to change the style to fit the tone of the magazine, he went to Weekly Shōnen Magazine. Isayama's hometown played a significant role in the creation of the manga. The mountainous terrain of Hita led him to wonder, much like Eren, "what was on the other side." He explained the existence of the Titans: "There's a reason there are giants on the other side of the walls. It represents having to survive in the harsh world outside. It's a world where you have to battle just to get by."
RELATED: Why a Trio of Main Characters Is Anime's Best Trope
Wit Studio adapted the first three seasons of Attack on Titan before the fourth and final season went to MAPPA where it split into three parts. The first two parts of Attack on Titan: Final Season aired from December 2020 to April 2022. Attack on Titan: Final Season Part 3 suffered some setbacks to its release schedule. According to Masafumi Mima, the sound director for Attack on Titan: The Final Season, due to the post-COVID-19 restrictions, it now took staff members four times as long to have the voice actors in the studio to record their lines. It was announced the third part of Attack on Titan: Final Season will air in two parts, with the first part airing in March and the second sometime in 2023.
The first part of Attack on Titan Final Season Part 3 will release in Japan on March 4.
Source: Twitter, YouTube