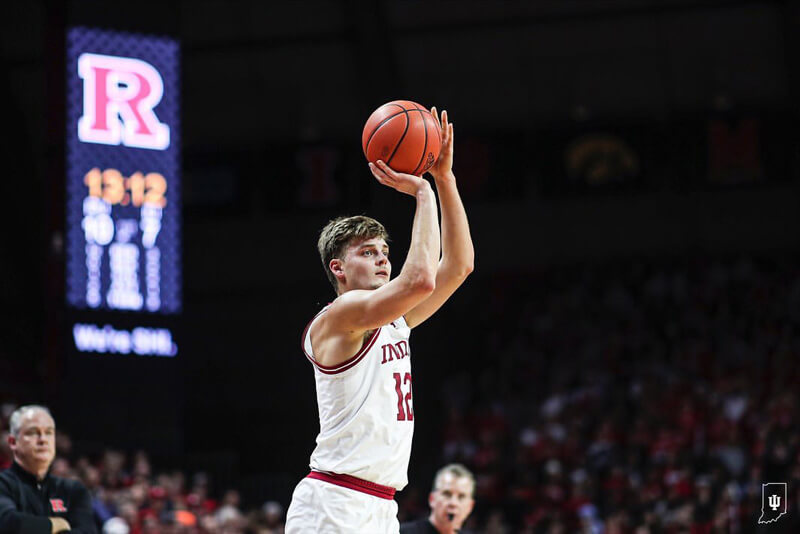 A quick look at the 63-48 loss at Rutgers:
How did this happen
Indiana was kicked out of the first chip on Saturday afternoon at Piscataway. Despite losing Cliff Omolui to foul trouble early in the game, the Scarlet Knights imposed their will on the board against the Hoosiers. Rutgers grabbed 14 offensive rebounds and scored 14 second-chance points in the first half. Miller Kopp's hot shooting If it weren't for his performance (5-for-7), Indiana could have been well past his 7th down at the break. The Hoosiers went 28-8 shooting from the field and 10-5 shooting from the free throw line for just .74 points per possession in the first 20 minutes.
However, the Hoosiers fought back in the second half. A 7-0 run featuring back-to-back 3-pointers from Xavier Johnson and Kopp tied the game at the 15:05 mark and forced a timeout for Rutgers. The Hoosiers made him 37-35 and he led by two, but Rutgers responded with his next five points and the under-12 media in his timeout he claimed a 40-37 lead. Scarlett his Knights came out of a timeout and scored another five points from freshman Derek Simpson with 10:04 remaining to push his lead to 45-37. Simpson's layup saw him push his lead to 10 at the 9:03 mark, and the run saw Mawot mag his layup to make him 15–0 by the 8:21 mark. Indiana never got closer than 9 for the rest of the way.
Indiana's first loss of the season has lowered the Hoosiers to 7-1 ahead of Wednesday's home game against Nebraska.
outstanding performer
Indiana's only offensive reliable performer was Kopp, who finished with a game-high 21 points. Kopp had him 12 for 8 from the field in 35 minutes.
Statistics that stand out
Indiana scored a season-low 48 points with just 0.72 points per possession, also a season-low.
The Rutgers are now on a six-game winning streak against Indiana and eight of their last nine against the Hoosiers. The Scarlet Knights are leading the best ever series 8-7.
Final IU Personal Statistics

Final non-tempo stats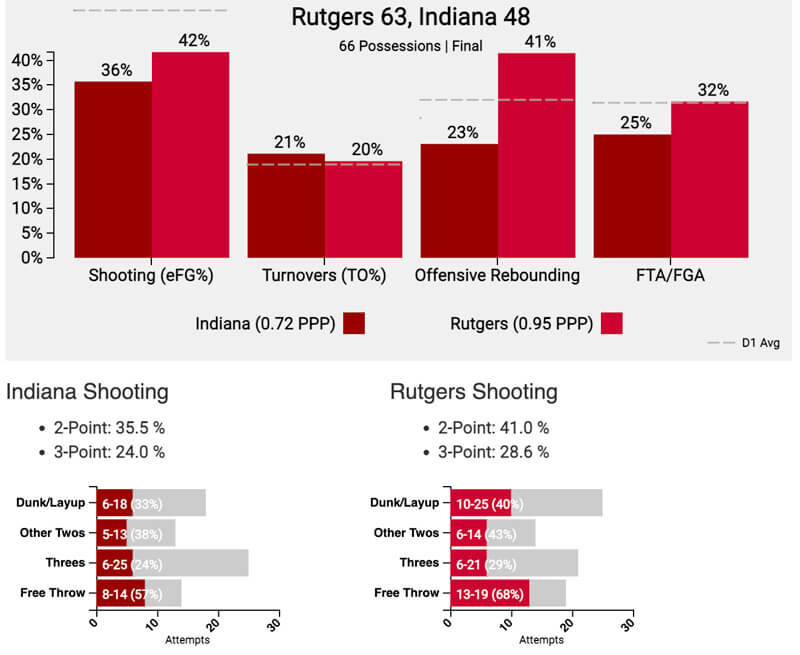 Assembly call post game show
(Photo courtesy of IU Athletics)
Submit to: Rutgers Scarlet Knights