CNN
—

The video quickly went viral. Mobile phone footage of an anti-government protest in Iran's Kurdish city of Sanandaj shows a bare-chested man brandishing a knife surrounded by about a dozen gun-armed regime forces. I was.
The guards took turns carefully appearing to swing their batons at the demonstrators, and some fired their guns at him, hopping back and forth as he charged.
Ultimately, he says, the protester fell to his knees after being shot multiple times at point-blank range.
The world's first glimpse of Kurdish-Iranian boxer Ashkan Morovati, who has become a hero to supporters of the Iranian protest movement.
In an exclusive interview with CNN, Morovaty explained the story behind the video, which was filmed in late October. In the moments leading up to the confrontation seen on camera, he approached security forces and asked them to take a more sober approach to protesters calling for an end to the country's iron-fisted cleric regime.
"I went there and told people to stand by them and compromise with them," Morovaty told CNN. "You are ruthlessly oppressing people, and this is under human nature."
But when he spoke to them, security forces attacked them with pepper spray, batons, and eventually opened fire without warning, Morovaty said. He says he only took out the knife in self-defense, although it was useless.
"They shot me with a shotgun at very close range and then shot me twice in both legs with military bullets."
Iranian officials did not respond to CNN's request for comment.
Morobati was arrested and later charged with "war against God" or "Moharebeh". The crime includes the death penalty, which the Iranian government has repeatedly used to prosecute political protesters in the country.
The ordeal may have cost him his life. Instead, it led to his daring escape from Iran.
A nationwide uprising in Iran that began in mid-September has rocked the country and posed the biggest domestic threat to the ruling clergy in more than a decade. has permeated the Islamic Republic's security apparatus, producing countless acts of defiance, and sometimes violence, against the formidable Basij, a voluntary militia that is the fulcrum of the Islamic Republic's security apparatus. The protesters were young and angry, and it looked like the wall of fear had broken down.
But in the four months since, Iran's protests have been curtailed, including a wave of repression against demonstrators and dozens of executions against protesters. There was no public outrage. The recent death sentences are the culmination of an increasingly violent crackdown, including shootings of protesters, mass arrests, physical and sexual assaults.
Morovati himself says he died multiple times before finally fleeing Iran. He claims that regime forces brutalized him even after his arrest, continuing to beat and even shoot him until they were convinced he would not survive.
"When they took me to the hospital, they shot me at very close range with a shotgun, as if it was the finishing blow," Morovati explains. He believes the police took him to the hospital because they were sure he was going to die.
But he lived.
At Sanandaj's Kawser Hospital, he was taken to the ICU and treated by several doctors, including surgeon Dr. Iman Nababi.
Morovati told CNN that doctors at the hospital said he was seriously injured, with an artery in his leg severed, a lung punctured by shotgun pellets, and about 200 more pellets in his body. rice field.
His condition was dire, but he miraculously survived.
"Are you 100%? Open your eyes," Navabi said in a video posted to his Instagram showing Morovati after surgery. His legs hung from the front edge. His parents, visibly worried, sat next to him in hospital gowns.
"Ashkan Morovati is doing well. The surgery was successful. His condition is stable and not in danger. He is in the ICU tonight, nothing to worry about," Navabi captioned the video. I wrote to
A number of Iranian doctors and health workers have been arrested as punishment for providing medical care to protesters, and according to the Norwegian-registered Hengau human rights organization, Nababi himself died in December after treating Morovati. He was arrested in early 2004. He was later released, according to Canadian parliamentary member Terry Beech.
The Kurdish boxer, who was previously seen lifting weights, punching and sprinting in videos posted to his social media accounts, has been lying in a hospital bed for nearly a month recovering. rice field.
Regime forces then stormed the hospital and dragged him out in the early hours of November 23, he said.
"Along with about 20 armed soldiers who completely occupied the hospital, about 10 plainclothes agents came and took me out of the isolated ICU room," he said. A court order was issued to shoot whoever was involved, and I was put in prison."
He was put in prison and says he experienced excruciating pain due to open wounds.
In prison, Morovaty was not receiving oxygen continuously from an oxygen tank, nor was he changing his wound dressings as frequently as he had when he was in the hospital. Prison officials ignored his cries of pain, he says.
"I had to find salt and apply it to the wound to disinfect it. They weren't paying attention to my condition."
He relied on fellow prisoners to distribute painkillers.
Ten days later, at the constant urging of his family and pressure on the judiciary from doctors at Kowsar hospital, prison officials acquiesced in providing medical care to Morovati by transferring him to an army hospital.
"I was there with my hands and feet chained to the bed," Morovati says, describing his six-day tenure at the facility. He says army doctors thought he was dying and suggested moving him to a hospital that could better treat him.
Again, pressure from family and doctors gave Morovati some form of reprieve.
"I was given 20 days to go to a well-equipped hospital," he says.
It was during this period that the judiciary charged him with Mohalebeh. It was precisely this moment that Morovaty took advantage of for the Great Escape.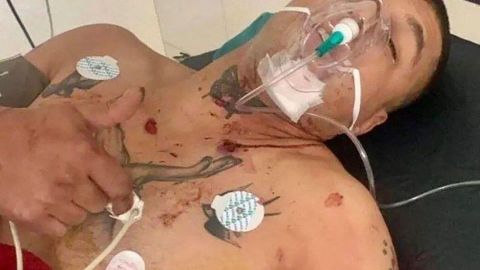 Instead of going to the hospital, Morovati fled the country overland. "I left the country through mountains and deserts, bleeding profusely and in very bad shape," Morovati says.
With the help of friends, he says he is now in an undisclosed safe location outside Iran's borders.
"Many people in Iran are desperate to get out of the country and tell the world the truth," Morovati explains. "Our only sin is demanding liberty and democracy, wanting women to be equal to men. We shouted, 'Woman, life, freedom!' This is our sin
When asked if Iranians were afraid in light of the current crackdown on protesters, Morobati disagreed, referencing a popular slogan used by protesters.
"I don't think people are scared," Morovati says. "People are still standing brave. [continue to] Be brave and stand up. "
Morovaty has yet to receive treatment since his escape and says his bullet wounded leg is paralyzed, but he is coping with it. He says it's very painful to come to terms with the fact that he can't, but his hopes are doomed to a different fate now.
Asked about his safety and the physical pain he is feeling, Morovaty hastily replies that he does not feel safe and that he is in pain. The thing is the liberation of Iran," he added.
"I will give my life not once but 100,000 times for my people, my Iran," he added.